Case Construction Basics
Advice for a new shop owner on whether to dado the parts for face frame cabinets. February 26, 2007
Question
I am starting a new kitchen cabinet business and have just completed building a 2000 sq ft. shop on my property. I have worked for others making custom cabinets, not kitchen cabinets, but libraries, wall units, etc. I'm still making boxes as we say.
I need to know about a couple of aspects kitchen cab construction in order to make an informed decision regarding what is best for me. First, I will be making all framed cabinetry with 3/4" veneer ply and solid FF's/Doors and am wondering if dadoing is something that is advantageous with FF's or not?
Is the 1/8" overhang I see on FF stiles in box stores an asset when installing (scribing) the cabinets? Is it not too time consuming to do this? How does one dado the stiles so they would also fit over the tops/bottoms etc? I need a simple explanation of how it is done.
Secondly, if I use 1/2" ply for backs, would I be able to not use hangers and rely on the thicker material for strength? How much should one rabbet out the sides for the backs? Is it best to have an inch for scribing the back of cabinets, or would I be tearing the backs off if I used them to hang the cabinets with such a deep rabbet (deep recess behind backs?)
I like the idea of a detached toe kick but it would not allow me to dado my bottoms and would take away a lot of strength in my opinion. Any thoughts about that would be appreciated as well.
Forum Responses
(Cabinetmaking Forum)
From contributor J:
1. Take the time to dado your face frames and cabinet sides. This will save you tons of time and headaches with alignment issues. Your cabinet bottom will fit into the dado and your top can as well or you can drop your sides down the thickness of your top and set it on top of the sides.
2. I leave a 1/4" scribe on the sides of every non exposed edge. (This works well with 1/2" sides). Cut a 1/2" groove in the frames. On a 3/4" exposed end, cut a 1/4" rabbet out of the side and it fits nice and flush.
3. 1/2" backs are strong enough alone to hold up a cabinet if constructed correctly. Either screw and glue them onto the backs of the cabinets or groove your sides to accept them. If you groove them into the sides, you will have a built in scribe.
4. Separate toe kicks give many advantages mainly in material savings. Most of your off-cuts can be used to construct ladders to go under the cabinets. You will also never run into the cabinet not fitting through the doors or not being able to stand them up once you get them through the doors. In my opinion, it takes more time to build this way, so you have to weigh your options.
5. I don't think that the dado strength is an issue in a base cabinet situation, as all the weight is transferred directly to the ladders. I've built both ways, and at the moment I am not building my bases separately. I don't know why for sure - I guess it's just one more thing to build and store and handle and deliver.

---
From contributor C:
I build with 1/4" backs and a nailer at the top. I like to dado my sides in.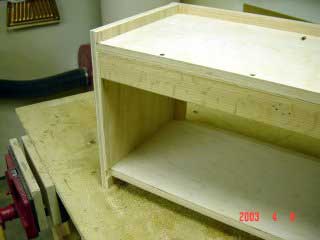 "Photo by Jim Clark".
Here is a dado.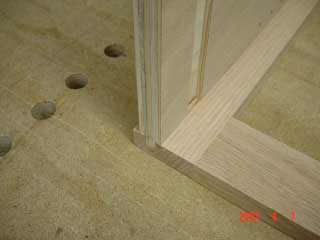 "Photo by Jim Clark".
---
From contributor M:
I personally choose not to dado parts together unless I absolutely have to. In some situations, I may choose to for a finished end, but to me it's too time consuming. Yes, the 1/2" back will be more than sufficient, as long as you screw your back onto the actual cabinet and not just staple it.
I'm also a firm believer that you should only use glue when necessary. I would glue your face frames, but I wouldn't go to the extent of gluing a box together, especially if it's going to be stained. I use 1-1/2" screws to assemble the cabinets I make and have never had an issue. I was taught to only use glue for structural purposes and it hasn't failed me yet and I'm going on 18 years in the business.
If you're going to dado something, I would choose to dado a back before anything else. You can dado something using a router, table saw, or radial arm saw. If you're going to be serious about this, look into purchasing a table saw that runs off of 220, vs. 115/110 - plug into a regular outlet. I have two Powermatic 3hp saws and have never had any issues with them. Expect to spend a hair over 2 grand for one. The only thing I don't like about the new design is the white polymer that they're using for a fence now, because it creates shadows, but it works just as well as the Biesmeyer from Delta.
Just a personal opinion, it seems as though you've put the cart before the horse, if you're asking how to construct cabinets and you've already built a building on your property for this. I hope you put enough juice into your panel to withstand a good amount of machinery that requires 220 and you've insulated it well.
In regard to finishing, the way you're going to heat your shop can be another issue too, because of the flammable chemicals. There is so much to consider before building a shop, so I do hope you've taken this and other things into consideration before you did this.

---
From contributor G:
There are as many different construction methods as there are shops out there. Take a closer look at how those KraftMaid or other similar factory cabinet is made and try not to re-invent the wheel. You can over build a cabinet. Unless you are building frameless there is no real need to use 3/4 material for the case or 1/2 for the backs. In a large part, your ability to make money will be based on how fast you can produce a job. The place to set yourself apart would be the quality of the face material and finish. Once the countertops are on, nobody will ever know what those cabinets are made of except you. The doors and drawer fronts will be visible every day.
A book that helped me out when I got started was "The Kitchen Cabinetmaker's Building and Business Manual" by Danny Proulx. It is very helpful for someone just starting out.
---
From contributor Y:
We dado our 3/4" ply tops and bottoms into the ply sides. We also dado the 3/4" sides into the face frames. We do not dado the tops and bottoms into the ff. We don't because it is too time consuming to do a stopped dado and I don't think it is necessary – pocket-screw the top (on the top side where you don't see it) to the ff. We dado 3/4" wide and only 1/8" deep. This is mainly for alignment purposes. We pocket-screw the sides to the ff with a 1/8" deep dado that way we don't have to worry about the screws coming through the ff. We use a 1/4" scribe on the cab stiles.
We do need this sometimes during installs and can also apply the finished 1/4" skins behind this scribe. We put a couple biscuits in the joint were the bottom meets the ff on uppers to keep a clean look below and pocket-screw on bases. We use detached toe kicks. As stated - strength is not an issue if the floor of the cabinet rests directly on the kick frame. Our lower face frame rails are only 3/4" wide to make this possible.

---
From contributor A:
The best kitchen cabinet construction method I've found is pocket screws. I purchased a Kreg jig for onsite work. It had a little booklet inside on cabinet construction. It worked so well and is so much faster than the way I did it before, I bought a Porter Cable pocket hole cutter and it is much faster. I can see where a Castle or pneumatic Kreg machine would be even faster still.
The next kitchen I will modify my design to dado the back (.25 pre-finished) and still have room for a .75 nailer top and bottom. I also modified the inside width to match the opening of the face frame. The inside box functions like a frameless and mounting the slides have been simplified. I loose some space between cabinets but not much. I think the cabinets look much cleaner with the frameless look when the doors are open.