Casters for an Island Cabinet
Here's a look at how to equip an island with casters, while providing for it to be held fixed when necessary. August 12, 2014
Question
Iím looking for suggestions regarding castors for a small island that will be on a hardwood floor?
Forum Responses
(Cabinetmaking Forum)
From Contributor R:
I am interested in how you are going to lock the island from moving. I am building a similar project, but I think I want the wheels to extend down for moving, but retract up to secure the island from moving. I think locking casters will still allow too much movement, plus I think they look a little tacky to show big casters under the island.

---
From contributor L:
Good looking casters that lock both the wheel and the swivel are available with soft tires. Most of the usual sources carry them.
---
From contributor P:
Be very careful about using castors on islands. If you are going to do this make sure your center of gravity is very low. Take a look at how the axle on the castor pivots. The castor itself may be mounted near the corner of the island but the point of contact with the floor may be biased to center of island. If the island is top heavy it can tip over if somebody leans against it or it hits a bumpy surface.
---
From contributor W:
Try Footmaster levelling casters. They have a retractable foot that keeps the caster from moving.
---
From Contributor D
:
I was faced with this situation when building a mobile coffee bar for a meeting room. I came up with a solution that worked well. I used non-locking casters hidden behind the toe kick. I then fabricated a wooden foot (stacked plywood squares) beside the two front casters with a 1/2" threaded rod through the center. This rod was threaded into a T-nut or long rod connector nut sunk into the bottom of the foot and cCut to the necessary length with a nut welded to the top and a rubber cap on the bottom. This setup can then be lowered/tightened down to the floor via the T-nut wrench through the cab. This will lift the island slightly off the casters to keep the island from moving. The nut on the top of the threaded rod can be recessed flush with the cabinet bottom. I used two of these, one on the left and right front corners. They can be easily accessed behind the doors. If I was doing this again, I would shim the two opposing casters so that the island would be
perfectly level when the feet were lowered in place.
---
From Contributor D
:
Here are some photos of my solution. The block assembly was attached to the underside of the cabinet. I eventually shortened the threaded rod inside the cabinet to be flush with the cab bottom then welded a nut to the top. This all lowered with the for-mentioned T-nut wrench.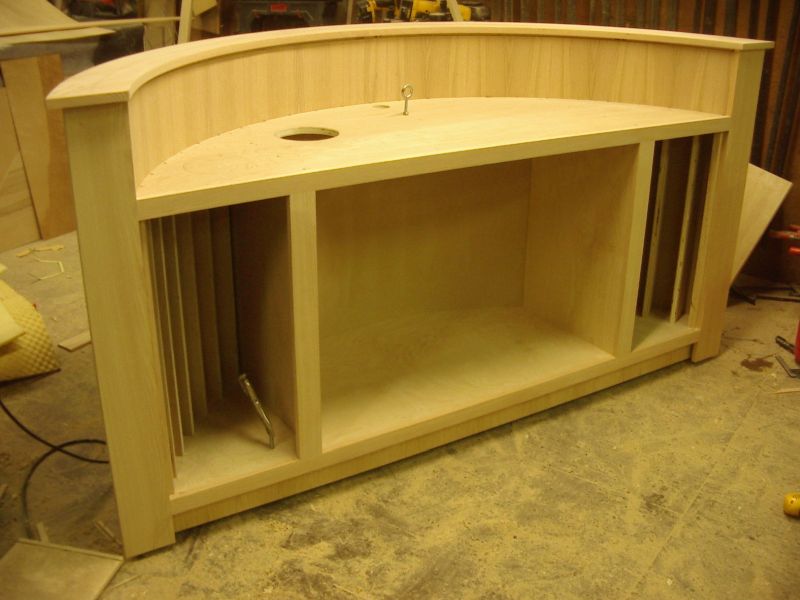 Click here for higher quality, full size image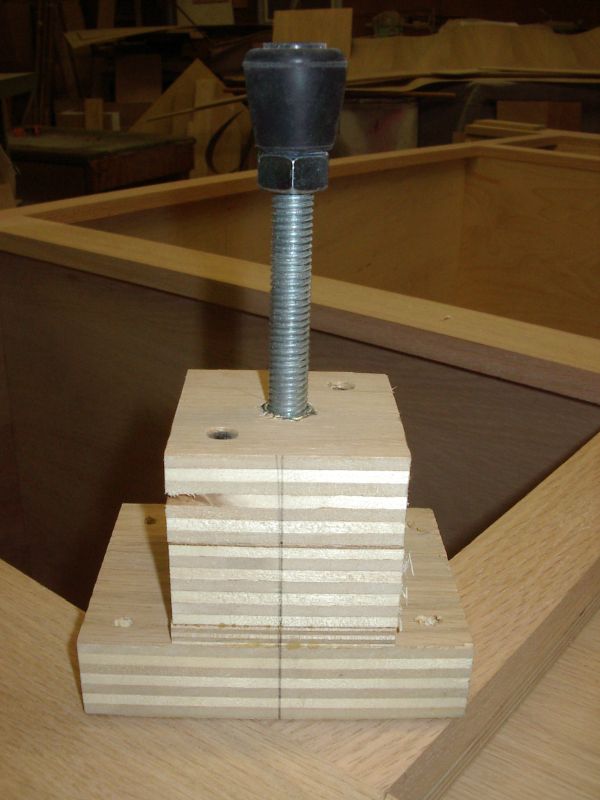 Click here for higher quality, full size image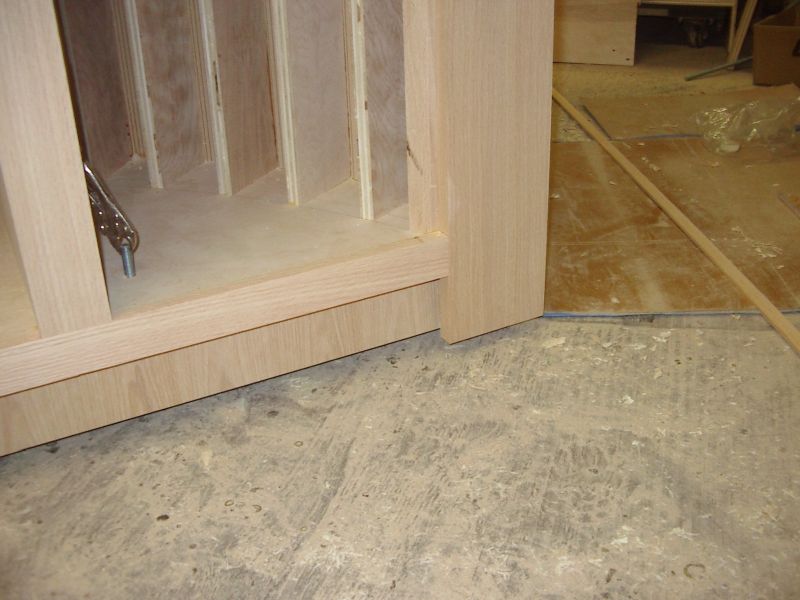 Click here for higher quality, full size image