Cherry Finish for Poplar
and offer some advice. June 19, 2005
Question
I was wondering, how difficult is it to make poplar look like cherry? I'm about to try a piece, but was wondering if anyone has any experience at making this happen? Any help would be great.
Forum Responses
(Finishing Forum)
From contributor R:
It is very tough to make poplar look like cherry, especially if your client doesn't want a dark color. You will have to tone and glaze extensively to achieve the natural look of cherry.
If this is for a trim package (already installed) in a residential home, then the time and effort to achieve the look of cherry will not be economical to you or your client.
If you should take on this project - dye the poplar first, use glaze to achieve uniformity, and tone to achieve the desired color. I would also recommend making plenty of samples and keeping notes.

---
From contributor T:
As Contributor R pointed out, lots of work goes into making one wood look like another. If you're faced with poplar as a wood choice, it will be tough. If you have a choice of an alternative wood to cherry, you might want to look into alder as a possible option.
---
From contributor J:
This isn't one of my better jobs - I think I must have reworked this cabinet 4-5 times because of manufacturing mistakes. This was made out of alder and poplar, and was pre-washed to get it even.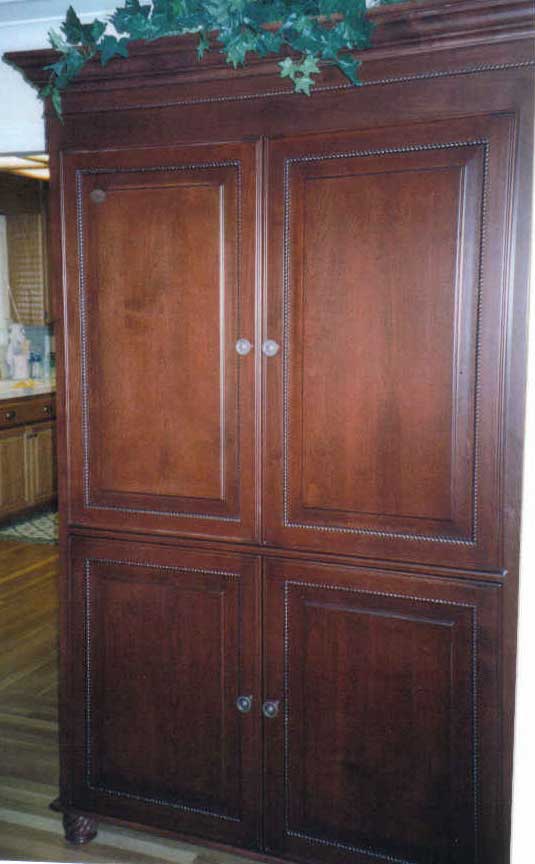 Click here for full size image
---
From contributor G:
To the original questioner: Years ago I had to do the same thing. I first applied a wood conditioner, then a wash coat of shellac tinted slightly with an alcohol soluble cherry dye stain. Then I brushed on a thinned varnish with full strength oil dye stain. I added another alcohol wash coat, varnish topcoats, rubbed and buffed it. There was slight splotching, but the client loved it - said it looked like and antique.
---
From contributor B:
I have done many jobs out of poplar and always in a dark to medium cherry density. I start out by laying-out my molding next to each other. I sand all pieces with 180 grit sand paper. I then use a mixture of 1 part acetone, 1 part yellow non-grain raising dye, and 1 part green non-grain raising dye. I spot spray/blend all the pieces until there are as yellowish green as the darkest piece.
I then will spray pure non-grain raising background colors such as red, orange, or oxblood. This gives you your background color. I then use either brown mahogany wipe stain or traditional cherry wipe stain to match the color of the grain and to dull down the vibrant dye in the back ground. I then seal it and top coat it with conversion varnishes.
I never tried to use poplar as natural cherry, but with some bleach and a wash coat anything can be done. I would try a very light mixture of red oxide, white, and some yellow as a shader. It can be done, however, I would rather use cherry .

---
From contributor D:
In addition to the responses in this thread that deal with coloring and not with wood species, (which most people confuse as meaning one and the other even though they are two different realms), I would recommend reading the following great articles by Mac Simmons.
http://www.iswonline.com/cwb/200403/mac0304.cfm
http://www.iswonline.com/cwb/200005/tinting.htm
http://www.iswonline.com/archives/cwb/guide.htm
http://www.iswonline.com/cwb/200112/dyes.htm