Clamp Retrofits for Sliding Table Saws
Here's a discussion of site-built clamp setups for the slider, with some instructive photos. June 17, 2009
Question
I find the cam clamps for sliding table saws to be very necessary, and at the same time very awkward. Truthfully, none of them seem to work well. The best I have come across is the most recent version of SCM's that has an arched bar instead of a straight one. It also seemed to slide well in the slot. Every time I use one, I think there has got to be another way. Has anyone experimented with a regular Destaco clamp on a sliding block in the T slot? What about air cylinders? I thought about making a piece of T slot aluminum above the sliding table and placing plunge style Destaco clamps on it at intervals, but this seems awkward. What are the clamps like for Altendorfs and Martins?
Forum Responses
(Cabinetmaking Forum)
From contributor J:
Here is one I made for about $600.00. It slides into the T-slots on each end of the sliding table for removal if necessary. By overhanging the table, one does not lose any effective working capacity. The continuous length of the beam holds pieces flat and secure. The wooden rod along the top allows for easy activation regardless of one's position on either side of the beam. The beam is also held in place with removable lengths of pipe so the beam can be removed in a matter of moments when it is in the way. I also like the safety factor in that one's hands are never in harm's way. This also makes splitting flitches and holding down angled pieces much easier.
Note: The safety shield on the hold down beam mechanism has been
removed for visual clarity.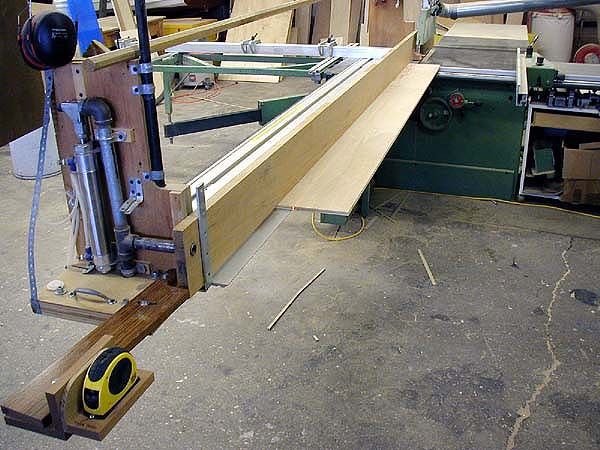 Click here for higher quality, full size image
---
From contributor N:
The Destaco mounted to a board with a block to fit the t-slot works well. Not as stout as the cam clamp, but it doesn't push the wood away while clamping it! I've also adapted the air clamps from my multi-router to fit the t-slot and they work great. Somebody makes some air clamps called the Big Squeeze for sliders. They are pricey, but are plug and play.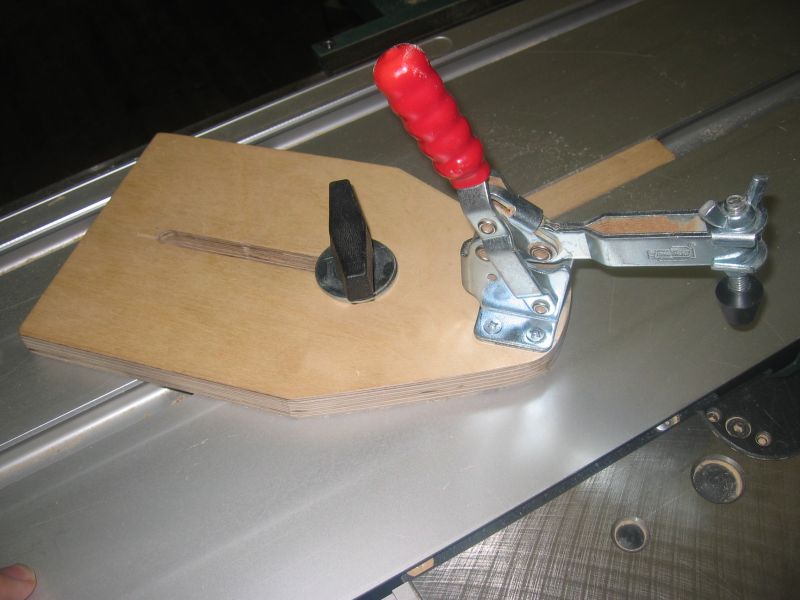 Click here for higher quality, full size image
---
From contributor D:
I always wondered why the machine companies didn't incorporate some kind of vacuum hold-down into the sliding carriage of the saw. It is basically a hollow tube, and it seems like it wouldn't be difficult to set up a series of small holes in the top of the carriage and have a vacuum inside that you could flip on after you position the work piece. Anyone ever heard of such a thing?
---
From the original questioner:
Contributor J, I still do not understand: is your clamp pneumatic like the ones sold by some manufacturers, or is it a manual clamp?
And contributor N, thanks for the photograph. I think that would slide in the slot much better than the cam clamps that seem to jam because they are top heavy or are too loose and then have to be spun around to tighten the vertical shaft before using the clamp.

---
From contributor J:
It is pneumatic. Here is a brief clip in action:
If you are seeing this message, your version of flash needs to be upgraded to view this video.
Click here to get the latest version of the Flash player.
Video courtesy of Progressive Wood Works Inc.
---
The comments below were added after this Forum discussion was archived as a Knowledge Base article (add your comment).
Comment from contributor P:
I use a set of 5 Bessey BS3N "machine speed table clamps". They are not typically available for sale in the USA, but I managed to find some. They are actually available in two sizes, and I have some of the larger ones as well. They are far superior to the average cam clamp supplied with most sliding table saws, and very rapidly adjusted for thickness, engaged and disengaged. Now, they won't clamp wide pieces that cover both T-tracks of the sliding table, but for most work they are very useful.