Construction Boring Patterns
Is there a way to set up a construction borer so it can drill dowel holes for both upper and lower cabs, without a lot of changing of bits? April 18, 2011
Question
I have a new Maggi 2332 construction borer coming and I'm trying to make it a fool-proof setup. Is there an ideal pattern not to have to move bits for upper and lower cabinets? How many 8mm dowels does it take to hold a base cabinet together per joint?
Forum Responses
(Cabinetmaking Forum)
From contributor D:
Answer number one - no. Uppers are 12 deep so you will need a bit at positions 11-9-7-5. These are black and the same on the left. Or you can use the center guide and work that way and do two parts simultaneously. You will then need a bit at position 1-3-5-7 - so 64 between.
Question number two - base cabinets 24 deep I set a bit at position 11-8-5-2 and the same from the left. There is no magic setup and you will be changing bits constantly to get the solution you want. Get extra 8mm bits and collets.

---
From the original questioner:
So four dowels per joint for 12" and 6 for a 24"? Do you keep your fences at 32 or 37mm center from #11 or any other logical distance? Are these collets standard from any supplier or Maggi-specific?
---
From contributor D:
Yes that is usually what I do for dowel quantity. On a 24" gable you will have the back most dowel at a different spacing. You'll see when you set it up the first time because you have to have a symmetrical setup from position 11 to 0 to 11.
I set that right and left fence at 32 from position 11. I don't think you can get it to go 37 at least mine cannot. The collets you should be able to get them from any Magi dealer or from WMD who imports them - I get mine from Great Western Saw in Saskatoon. Not sure where you are but they should be easy to get. I think I have 8 right hand and 8 left hand 8mm bits with collets and 23 - 5mm bits with collets, but I think they are Maggi specific. 70mm bits seem to work the best for me.

---
From the original questioner:
I did some drawing - what about this layout?


Click here for higher quality, full size image
---
From contributor D:
Hey that looks pretty good! You may find the front dowels close together once you see it but that works. Was that drawn in Vector Works? Looks like you have too much time on your hands!
---
From the original questioner:
Corel - I've been a user for almost 20 years and there's nothing much it doesn't do for me. The same goes for Chief Architect. I regret I don't have something like CV (I hear it's expensive and steep). Now I go from Chief for presentation and reenter cab sizes in Excel, I wrote a bunch of macros that give me my cost and cutting lists. That I copy paste into Cutlist Plus and take to the Altendorf. Anything I need to illustrate happens in Corel. There's always time for something fun. Here's a corner of a 4-star convenience store we are doing at a local hotel.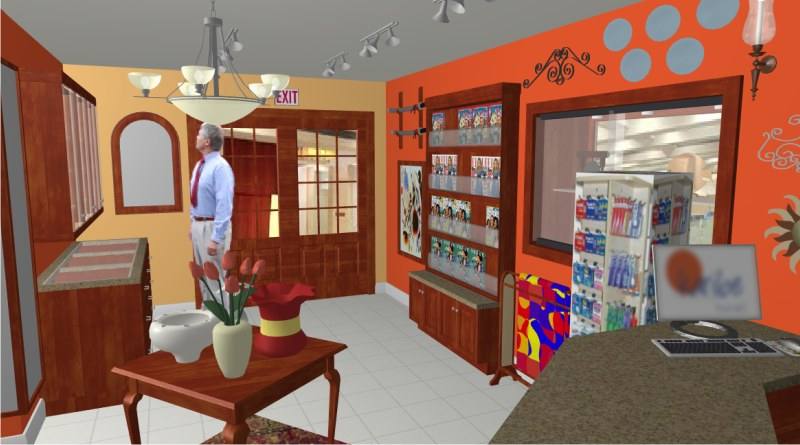 Click here for higher quality, full size image
---
From contributor D:
Cool stuff. You know I just got a copy of eCabinets and it is pretty good for a cutlist and cut diagram. Not a good modeler but it makes it easier than excel. I use Autocad, Sketchup and about 10 other modelers (in my past life I was an architect) but I was struggling with not being able to automatically generating a cut diagram for the panel saw.
---
From contributor S:
I disagree that there is no magic set up. We use the same set up for lowers, uppers and extra deep cabs (550mm, 300mm, 600mm). It is symmetrical and each part is drilled in one operation. We only change bits if we need to bore for Minifix, and that is only two bits.
---
From the original questioner:
When they told me the Maggi 2132 was out of stock and I could get the 2332 instead, my thoughts were "23 spindles is better than 21." Now I see that I should have given that some extra thought. In case to line-boring only and looking for that universal boring pattern is 23 better than 21?
---
From contributor S:
It should not matter. Just remember that the bits towards the middle of the head are being used for both the left and right. Bigger is definitely better. Lay both an upper and base side panel on the machine and pick the bits that make sense. Remember about the groove for the back panel. Repeat for the other side and go back and forth until you figure it out.