Corner Cabinet Ideas
Pros and cons of Lazy Susans versus corner pull-out drawer options. April 20, 2008
Question
I'm in the process of making a layout for my own kitchen cabinet re-build. We have a U shaped kitchen with 9' at the bottom of the U and 11' on the legs. On the 9' section the 30" stove needs to be centered and currently it is flanked by two 36" Lazy Susanís that I hate because of all the clanging that takes place when you rotate the doors to access them.
I'm looking for ideas on what might be a better solution. Money isnít so much an object because it's for me. I started out hoping I could use Blum's 39" space corner drawers on each side of the stove, but as I see it the drawers are going to hit the stove when they're pulled out due to the fact that the stove sits out further than 24". I could drop back to the 36" space corner drawers but I wanted to get as much space as I can. What have some of you found to be the most elegant solution for dealing with corners like I'm describing? Any help or suggestions would be greatly appreciated.
Forum Responses
(Cabinetmaking Forum)
From contributor W:
I would suggest trying a rev-a-shelf blind corner pullout set, then flank the stove with smaller cabinets.

---
From contributor I:
The most elegant solution is the space corner. You don't have to go down 3 inches if you are building them - just go down whatever it takes to miss the stove. You can also add synchromotion to the space corners which will give you more room. Also, if you build the base cabinets deeper you will need less of a filler to miss the stove. Other than that you could do the Haefle corner system, which is pretty high tech.
---
From contributor J:
Here's an image of a recent spec kitchen we did. We just mimicked the angle front of the wall corner and there were no pullouts or roll outs. You do have to bend over though and there is no wasted space.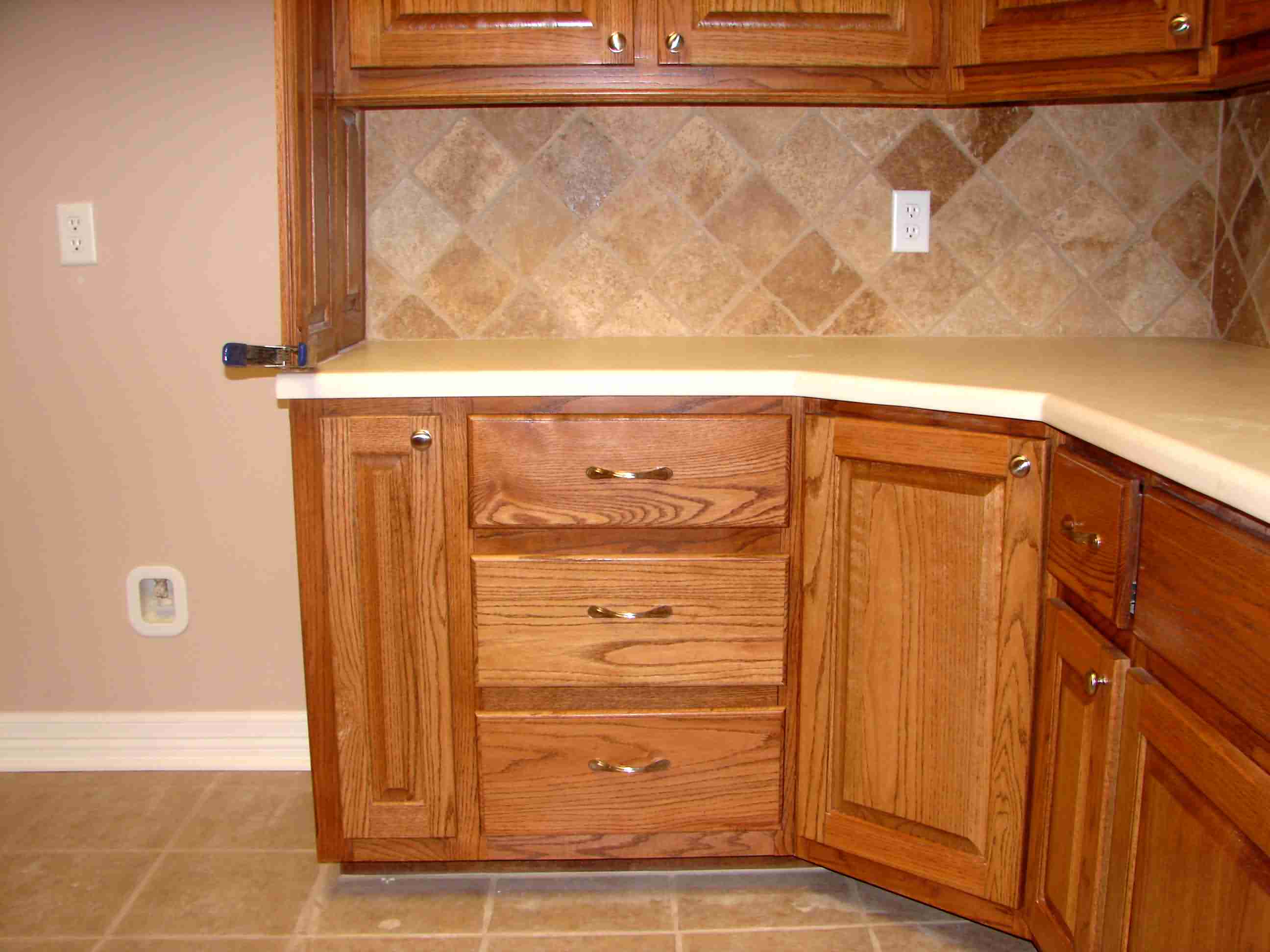 Click here for full size image
---
From contributor R:
I used the rev-a-shelf in my kitchen and it worked great. I canít store a lot in them but it is a good option.
---
From contributor D:
If your stove is too deep for the 39" corner drawers, bump out your cabinets a couple inches until you get your clearance.
---
From the original questioner:
I never thought about bumping out the space corner cabinet until the drawers clear. I will also use the synchromotion option to help the drawers clear.
---
From contributor R:
My personal opinion is that in a cramped kitchen the corner drawers are a huge waste of space because of the clipped voids on the cabinet sides. They are really better suited for large kitchens where they are a novel feature rather than a space saving device.
---
From contributor F:
I agree with Contributor R. Those corner drawers seem like they leave a whole lot of space in limbo. Personally I used the Lazy Susan in my kitchen and have to say it's probably the best bet you'll find for maximizing that space. I don't use the revolving doors though as I don't really care for them. Iím not sure why you don't like the Lazy Susan, but it's your kitchen so you've got to do what you need to.
---
From the original questioner:
I thought the same thing until I did the math on the amount of space I would have with the drawers vs. the Lazy Susan. With a 36" Lazy Susan there is 5.5 square feet of space based on the 2 shelves.
With a 36" Space Corner cabinet with 3 drawers, 2 at 12" and a 6", there is 6 square feet of space, and that's just the rectangular area, not any of the triangular areas. Moving up to the 39" Space Corner you get 7.13 square feet of space. I would just rather have the drawers than the Lazy Susan. I do admit it's a lot more work and cost, but in this case it's worth the effort for the wow factor and ease of use.

---
From contributor W:
Actually the blind corner pullout and a return cabinet is the most efficient use of space but it all comes down to what you like.
---
From the original questioner:
I agree with you. I've used one before and it is a great product. In this situation it just didn't work out in the layout with what I wanted running down the other walls.