Crown Moulding on Frameless Cabinets
Full-overlay doors on frameless upper cabinets make it tricky to apply crown molding at the ceiling. October 9, 2006
Question
I have a frameless kitchen with full overlay doors and I need to know what the best way to apply 2.25" crown molding is. I will apply the crown after installation tight to the ceiling.
Forum Responses
(Cabinetmaking Forum)
From contributor M:
You're in a tight spot here. You are going to have to use top mount crown or make your crown top mount by adding a piece to back off crown to give yourself something to screw to, through the top of cabinet. We build frameless and deal with this a little differently, but since your doors are full overlay, you're limited. Just watch your ceiling height variance, or you will end up scribing crown - no fun!

---
From contributor J:
I normally leave my doors short of the top of the case, staying in system with my door height so the boring doesn't change, install the boxes, install the doors and adjust, then install a head board (usually 3 7/8" wide with edgebanded edge down) gauged off the top of the doors, then install crown, and may add a rope or deco mould at the bottom. To install without the headboard, I string the cabinets together, attach an edgebanded nailer (again 3 7/8") to the top, flush with the front, set the cabinets off the ceiling installed crown height plus the box height. With the edgebander, you can chase out the whoops a little and the doors will hide any variance (usually).
---
From contributor B:
I run my upper end panels taller than the box layout (door closes on the top deck) and attach a flat piece to the "ears," then push the crown to the ceiling.
---
From contributor P:
I make my doors on wall cabinets 1/2" shorter than the height of the cabinet. For example, on a 30" high wall cabinet, the door is 291/2" and flushes to the bottom of the cabinet. That leaves a 1/2" reveal at the top, (3/4" tops, bottoms, sides). I attach a 3/4" x 3" strip to the back of the crown, attached so that 1/4" of the crown molding protrudes down from the top of the cabinet. That 3/4" x 3" strip (with crown molding attached to the front) is secured with screws from the underside of the top of the cabinet. This leaves a 1/4" reveal from top of the door to bottom of the crown molding.
---
From contributor U:
This is how we do it. Hold the cabinets 6 inches from the ceiling, apply the "L" shaped fascia (usually with a bead or quirk at the bottom) to the top of the cabinets, flush with the front of the doors, then apply the crown moulding of choice. Looks classy.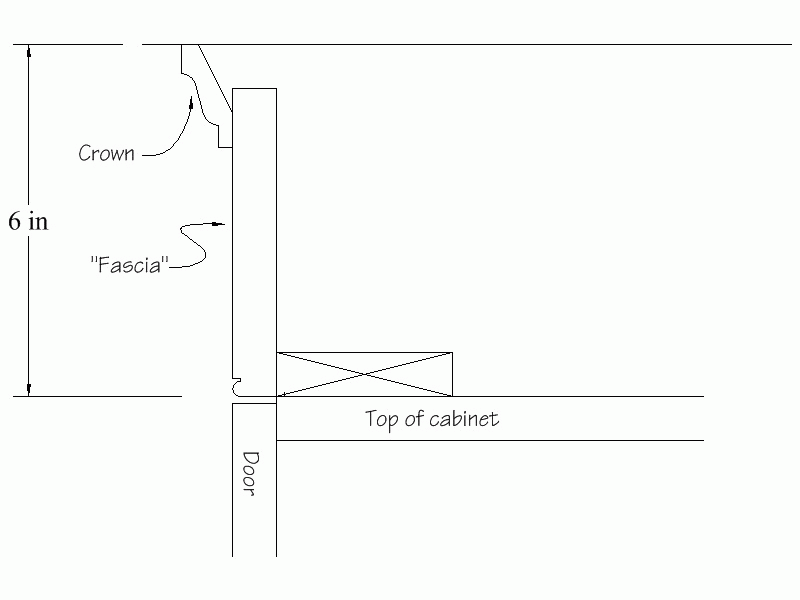 Click here for full size image