Cubby Construction Methods
Advice on joinery methods and veneer application for storage cube shelving. July 15, 2014
Question (WOODWEB Member) :
We have a project for a client who wants an architectural plan table with cubbies in the base for storage. The piece will be all walnut ply/veneer and there cannot be any visible fasteners. My original thought was to notch and spline pieces to accept each other but feel like there may be too much room for error. I then contemplated a mitered assembled for each opening/ glued and pinned. Last but not least building with ply and pocket hole, then slip veneering. Iím curious if anyone has advice on this one. I feel like pre-finishihg is going to have to be the way to go on this as well. The depth of each opening is 40".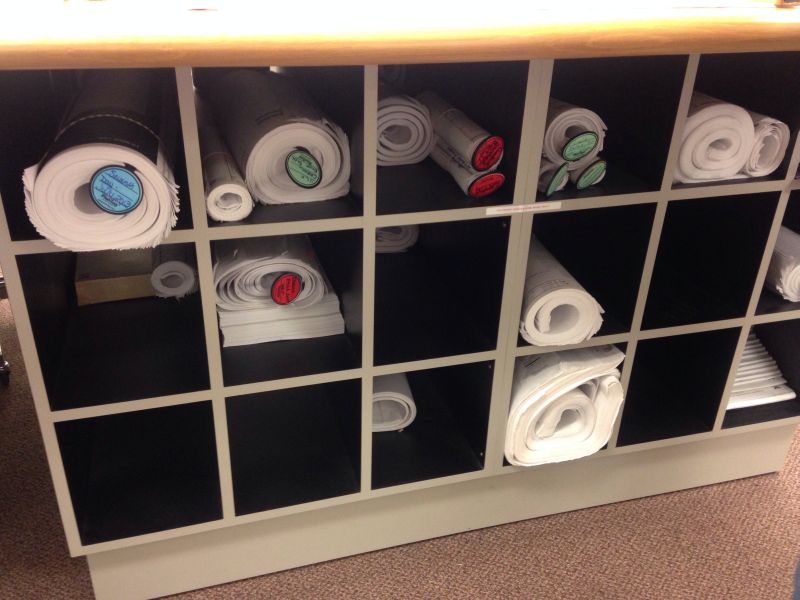 Click here for higher quality, full size image
Forum Responses
(Cabinetmaking Forum)
From contributor C:
We dowelled and glue all of the cubbies with Konnect glue from Wurth Baer. I swear that glue is just great.

---
From contributor S:
Build the box and vertical panels with dado's. Slide in the horizontal pieces and pin at an angle at the front and back. Put on the back panel and screw to all the dividers. Sand the front flush and use a full sheet of veneer or laminate for the edges, don't use all those butted strips.
---
From contributor P:
I'd pre-finish this for sure. I'd build it, dry assemble and sand to get perfect fit, then disassemble, finish, then final assembly. For joinery, I'd use dominos, dowels or biscuits. Make sure to keep finish out of joinery holes!
---
From contributor M:
I'd build similar to Contributor S's description, though I'd glue/clamp it all together. I wouldn't look forward to trimming the face veneer on prefinished, so might try to avoid this step through some cool design feature.
---
From contributor H:
I'd dowel it. If you don't have the machinery for dowels consider biscuits. Dado would be a last choice for me.
---
From the original questioner
:
We don't have a doweling machine, but the verticals could be done on CNC with the plywood edge dowels being the most time consuming using a jig. Dadoes were a consideration as well. Contributor S - there is no back panel so it has to be very ridgid in the case construction. The faces would need to be a full sheet of veneer as the client does not want to see butt joints.
---
From contributor D:
Clamping would be an issue for me. I'd use half dowels and confirmats and half Mod-eez. The image below is for thicker/heavier duty construction, but it's the only one I have with my stop rail for sizing/locating the Mod-eez pockets.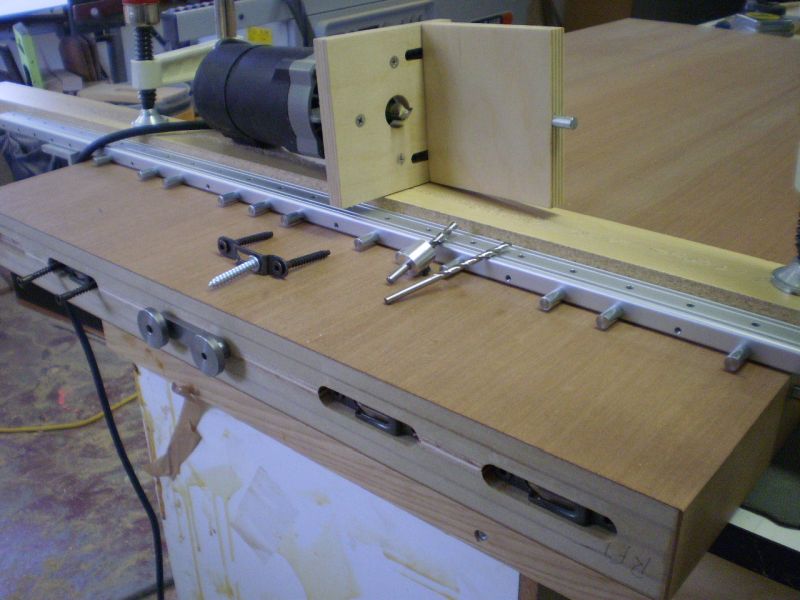 Click here for higher quality, full size image
---
From contributor L:
How are you going to laminate the full sheet of veneer onto the face edges? Surely not contact! There are better ways to design cubbies. Offset the verticals from the horizontals. Run the parts through the bander using 1.5mm multi-layer banding. Dowel and case clamp. Strong, no issues with veneer edges getting damaged easily, no wasted labor flushing, designed for production using modern methods for a superior result. The multi-layer banding allows the edges to have a radius. As an alternative you could use solid 2 or 3mm lumber bands, just be sure to prime them.