Cutterhead Knife Angle


Long and detailed discussion of knife grinding, focusing on back bevel and side clearance. February 19, 2006
Question
I have a Yates American B-244 single side planer with a 4 knife round cutterhead. The cutterhead is stamped 30 degrees. What should the grind angle on the knives be? We plane mostly hardwoods and are getting way too much tearout. I do have the chip breaker, pressure bar and bedrolls adjusted as the owners manual recommends.
Forum Responses
(Solid Wood Machining Forum)
From contributor Y:
I am very interested in viewing the responses to your question. I guess it might depend on the diameter of your cutter head, but it seems like you should be wishing it had a 10 or 12 degree stamped on it. How to compensate for the 30 degree pocket via the knife grinding angle is something I would like to learn as well.

---

From contributor R:
I agree with Contributor Y. I'd wish it had stamped on it 10-12 degree. The hook angle determines where the impact area is on the wood surface. The lower the # of degree the more surface area of the wood it touches while cutting. Try grinding the knives at 20 degree rough grind and maybe 15 degree on the finish grind. I don't think it will help a whole bunch but its worth a shot before buying a lower degree cutterhead.

---

From contributor J:
If the hook angle is to sharp, putting a back bevel on the knife would help it. It would be a bevel ground on the face of the knife to create a lesser hook angle relative to the wood. If the cutterhead is 30 degrees, then a 20 degree bevel on the face would make it 10 degrees.

---

From contributor C:
Most older planers have high hook angles in the head's knife pockets (like your 30 degree in the Yates). This requires more than 30% less horsepower to run, than a comparable head with a 12 degree hook. A cutterhead with a lower hook angle would provide a much better finish in hardwoods. A good solution would be to go to an insert spiral or straight knife head.

If you need to continue to use your existing cutterhead with the 30 degree hook, then here are a few grinding suggestions. Initially, grind the knives at 20 degree back clearance and then add a 10 degree side clearance. Then use an 18 degree secondary grind that is very narrow (only 1/64 wide or so). This secondary angle will help to increase your tool life.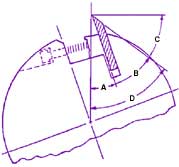 ---

From contributor S:
I'm confused. What exactly is a 10 degree side clearance? Would that be to alleviate somewhat the "hollow"? And if so, then how does it come into play with the secondary 18 degree grind?

---

From contributor R:
I think the 10 degree side clearance acts like a shear cut. I too use 5 to 10 degree side clearance on all my knives while grinding (it allows the knife to breathe). The micro 15-18 degree finish grind allows the wood chips an avenue to escape between the rough grind. There is less surface area of the knife touching the wood, less friction, less heat buildup and longer knife life.

---

From contributor S:
We're talking planer knives, right?

---

From contributor R:
Yes, same concept applies.

---

From Dave Rankin, forum technical advisor:
I agree with the posts. I use about a 20 degree back grind and a 10 degree side grind. The side grind, from the grinding wheel, leaves small marks on the knife. These create an air flow that pulls the heat away from the tool. The chip also will follow the direction of the side grind. It acts as a shear in this manner but not in the true since of the term shear. As a normal, you can expect to increase your tool life by using the 10 degree side grind about 20%.

---

From contributor M:
Contributor R - I am missing the whole "side" clearance grind thing. Can you explain a little better if you would as to where on the knife this is occurring.

---

From contributor R:
Tilting the actual grinding wheel 5 - 60 degrees while grinding, creates what we call side clearance. I hope that helps.

---

From Dave Rankin, forum technical advisor:
You may not be able to tilt your grinding wheel on your machine, and if you cannot then you will not be able to do a side clearance. If you grind you knives in the machine, then it is unlikely that a side clearance is possible.

---

From the original questioner:
My planer is direct drive so replacing the cutterhead is not practical. I cannot side grind with the planer's grinder so I will try a 20 degree back grind with a finish grind.

---

From contributor Y:
I guess this side clearance thing is taking the long way around to my brain. You grind your rough grind, and on your finish grind you have your wheel tilted (I can do that) to make diagonal marks on the edge of the knife? Is that what everyone is explaining? If so, does it really help?

---

From contributor S:
I've been putting a "side clearance" on my straight moulder knives for years, but apparently not for the right reason. I've ground my straight knives this way to reduce, albeit only somewhat, the hollow or concave effect. My understanding was that a hollow grind is more fragile than a knife ground flat, or along its length.

---

From Dave Rankin, forum technical advisor:
A few years ago when the Grinderman's Association Training Center was operating, test were performed using an infrared thermometer. During this test the following things were discovered:

1. The higher the back clearance, the cooler the knife (until the knife started dulling).
2. Side clearance on straight knives and on many profiles that normally did not require a side clearance would see a lower operating temperature as long as the side clearance came to the exact cutting edge.
3. Shear heads run cooler.
4. Most knife steels do not have a major difference in temperature except for some of the special treated or coated steels. In this test we found that steels such as Diamond Back and DGK ran cooler than untreated steels.
5. Hook angle of the cutterhead did not seem to play as important of a role as did the grind angle.

This testing was done during production runs at a couple of different manufacturing facilities. Records were made but are not available outside of this manufacturing facility.

The changes that this company made were the following:
1. Back clearance was raised from 22 to 25 degree.
2. Side clearance was added to all cutters.
3. All knives are made from DGK coated steel.
4. They are now in the process of determining the cost effectiveness of shear cutters.

---

From contributor T:
Has anyone thought about the knife extension? We have found that the closer the knife is to the gib/head body, the more of a shaving you get. The shaving causes less grain fracturing and a smoother cut. Lower the knife to as close to the head diameter and gib as you can get. Also, consider running with two knives instead of four. It's hard to set all four knives to the same cutting circle, unless you're jointing them in the head. Two knives will give you a good cut, last longer, stay cooler and use 50 % less knives.

---

From contributor R:
Contributor J had it right regarding the hook angle. You can lower it as he explained by grinding a bevel on the face as well. This was common practice in the "old days"

---

From contributor S:
Dave, of the five discoveries you list, that were a result of the Grinderman's Association collaboration with a couple of different manufacturing facilities, only the second discovery is relative to my question regarding "side clearance" grinding on straight knives.

2. Side clearance on straight knives and on many profiles that normally did not require a side clearance would see a lower operating temperature as long as the side clearance came to the exact cutting edge.

It is disappointing that both straight and profile knives were lumped together in this conclusion, and that there was no quantifying data for either type knives. Also noteworthy is the absence of any mention of "chip direction". Is it possible that this aberration was not one of the test's focuses, and therefore no data was collected? If so, who tested and discovered the chip direction phenomenon?

---

From Dave Rankin, forum technical advisor:
The direction of the side clearance came to light when the chips filled up the floor around a spindle. The side clearance should help force the chips toward the fence so that you can get a better chip removal

As for the manufacturer that did the test, the test was done as part of a contract with the manufacturer. The general information is available since it has been re-tested several times in the field. As with all tooling tests that I have been involved with, proof is the difference that it makes for you.
---

Would you like to add information to this article?
Interested in writing or submitting an article?
Have a question about this article?

Have you reviewed the related Knowledge Base areas below?

---



All rights reserved. No part of this publication may be reproduced in any manner without permission of the Editor.
Review WOODWEB's Copyright Policy.

The editors, writers, and staff at WOODWEB try to promote safe practices. What is safe for one woodworker under certain conditions may not be safe for others in different circumstances. Readers should undertake the use of materials and methods discussed at WOODWEB after considerate evaluation, and at their own risk.

WOODWEB, Inc.
335 Bedell Road
Montrose, PA 18801

Contact WOODWEB Copyright © 1996-2020 - WOODWEB ® Inc.