Cutting State Outlines from Wood


Ideas for machining complex outlines from solid wood slabs. April 20, 2011
Question
I need to carve (or other idea?) a map of the USA. I'm thinking 12" x 8" and 1 1/2". Nice wood with each state outlined. You guys are creative - please help me out.
Forum Resposnes
(Furniture Making Forum)
From contributor J:
Find somebody with a laser cutter.

---

From contributor H:
Intarsia.

---

From contributor I:
Laser cutters are limited to 1/4". Here's a photo of some Stations of The Cross we did with a laser. You could try a waterjet, but they have some issues with wood - the beam spreads, for one, and... well, they use water. The difficulty is cutting out different states from different pieces of wood - you have to index them to the cuts, plus you need the outlines in the right format of digital file. It's much easier to cut them all from the same board. Or get really, really good with a really good jigsaw, but 1 1/2" thick is a lot. Get ready for some testing.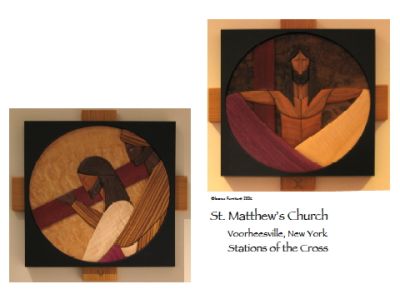 ---

Would you like to add information to this article?
Interested in writing or submitting an article?
Have a question about this article?

Have you reviewed the related Knowledge Base areas below?

---



All rights reserved. No part of this publication may be reproduced in any manner without permission of the Editor.
Review WOODWEB's Copyright Policy.

The editors, writers, and staff at WOODWEB try to promote safe practices. What is safe for one woodworker under certain conditions may not be safe for others in different circumstances. Readers should undertake the use of materials and methods discussed at WOODWEB after considerate evaluation, and at their own risk.

WOODWEB, Inc.
335 Bedell Road
Montrose, PA 18801

Contact WOODWEB Copyright © 1996-2021 - WOODWEB ® Inc.