Darkening a Too-Red Stain
Finishers help troubleshoot and correct a stain job that came out a little too red. April 21, 2007
Question
I have a set of cabinets that I first sprayed with a red dye. I then applied a reddish brown wiping stain. The customer wanted the cabinets to be more on the red side and they liked the sample. After looking at the whole set of cabinets, they decided they might be a little too red. They still want the red to show, but be a little bit more brownish red. The wood is poplar and birch. The color matches on both woods and looks great - only a little red. What color toner would you use to dull the red just a little, while still maintaining a fairly dark color?
Forum Responses
(Finishing Forum)
From contributor P:
If you have some green toner, that may work as it should tone down the red a bit, but try it on a sample first.

---
From contributor S:
I agree on green. Are the cabinets completed?
---
From the original questioner:
The cabinets only have the sealer, but no topcoats yet.
Will the green kill the red, or turn it more brown while leaving some red? What do you think the resulting color would be if I made a toner out of Mixol #2 raw umber?
---
From contributor T:
Green kills red, but if you want to shift it toward a cooler, more brownish red, shift your toner from green toward blue. That will kill the oranges and push the color toward burnt umber. I prefer dye based toner, but pigmented will work too - just obscures the grain a little more. Raw umber is the coolest of the browns and should work - go easy or you'll end up with paint. A little raw umber trans tint in your first finish coat would be better I think.
---
From contributor J:
I prefer to use diluted dyes for shading. If you don't have green, mix yellow and black - that will give you a green that will take away the red. Remember, the more of the red you want to kill, the darker your overall color will become.
---
From the original questioner:
This is basically the color that I have.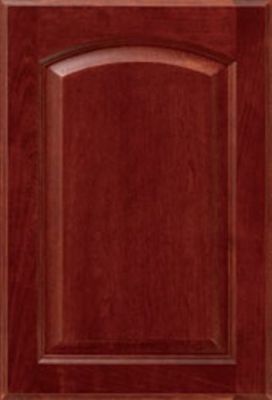 This is the color that the customer wants. Based on these pictures, what would you do to go from one to the other? Would you use a pigment toner or a dye toner, and if you would be using transtint, what color would you go with?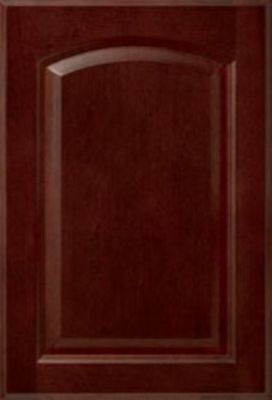 ---
From contributor C:
That is (at least on my monitor) sort of a bluish burgundy red. To get to a truer brown tint I'd use a yellow-green tint. This approach would also keep the value relatively unchanged. Any significant blue-green added would bring it darker. Even if you want it darker, I'd get the color corrected first and then darken it. Since there are few good yellow-green pigments, I'd use a combination of a light yellow pigment and a green one. Make up a step sample board to work this out (perhaps even several). My experience would point to reasonably good prospects, but care and skill are important here - one wrong move and you are stripping.
---
From contributor T:
With Transtint I'd use green and blue. Don't want to add to the confusion or start a debate, but I see a lot of orange in the original. The desired is darker, richer, cooler - the oranges are gone. Green kills red. Yellow kills violet. Blue kills orange. And a lot depends on the ambient light. Guess you're going to have to make a call.
---
From contributor C:
Oops - I had not seen the second picture when I posted above... disregard that post. I really think that all you need is shadow to match up now. Just apply a clear coat slightly tinted with black. Test carefully, because you need the tint strength to be pretty accurate.
---
From contributor Y:
I agree - black.
---
From contributor A:
Ditto... black tint.
---
From contributor I:
If I were you, I would use ML Campbell's cherry Microtone dye and make a toner with it.
---
From contributor J:
What type of products are you using? All solvent, all water, a mixture?
---
From the original questioner:
I'm not using any water based products.
---
From contributor J:
Here is how I make my shaders to go between the sealer and topcoat. To make a quart, take 8 fluid oz of your wiping stain, 8 fluid oz of your varnish, and 16 fluid oz of xylol. Mix well, check color. It should be too red. Now start adding drops of dye to get the shade of color you need.
---
From contributor L:
Spray perfect brown NGR over the color you have and then topcoat. You'll see (in a sample).
---
From the original questioner:
What effect would a dark brown toner have on the red door? Would the door color be darker but still show some red?
---
From contributor P:
I think a walnut toner would get you closer. The finish in the photo looks kind of muddy but that could be due to my monitor. Pick one of the doors that wouldn't be used much and spray the back of the door. See if you're happy with the results.
---
From contributor T:
Depends on the brown. Browns run from a warm burnt umber, which will tend to kill yellows, to raw umber, which is very cool and will tend to kill oranges. Perfect brown and Vandyke brown are in between. If I wanted to turn down the orange and still leave some red and needed to use a brown, I'd start with raw umber. If that killed too much red, I'd add in some Vandyke brown, which will move the color-kill more toward yellow/orange, leaving more red. Bear in mind that turning down the yellows and/or oranges will result in a darker color. Too dark or not dark enough? You'll have to try it to find out. If it's too dark, cut your toner. If not dark enough, add more color or a little black to your toner. Blacks tend to have a strong blue component which will tend to kill the oranges more than anything else.
---
From the original questioner:
Where does Sherwin Williams brown S61N502 tint fall in the brown spectrum?
---
From contributor C:
I don't know where it falls, but unless it's black, it won't be what you need. Trust me and try it. Thin coat of clear tinted slightly with black pigment will do what you need... This is not a theory - I've done it numerous times. An even coat of black glaze... same story... the job is done.
---
From the original questioner:
I'll try the black. I'm going to try some of the other suggestions too. Thanks to everyone for all of your help.