DeWalt 3521 Radial Arm Saw
A collector and reseller of old American-made tools discusses a classic radial arm saw. March 26, 2013
Question
I need exploded diagrams for a DeWalt 3521 (also has Black and Decker logo on the plates). It is a Type 2, serial number 84070003. It looks similar to a radial arm from The Original Saw Company.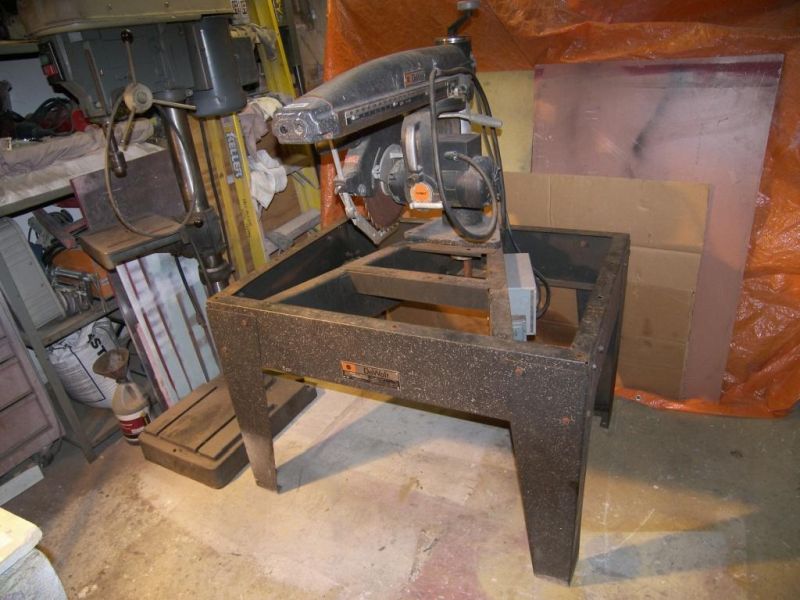 Click here for higher quality, full size image
Forum Responses
(WOODnetWORK Forum)
From contributor D:
Google Old Woodworking Machines (www.owwm.com) and click on machine info; they have a whole list of machinery publications. I also have a DeWalt and downloaded the manual from OWWM.

---
From the original questioner:
I already looked there but I didn't see a listing for a 3521, or anything close to that number, so I didn't look for long. I just looked again, opening every one, and the closest model to the area of mine where there is a problem is a #770. I'm assuming mine is a 1984 manufactured model because the serial number starts with 84. It looks like all the ones on OWWM are '70's or older. I just bought this saw at an auction so I don't know how it was damaged. The problem is that the elevating crank doesn't work. Look at the picture below and then look at the PDF for a #770. Most models seem to have an elevating nut inside the column with 2 bolts attaching it that are visible from the outside, which mine does not have. The small hole in the pipe you see in the picture had a cotter pin in it. I have had the whole assembly inside the column out. Nothing looks out of the ordinary. The threaded shaft looks like new.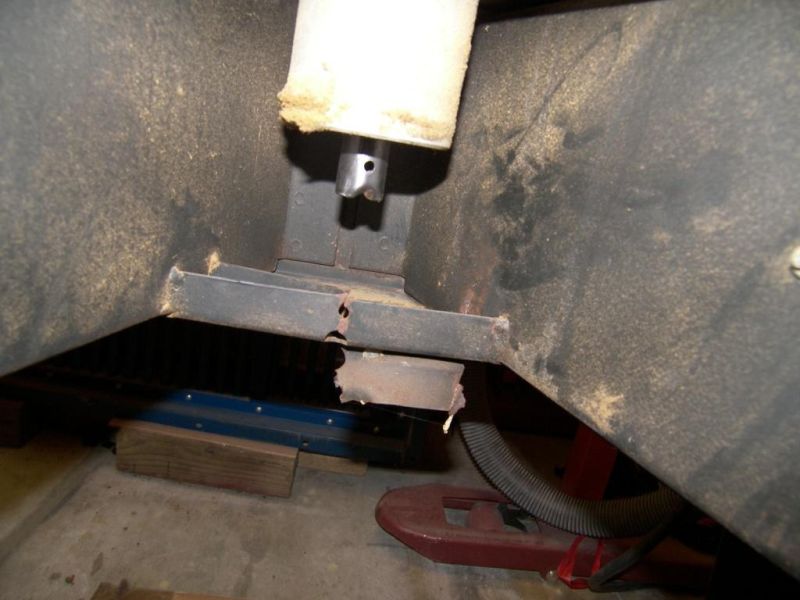 Click here for higher quality, full size image
---
From contributor D:
I believe Original Saw machines are built basically the same as the old DeWalts, and they sell parts for the DeWalts. I'd try getting in touch with their tech department. I also recall a company that specializes in reconditioning the old DeWalts, but I can't remember their name. They may be listed on OWWM.
Congratulations on finding one. They're a great tool, but hard to come by. I found mine when I made a wrong turn coming back home from a fair. It sat out along the road with a sign on it that said "Free." I'd been looking for one for years that I could afford and couldn't believe it.

---
From the original questioner:
Wow! A free one. That's the best kind of tool. You're right the DeWalts are basically the same, except the column interior. The Original Saw is better. I had one that I bought for resale. I called them today and the exploded diagram they have of a DeWalt 3521 doesn't show the area I need very well, and they didn't know how it is supposed to look when properly assembled. I figured it out after I talked to them. The piece of tubing inside the column is supposed to sit all the way down inside that mangled piece of channel and a cotter pin goes through the holes to hold it in place. Most of the elevating assembly is a weak design. The rest of the saw is very heavy duty, like an Original Saw. I'm going to cut the welds on the channel to remove it and make a thicker piece. The one in there now is too thin. I can't imagine how the one in there now was damaged unless someone started to pick it up with a forklift and bent it. The Original Saw Company is going to send me a manual for a 3521. The two saws are so much alike because The Original Saw Company bought the patent from DeWalt.
---
From the original questioner:
The finished product. Much better and stronger than when it was new. The internal elevating assembly that you can't see has almost no wear on it.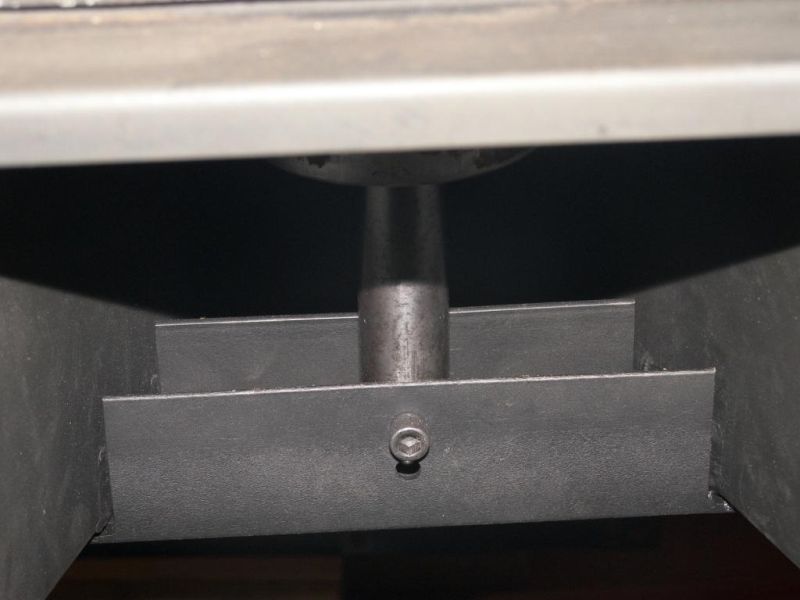 Click here for higher quality, full size image
---
From contributor B:
A bit of history for you. As explained to me, Black and Decker purchased the DeWalt name and rights to manufacture everything by DeWalt. I believe this was in the late 80's, but I don't know for sure. That is when the yellow DeWalt tool line was developed by Black and Decker. However, Black and Decker had no intention of going into the heavy equipment market, so the rights to the DeWalt radial arm saws were sold to The Original Saw Co, so named because they were using the original DeWalt castings to make the saws.
---
From the original questioner:
You're right. Around 1960 DeWalt was sold to Black & Decker (see photo of ID plate on motor with B & D name on it). In 1990 Black & Decker stopped manufacturing the DeWalt radial arm saws (but kept the DeWalt name). The higher end, commercial grade saws, like the 3521, cost too much to manufacture. They couldn't lower the quality because they couldn't compete with comparable saws. B & D sold that division to Lancaster Saw Co. About a year later they went bankrupt and sold to The Original Saw Company.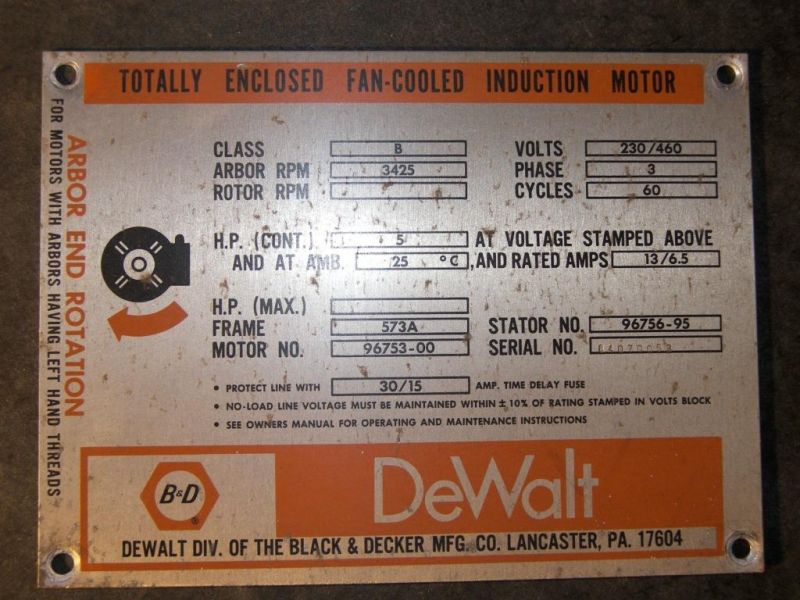 Click here for higher quality, full size image
---
From contributor B:
Thanks. I forgot about the Lancaster Saw involvement. Also I didn't know Black and Decker ever made any of the saws.
---
From contributor A:
The fact that Black & Decker has managed to ruin not only their own name, but DeWalt's as well, is now part of our historical record. They also killed Elu, who used to make great routers. I'm sure there have been other victims as well. I inherited two old B&D power tools from the late 60's. One is an 8" circular saw and the other is a solid aluminum 1/2" drill that you could use as an anchor. They are two of the toughest power tools I've ever used.
---
From the original questioner:
Does your B & D drill look something like the one in the picture, or is it older than that? I just bought that at an auction today for $15 to use for mixing 5 gallon buckets of drywall mud so I don't trash my Milwaukee drill.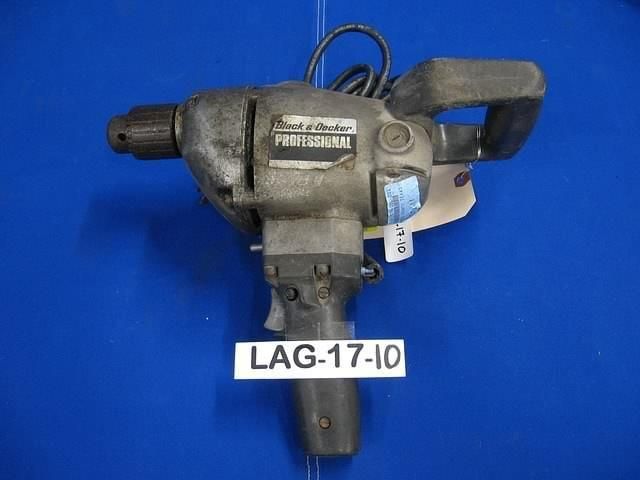 Click here for higher quality, full size image
---
From contributor D:
I'll vouch for the quality of the old DeWalt radial saws. Mine dates from the 1940s, and it's as solid as the day it was built. It's completely original, down to the switch, and everything works perfectly. I looked for one for years, having used them in other shops, and it's infinitely better than any of my newer machines. There is no substitute for older American made machinery. They were made to last and made to do their job dependably and accurately.
---
From contributor A:
They apparently kept up the quality of the radial arm saws. Everyone knows the DeWalt radials are great tools. Unfortunately B&D transformed themselves form selling bombproof drills like your picture to selling consumer junk at Walmart. My drill is similar to the one you posted. Milwaukee drills eventually replaced those as the gold standard of drills.
---
From the original questioner:
I bought an Original Saw Company 5hp, 16" radial saw a while back that would have cost at least $5,000 when it was new and it looked almost identical to this DeWalt. The only thing that resembles B & D on it are the B & D emblems. The whole assembly weighs over 500 pounds so there must be some heavy duty stuff in it.
---
From contributor T:
I really picked up woodworking as a hobby a little over a year now. When I knew I was going to be making a lot of wide cuts I got a DeWalt radial arm saw. I started using it a lot and I love it completely. It gives a precise, and very smooth cut. I even found out that my friend's father has had one for over 25 years and it's still running strong.
---
From the original questioner:
That's why schools, industrial institutions, military bases and large furniture manufacturers use them. They are very durable and powerful. Here's a picture of a 1955 Model GA I found recently. Still going strong.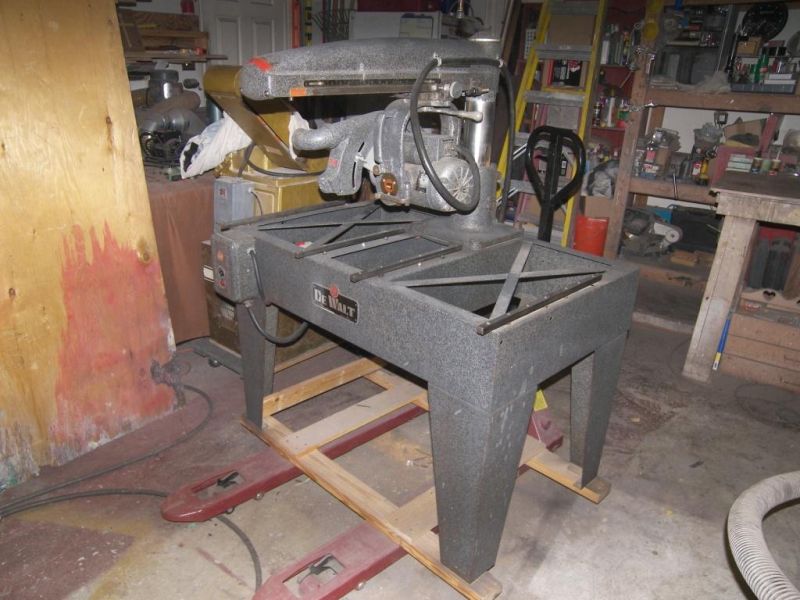 Click here for higher quality, full size image