Design, Construction, and Pricing for a Bar
Advice on building a bar, starting at the conceptual phase. March 26, 2010
Question
One of my clients just asked me to bid on the design and construction of a bar for their home. This would be my first bar. A quick search shows many good threads that I've started looking through but it will take a while. I was wondering if anyone could direct me to some good resources for design and construction, pitfalls, etc. Does anyone have a list of questions to ask the client? We have not met yet so I don't know what they have in mind but I'd like to go in prepared.
Forum Responses
(Cabinetmaking Forum)
From contributor P:
A bar can be a fun project. I like to build mine with a stud wall. This gives you something to attach the outward facing panels to, and provides space for wiring and plumbing behind.
Questions to ask:
- Shape (U, L, straight)?
- Attached to wall or free standing?
- Sub-counter?
- Sink?
- Appliances (fridge, wine cooler, icemaker)?
- Need power for countertop appliances?
- Bar rail and/or drink rail for top?
- Foot rail?
Search on the web for bar plans, and go to a few bars and look, take pictures, have a beer. Good luck.

---
From contributor B:
Don't forget to get a receipt for the beer - write it off on your taxes as a business expense! But seriously, the only thing I can think of that contributor P hasn't mentioned already is the scope of work. Do you need to handle the plumbing and electrical and that type of thing. It's amazing how many people think a sink cabinet price includes the sink and the installation.
---
From the original questioner:
Thanks. Contributor P can you describe the stud wall? This will be free standing I think and might have cabinets behind on the wall (they are at the renovation stage so things are unclear). So how many bars do you recommend - a dozen? I've done work for them before and told them I'm not a GC. I would rather they contract directly with the plumbing and electrical than try to take a percentage off that. That way I'm not responsible if they screw up. These are discerning clients. For example, she doesn't like that she can see the nail hole filling in the trim (done by others). That's exactly why they'd like me to do the work although it can mean a fair amount of worry on my part.
---
From contributor P:
Just a good old 2x4 stud wall with top and bottom plates and vertical studs placed every 16" (or strategically located for panel attachment, wiring, plumbing, etc). The wall is at bar height (typically 42") minus the thickness of the bar top. If your bar is U or L-shaped, I'd build the side walls the same way. I usually secure the wall to the floor, attach the front panels, and the cabinets behind the bar are screwed to the studs, too.
Commonly, the cabinets are just like kitchen cabinets, with a separate sub-countertop. You need to consider the width of the main bar top and how it fits with the sink and faucet in the sub-counter (if there is a sink). If the bar top is wide or projects far out from the front of the bar, you may have to use corbels or brackets to support it. I recommend using stone or solid wood for the top - it will take a beating. If wood, use the best finish you can. Here's an image of a nice bar I built recently using this method.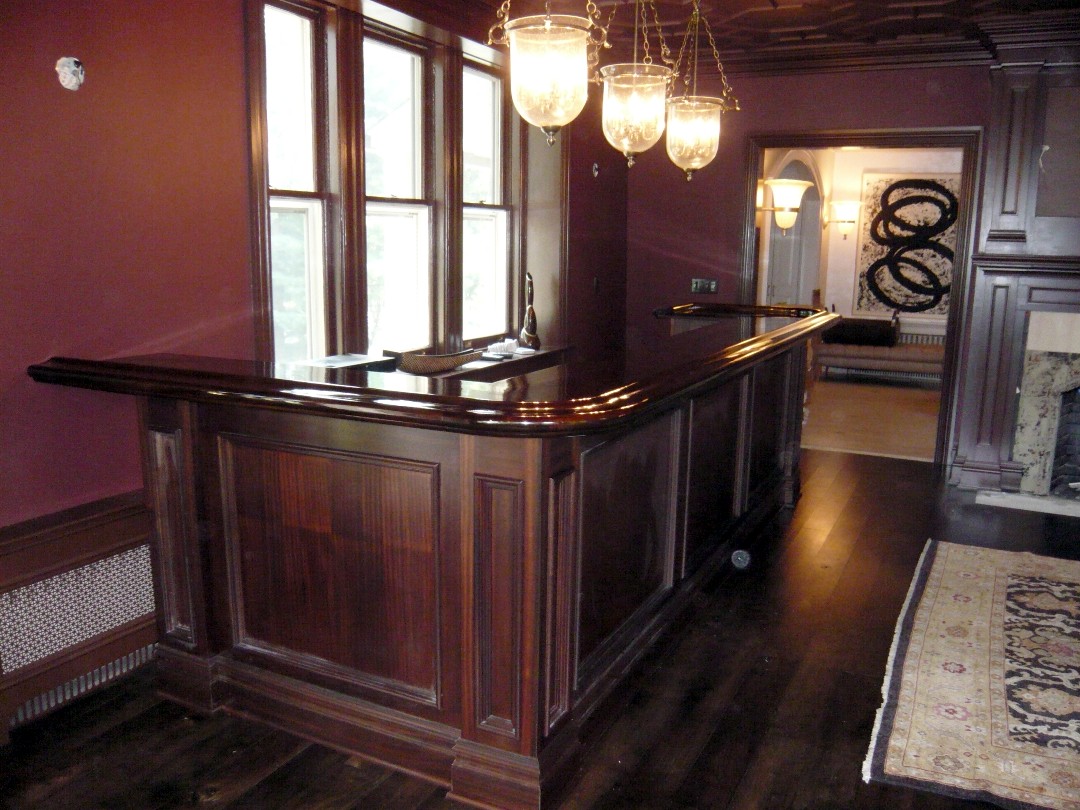 Click here for higher quality, full size image
---
From contributor J:
There are a lot of ways to skin a bar! Diewall = 40.5" tall min before top, good finished height is 42". Work surfaces 36" and 36" min floor space for bartender. 44 is excellent, 48 is commercial.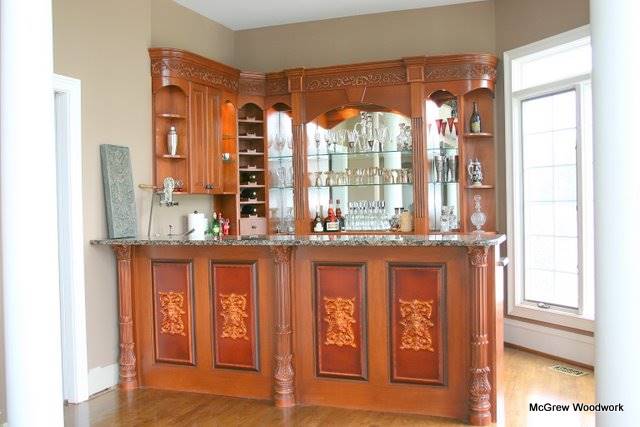 Click here for higher quality, full size image
---
From the original questioner:
Nice work guys. Thanks for the tips. I'm sure will have lots of questions as I proceed. A quick search of the web shows it will be hard to tell which plans are good, perhaps worth paying for and which are not. So many choices!
---
From contributor P:
Very nice bar! Did you CNC the curved work?
---
From contributor S:
Go to your local library, and do your research first hand. These are all very helpful suggestions, but seeing it in books gives you more to work with. You will see how electrical and plumbing should be roughed in, so you know how to build to allow for it. If it is your first bar, select materials that are easy to work with. Think about what materials to use around areas which might get wet.
---
From contributor D:
I have been building home bars for quite some time and I have three important design considerations for my customers have been.
(1) Comfortable serving reach for the bartender (usually the homeowner).
(2) Comfortable knee clearance for guests sitting at the bar.
(3) Comfortable height for guests sitting and standing at the bar.
(1)The serving reach is usually poor when using standard base cabinets as the work surface attached to a kneewall. This design is more of a breakfast bar than a rec room bar. To accomplish a good serving reach you can make custom cabinets or use 12" deep wall cabinets and space them off of the knee wall to accommodate any work surface counter depth that the customer wants. You must also make your own toe kicks.
(2) For knee comfort design I usually make a small "mock- up" and work with the customer to meet their expectations. That meausrement has been between 9" and 16".
(3)Normal finished height for comfort is 42" I have had customers that like 43 to 44 inch heights. I have included a few images of a cherry bar just completed. I hope this info helps.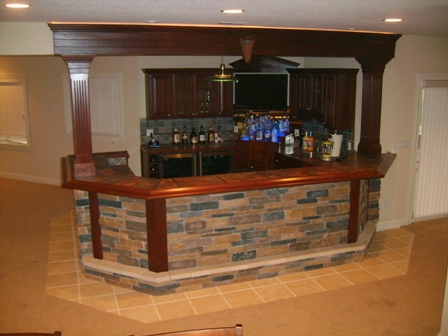 Click here for higher quality, full size image
---
From the original questioner:
I met with the client. She likes the "45" L-shaped Kegger bar" with the cabinets behind them. It will be much smaller since the room is only 13' across.
Pricing - rough ballpark ideas? Contributor P - I think in principal itís not that different from yours. The room will likely have poplar stained trim and wainscotting so I guess Iíd make the bar out of poplar but Iím not sure Iíd like to make the top out of it. I couldn't find any books on bars in the library - any leads?

---
From contributor P:
I personally would not use poplar for the bar top (or any part of the bar if I could avoid it). Maple, mahogany, or even oak would be a better choice. If you're doing a rail similar to mine you can purchase it as a moulding from many millwork suppliers. Some offer matching radius sections for the corners. If so, find out what species they offer - that may determine what choices you have for your top.
Pricing? Price it like any other job. Define all your materials, labor and other costs, throw in some factor for dealing with the unknown, and let it rip. The bar in my picture was 11' x 4' long. I sold it at $12K, finished and installed. It was done in Mahogany and Sapele.

---
From the original questioner:
I am thinking of outsourcing as much as possible, especially things like the bar rail, however I have no experience with any of the companies. I've contacted Waltzcraft and been impressed with their sales people. I've not liked the local (Ohio) molding companies I've found - too much tearout and tool marks requiring lots of sanding. The price is very helpful. I will work up the labor and materials etc, however as a one person custom shop who never does the same thing twice itís hard to know if the numbers are reasonable beforehand. I had a rough feeling of 10-20K.
---
From contributor D:
Have you tried Baird Brothers Sawmill in Canfield OH? I use them for some of my specialty trim. I have had some amazing product from them.
Contributor P - nice work - that bar is class!! Nice radius rail. What finish did you use on the rail?

---
From contributor P:
The top was finished by hand using about five or six coats of Behlen Rock Hard Table Top Varnish. A slow and painful process, but the results were good. The rest of the bar was sprayed with Target EM 2000 waterbased topcoats. The bar rail is from Bossen Millwork in NJ. They stock the rail and will ship it. Walzcraft is a fine company. I've used them, and have been very happy with them.
A few notes on pricing:
- My price did not include the granite sub-countertop. That was done by another contractor. Also no plumbing, electrical, etc.
- Depending on plumbing/electrical, you may need to schedule a second installation visit to allow for rough-in. 1st visit you install the shell of the bar with stud walls (if you go that route). Plumber/electrician do their thing, and you return to install the cabinets behind the bar.
- If you don't have a box truck, budget for renting one to transport the bar top. My fully assembled L-shaped top was too big and unwieldy to go in my pickup.
- Budget extra time for finishing the top. If you do it by hand like I did, there's lots of sanding between coats, and the stuff is very slow to dry. Better yet, outsource the top finishing to a shop that can do a 2K poly finish.