Designing Banquette Seating


Advice on seat height, table height, seat back slope, et cetera, for built-in banquette seating at a table. September 25, 2014
Question
As I move closer to closing the deal on a banquet seating and kitchen table job, I've run into a few concerns. What degree angle should I make the back of the seating tilt back at? I found the angle of their chairs to be at a 10 degree angle. This will be an L shape so my challenge is how to wrap the corner to make this L shape. I thought about butting the two front corners and put a filler block in the top corner or clip the corner on a 45 or compound the corner with a radius cone shape. I had the customer sit at their current table to find depths that will work for their eating style, keeping in mind they use place mats too. The front part of the banquet will be flat, then recess back for the toe which I will route grooves in for the heat vent. They will use the old fashioned half cut plastic gizmo to direct the air, which will deflect the air forward. The next issue is to wrap the fabric and whether it can be done around a cone shape. Does anyone else see any concerns of anything I havenít thought of?
Forum Responses
(Cabinetmaking Forum)
From contributor S:
Slope the back at 5 degrees. Belly space between the table edge and the booth back - 18" is kind of standard, for a home you might want a little more. The restaurants keep things tight to maximize floor space. Do a search of restaurant booth seating and look at them. You can find basic layout plans and designs. From your questions you may want an upholsterer. If you do, consult them first so you don't make something they can't work with.
Also, get the table height and the seat height correct. Thereís nothing worse than having the table at your chin. Standards are 30" at the top of the table and your butt at 18" when you are in it, how much will the seat compress?

---

From the original questioner:
Thank you. Thatís about what I have based on the available space. I have it set at 10 degrees, which is what their kitchen table chairs are at. I have the seat at about 16"- back cushion.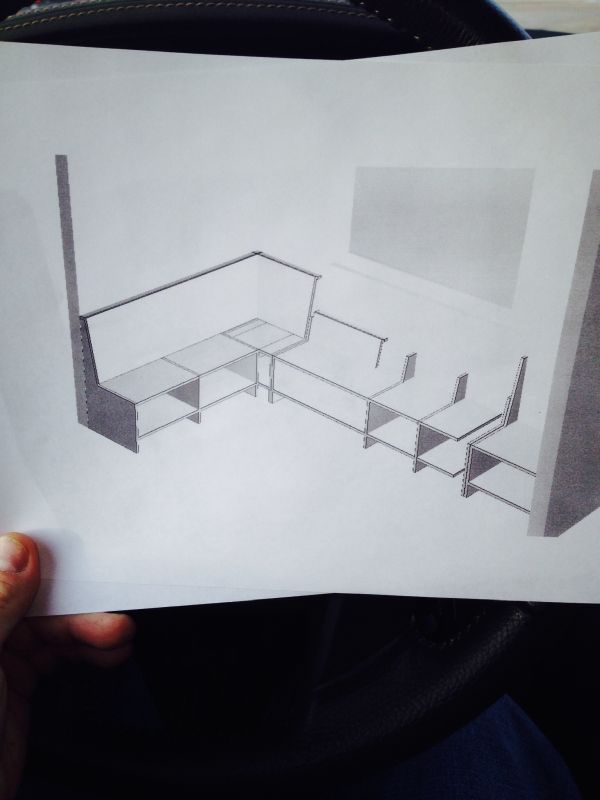 Click here for higher quality, full size image
---

Would you like to add information to this article?
Interested in writing or submitting an article?
Have a question about this article?

Have you reviewed the related Knowledge Base areas below?

---



All rights reserved. No part of this publication may be reproduced in any manner without permission of the Editor.
Review WOODWEB's Copyright Policy.

The editors, writers, and staff at WOODWEB try to promote safe practices. What is safe for one woodworker under certain conditions may not be safe for others in different circumstances. Readers should undertake the use of materials and methods discussed at WOODWEB after considerate evaluation, and at their own risk.

WOODWEB, Inc.
335 Bedell Road
Montrose, PA 18801

Contact WOODWEB Copyright © 1996-2021 - WOODWEB ® Inc.