Designing for Large Pocket Doors
Choosing quality hardware for TV entertainment center. March 14, 2004
Question
I'm pricing out a large entertainment center/wall unit. The customer wants pocket doors over a TV that is basically 54" x 54" x 27" deep. He wants a pair of pocket doors to hide the TV. Never done pocket doors that large. The doors are rail and stile with 1/4" flat plywood panel, so weight isn't a tremendous consideration. I need some hardware recommendations and pricing ideas for that hardware.
Forum Responses
(Cabinetmaking Forum)
From contributor T:
If you use pocket doors on this TV unit, that cabinet will be greater than 30" in depth. Hafele has the best mechanism for this application and the most expensive. They do not publish prices but you can easily call them for a price, which varies by the height of the doors, and there is a minimum depth required. You can also use the Accuride rack and pinion unit with the optional extension and extra hinge. This is a good unit but the width of the door will stress this piece. Hafele is the best bet for trouble-free operation. If price keeps you from doing these doors correctly, then I would suggest a mask panel.

---
From contributor J:
Hawa makes pocket door hardware for large doors of this size. I know you can get them through Hafele. Plan on spending $600-800 minimum on the hardware itself, and a lot of labor to install them if you have never used them before. Make sure to spell this out to the client, and understand yourself, or you could get burned badly.
---
From contributor D:
I did one using Hafele/Accuride XL's from Hafele at around $70/pr.
KV has come out with new ones, KV8092, at $42.47/pr. They look great and I will use them next time. Much beefier than XL's.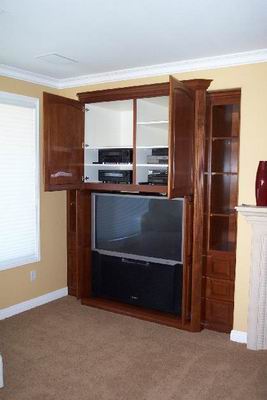 Here are the doors closed.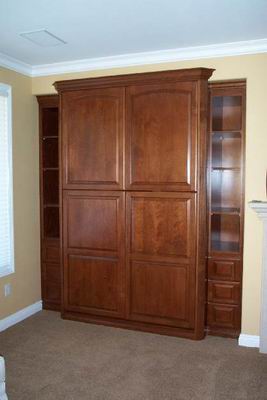 The doors I used were full r/p doors probably weighing in at around 25-30 lbs. each (estimate).
Make sure you tell the customer that if TV is 54" wide plus another 6-7" for pocket hardware, that equals 60+ inches and opening is only 27" (or whatever) that doors will stand proud of opening. Hafele's largest XL is 26-1/8" deep, giving only 21-3/4" travel so the doors had to stick out nearly 8" or so. Customer approved this and doesn't mind.
The KV8092's look much more promising as their largest - KV8092-30BK - is 30" long with 26" door conceal.
Also, I noticed as I was looking more closely at Louis and Co. flyer that the hinges are about $5/pr. and "follower rods" are around $5 ea. So for each door you will need a pair of slides at $42.47, a pair of hinge kits at around $5, and one follower rod at around $5 - total $53/door. Two doors = $110.
I've always loved KV, so I assume these will be really good hardware.

---
From contributor V:
I recently bid a job like this and the customer didn't what the doors to stick out past the front of the cabinet. The only option was to make up a bi-fold door for each side and place the bi-fold on pocket door hardware, using a center hinge that locks in the full open position. I called Hafele about the Hawa pocket door hardware and the cost for the set was around $900. When the customer was informed of the hardware cost, they dropped the pocket door idea.
---
From contributor B:
Hey contributor D, can your wife teach me how to finish like that?
---
From contributor D:
Thanks. My wife is an awesome finisher! Our work looks three times better than when I used to finish. She'll get a kick out of someone complimenting her work. She is so much more careful with finish sanding and through every step - I used to just want to get it out the door. Our business has really done well since she works for me full-time. She also does all our assembly now. I sell, install, manage the business, etc. and still do the cutting, as we don't yet have a large enough saw to make cutting safe.
---
From contributor G:
What did you use for your finish? Application?
By the way, I have had very good luck with KV pocket door slides.

---
From contributor T:
The K/V seems worth a look.
If you use the upper grade Hafele pocket door, about $900, the door will only stick out the regular 2", but I believe the depth is 33" i.d. (not exactly sure). If you go this high-end route, make sure you read the directions completely before making the box. There is an "astragal" involved in this to accommodate the thick door. Also, you may want to order an additional hinge, but ask for how many you get.

---
From contributor D:
Our finish schedule:
- very careful sanding of finished raw doors with 180-220
- blow off then two coats of SW vinyl sealer T67F6, one coat right after the other, not waiting for first coat to dry
- let dry overnight, then finish sand with 320, carefully but quickly
- blow off and two finish coats of SW T75F17 cab acrylic lacquer med. rubbed effect - again one coat then immediately apply second coat from different direction
Sealer and finish thinned 30-40% with lacquer thinner to around 12sec. with Ford #2 cup.
Voila! Perfect finish.
---
From contributor P:
Have used the newer KV 8092 for pocket doors; very nice pocket door slides.
---
From contributor M:
The KV slides on the rack and pinion system are great. I'll post a picture tomorrow morning of some big doors we've used them on.
---
From contributor K:
Not sure if anyone makes it, but a bi-fold pocket door on each side of the case sounds like that would be the ticket. I'd be interested in finding a vendor for those. If they don't make it, they should.
---
From contributor G:
Contributor D, thanks for taking the time. 30 - 40% of thinner seems pretty high. I usually go with about 10 - 15%. With a little reducer or retarder, depending on the time of the year. What part of the country are you in? I am in upstate NY.
---
From contributor T:
This K/V slide, is it in the same realm as the Accuride system? I haven't seen it yet and I was just wondering about the design. I have always looked at K/V as economy slides and I was wondering if that has changed.
---
From contributor D:
Contributor G, it does seem high, but we get our best results this way.
Contributor T, we have never felt KV were discount slides. Have used them for over 15 years with zero problems. New KV8092's seem very heavy duty with four hinges/door. One of the guys above has already used them successfully.

---
From contributor G:
Contributor D, if I was having great results with my 10 -15% thinning, I would not be asking you about your finish, would I?! I think I will, like you, try more thinner next time.
Contributor T, I agree that KV hardware is far from economy. I routinely use the 8400 full ext slides along with the pocket door hardware, and think of them as pretty high quality. I know that this is very subjective, but the proof is in the pudding... no callbacks.

---
From contributor T:
I know a lot of people use K/V all the time with no problems. I have used K/V also, but in the catalog they are the cheapest of what is available. Not in quality but price. I'm just used to high-end hardware and was wondering how the new K/V pocket slide stacked up to, say, the Accuride rack and pinion? And that is not really the high-end.
---
From contributor M:
We never use the KV slides on anything, simply because there are much better ones available. Our customers usually want the best available. I did however recently use the KV pocket door slides that work on a rack and pinion system with a rod that runs the full length. The slides worked great on pretty heavy doors and I'll never use another kind again. There is, however, the same old problem of recess if the doors are too wide. You'll run into this with any system, though, as you know.
---
From contributor G:
Contributor M,
"We never use KV slides on anything, simply because there are much better ones available. I did recently use the KV slides... The slides worked great on some pretty heavy doors and I will never use another kind again."
Seems like you did a 180 degree change within your paragraph. Contradiction, I think...

---
From contributor M:
My point was that we don't use KV; we tried their pocket door slides and now will almost always use them. I will, however, not use their undermount drawer slides or their side mount slides. We've used them before and there are better ones out there. Given this I was reluctant to use the pocket door slides, but they did work great.
---
From contributor G:
I have never used the KV undermount slides (I don't think that they even make them?). I have used the 8400 100# slides and have been pleased.