Dimensions for Glass-Paneled Cabinet Doors
A discussion of glass door design for structural strength and good looks. August 17, 2009
Question
I am looking for guidance on frame widths for a glass cabinet door to provide adequate stiffness. Two possibilities exist: (1) a single door approx 17" wide x 36" high or (2) twin doors each 8 1/2" wide x 36" high. I want to use minimum width wood (probably oak) for the stiles and rails to improve visibility thru the window -maybe 1.5" TO 2" wide if I can. I did not intend to add muntins, although I realize I could use them to further stiffen the door. I am thinking of using 3/16" thick glass. The attached sketch shows two options for such door(s) on a display cabinet - one with a single door and a 2.5" wide frame (wider than I want) and the other with twin doors and a 1.5" frame.
Forum Responses
(Furniture Making Forum)
From contributor E:
I just finished 2 -24inch wide by 30 inch high cabinets with glass doors as you are inquiring about. They are used in a local electric supplier for a new LED cabinet light display. My standard door frame width is 2.25 inches. I used tempered .125 inch glass in the doors. You should have no problem making them an extra six inches high.

---
From contributor R:
These doors were built when I was on St. Croix. They are, if I recall correctly, about 20 inches wide at the bottom, and the stiles/rails were about 1 3/4" wide, certainly no more than 2" (it was a few years ago). I had no problems with racking.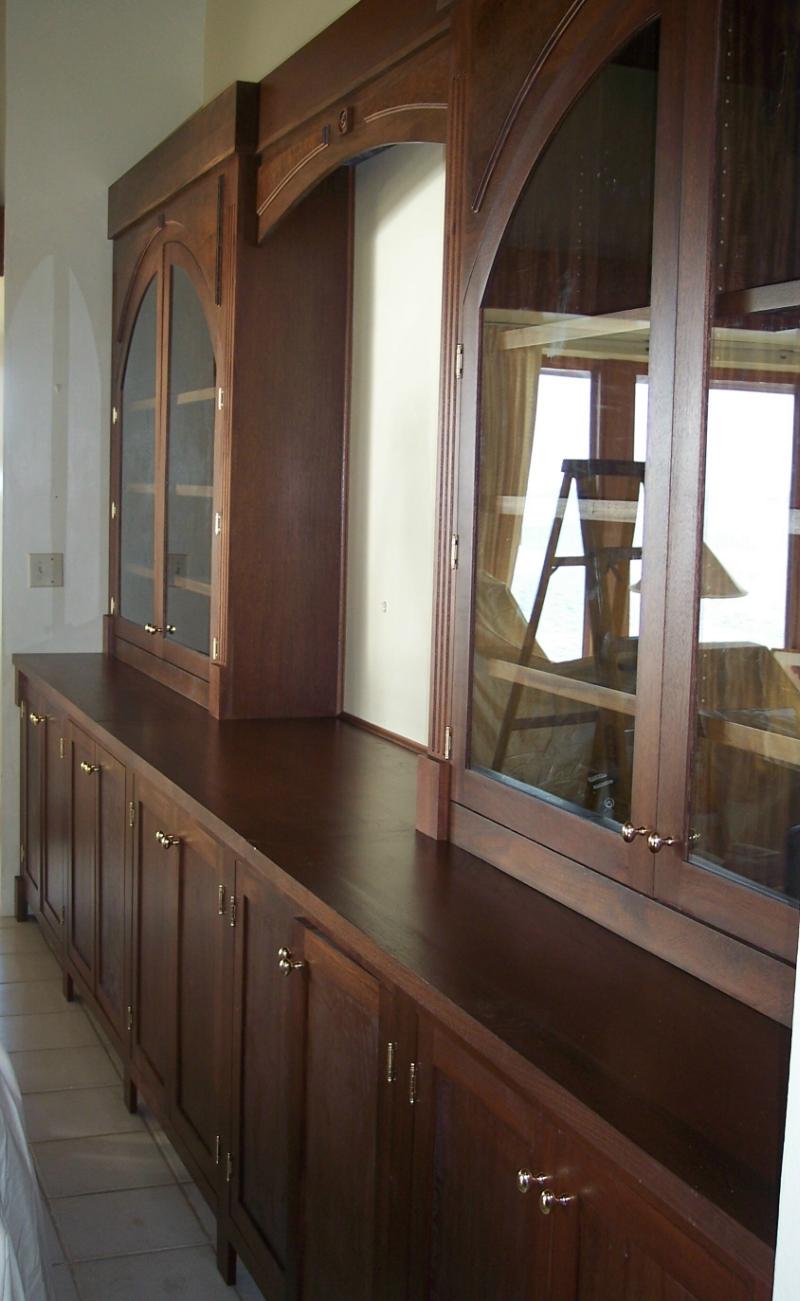 Click here for higher quality, full size image
---
From contributor F:
You may want to use 1/8" glass as I believe it's more common. As far as the sizes you describe I don't see a problem. I've seen some antique glass doors in a building that were closer to 3'w x 4' high and the stiles and rails were about 1-1/2" wide. I believe they were made of mahogany.
---
From contributor M:
Silicone the glass in. Then, besides providing for familiar hardware connections, and possibly shock absorption, the frame (including its width) is purely aesthetic.
---
From contributor M:
I want to thank all the respondents for their helpful comments. My decision is to go with 1.5" wide stiles and rails for the frames made out of 4/4 oak and use 3/16" tempered glass for the inserts.