Door Clamping Jigs and Tricks
Shop-rigged methods for fast clamping given a limited equipment budget. June 23, 2014
Question
Does anybody have any door clamp jigs or fast ways to square clamp doors? A door clamp machine is not in the budget at this time. Has anyone made their own clamp table?
Forum Responses
(Cabinetmaking Forum)
From contributor U:
I've been pondering the same thing. I recently got set up to do raised panel doors and have been doing some doors. I mainly outsource so I don't want a big assembly table taking up floor space. Right now I'm using two pipe clamps that have the wide base on them and two smaller clamps to pull the ends flush. It's effective but I too would like to have something a little faster. I do have a thought about how to build a clamping mechanism but I've not worked the bugs out of it yet.

---
From Contributor G
:
I just have lots of clamps. All you need is enough clamps so the glue dries and you can remove and re-use the clamps that you used previously. I find it takes me about six minutes to clamp a door. That is a light scuff with 150 on all profiled surfaces, applying the glue and spreading with a brush to cover the tongue and all shoulder and coped surfaces, assembling the rails and installing the panel and applying the clamp pressure and squaring the door. Then I remove the door from the clamp area to the drying area and starting over. I use a base of an hour for dry time so I can do about ten doors an hour so I need 20 clamps. I refuse to pin my doors with nails in lieu of leaving them in the clamps.
---
From contributor H:
I have a door clamping machine, and while it is fast, the doors are not in the machine long enough. If I didn't already have the machine going back to bar clamps would be just fine with me. I suppose the next step would be to get two machines so there would be longer clamp time. As for square, it depends on your process. Pipe clamps produce just as square door as the door machine.
---
From contributor Z:
We grappled with this for a while too. Half your time is wasted wrestling with clamps, whether they're pipe, bar, or k-bodies. On a hunch I bought some used panel clamps from JLT to use as cabinet door clamps, and now that's all we use. They're overkill in terms of clamping power, but since they're wide and heavy they stay put and support the door easily and don't ever roll over like a pipe or bar clamp. It's also easy to keep the joints flat. Plus, if you do and larger doors or panels with solid edges these clamps are great for that as well - a nice wide caul and four clamps will do almost anything. They're a bit pricey but worth it. I ended up buying enough to do ten doors at a time. Once we're done with the tenth we remove the first one and start the next round. Our joints are always 1" tongue and groove so once that glue has its initial tack and it's impossible to move.
---
From Contributor B
:
We use a simple shop made face frame/door table that hangs on the wall. Basically a sheet of birch ply or MDF, applied fences along the base and side(s) and you can clamp up multiple doors and face frames pretty quickly with bar, pipe, or parallels. Itís been a good middle ground until a commercial option is in the budget. We have another larger with fences left and right which allows four or more doors to be clamped at a time.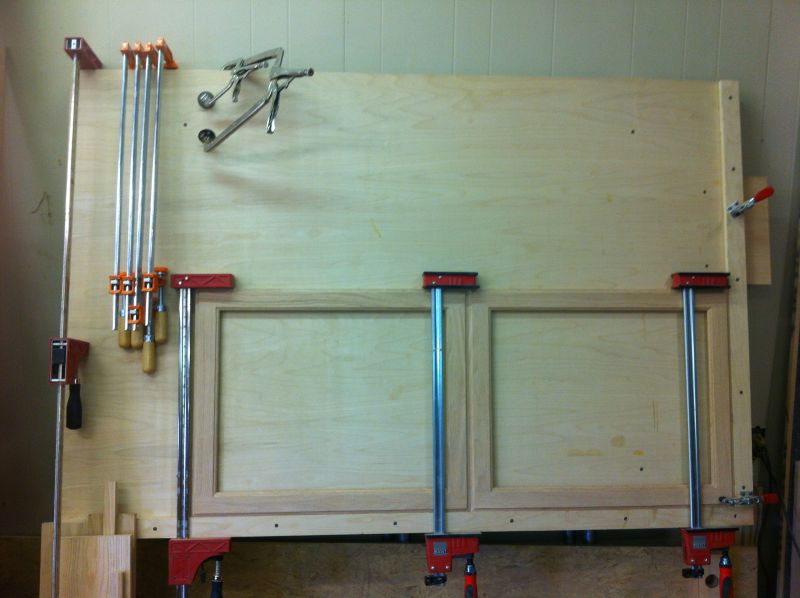 Click here for higher quality, full size image
---
From contributor M:
Why worry about it? Are you pre-finishing and then gluing up last? Pipe clamps have worked for me for a long time without any thought to making the glue-up square. Make sure to trim square.
---
From Contributor B
:
We do a lot of overlays but we never trim doors unless it's absolutely essential. Why add another step (cost) if you can glue them up square in the first place. Insets are a different story.
---
From contributor M:
I only do inset and euro, so trimming square is necessary anyway. If I had a lot of glue-ups that needed to dry on a fixture, then I think I'd be in the market for a wood-welder. A used clamp carrier could set you back similar money, but would eat floor space.
---
From Contributor T
:
I basically only do inset and Euro. I never trim them. I make them oversize by 1/32 and bump them on the sander to get them to size. If you are making non-square doors and you trim them the stiles and rails will have tapers on them. I can see a 1/16" over 8'. A 32nd over 16" would drive me crazy.