Door Hinges, Door Dimensions, and Sagging Concerns
A cabinetmaker worries about whether a set of doors mounted on concealed hinges will sag over time. January 9, 2015
Question
I'm hoping to hinge these doors with typical concealed hinges, but am wondering if they're going to have a tendency to sag over time? They're thermofoil doors, and each door measures 20"T x 24 3/4" W. I imagine I could add a third hinge to each door if that would help.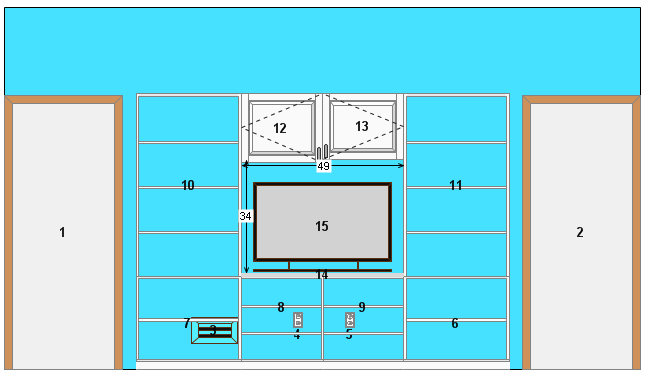 Click here for higher quality, full size image
Forum Responses
(Cabinetmaking Forum)
From contributor D:
No problem two hinges will be good. I have noticed the 170° have more play or ability to sag as opposed to 110-125° hinges.

---
From contributor H:
Your hinge provider will give you the size and weight ratings for the hinges you are using. If you want to know for sure, check with them.
---
From contributor J:
I agree with Contributor D. Two hinges 110-125 degrees will work, but to answer your question all hinges sag over time, especially euro hinges. I take along a screwdriver every time I got to the dentist or doctor and tweak their hinges. My pet peeve is badly adjusted and sagging euro hinges in million dollar hospitals and dentist offices. Also, I bet those doors won't be opened too much so they probably won't wear out anytime soon.
---
From contributor X:
You may get away with it, but as a rule the door width should never be more than the height. Thermofoil doesn't help matters either.