Doors that Stay Open or Closed
Working with gravity to make cabinet doors lay back and be still. November 13, 2009
Question
My client wants a 6'x3' wall unit to house a dry-erase board (to be used in the conference room during meetings). I've attached a quick drawing so you understand my charge. They want the right side door to swing open and stay open 180 degrees (or so). They want me to cover the back side of the door with dry-erase laminate for half and cork board for the other half. The idea is that they would have even more space to use during meetings. I don't do a lot of casework, but is there a hinge that will work for this situation? I'm most concerned with it remaining stable while the door is written on and posted to during meetings.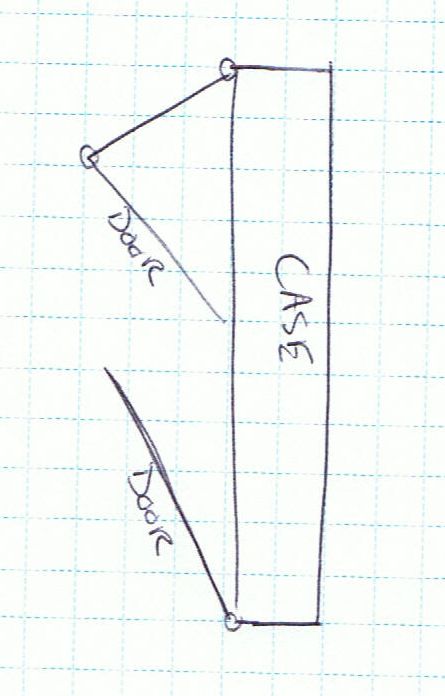 Click here for higher quality, full size image
Forum Responses
(Cabinetmaking Forum)
From contributor D:
Build/hang the cabinet so the face is slightly out of vertical plumb - so the top is about 1/4" behind the bottom. The hinge line will also be at this slight angle. The doors will want to lay closed, or at 180 degrees, but won't stay at 90 degrees. This works and looks best if this is built in to the wall, but it doesn't have to be. Simple and easy. Depending upon size, you can probably get away with 1/8" out of plumb. We have done this several times. Owners wonder how we do it. We just smile and gather the tools...

---
From contributor A:
Excellent suggestion. That tip is going into storage for future use on some of my jobs. Thanks for sharing!
---
From contributor M:
Pure genius, contributor D. Thank you for sharing a technique a small minority of craftsman will learn in their careers. Did you learn this or did you have an epiphany a few years ago? WOODWEB rocks once again...
---
From contributor D:
We were doing a 4 - panel cover over one of the first wide-screen TVs a few years ago. The screen was recessed just below flush in a plaster opening, slightly larger than the screen. The panels were 4 Japanese prints that folded back onto themselves, then back 180 onto the wall to view the screen. We made hinge strips 3/8" thick at the top, and about 5/8" at the bottom. The 1/4" was undetectable unless you knew to look for it.
My mentor in this work used to urge me to come up with 3 solutions to a problem before I committed. He taught me how to problem solve. Now everyone in the shop knows to do this, and it helps immensely since good solutions result, and all know what the expectations are. I am also naturally lazy and spend most of my time while doing any task trying to figure a way to shorten said task. Ain't no epiphany, but is one of the simpler, more elegant solutions I have ever found.

---
From the original questioner:
Do you think it will stay open/be stable enough to write on (or pin notes on the cork board)? Great suggestion!