"Dovetail" Drawer-Box Joinery on a CNC
Strictly speaking, this joint may not be a true dovetail. But it functions the same way, and can be efficiently cut as nested parts on CNC equipment. May 7, 2007
Question
I have been reading recently about cutting dovetails for drawers using a CNC router. Anyone care to share how this is accomplished?
Forum Responses
(CNC Forum)
From contributor J:
What you have seen is a new feature in Ecabinet software. The design allows full flexibility and writes the files to the controller for us. The methodology and code is encrypted so the user can not see and/or copy it. It writes only to a Thermwood machine and I haven't heard of another that does this.

---
From contributor S:
I am also interested in creating nested dovetail drawer parts without additional machining. Without using an aggregate I have created a solution that works rather well. While it might not be considered a true dovetail, once the boxes are assembled, you cannot tell any difference and the strength is sufficient. This can be done on any 3 axis machine using inexpensive tooling. A simple program can be created using Excel to write the code. But I am very curious how Thermwood has accomplished this. Does anyone have pictures or additional information?
---
From the original questioner:
I have a copy of the Ecabinet software but have been too busy to learn it. What I am after is a description of what cutters are used to make these dovetails. And yes, I would like to see an example picture/video, etc.
---
From contributor O:
Komo is also advertising a dovetail macro in their latest Router Cim release.
---
From contributor N:
Horizontal table CNCs do not cut dovetails. CNC cuts are straight joints. To cut the real blind dovetail, one wood must be placed horizontal, and the other vertical. The real dovetail joint is cut with a specific angle to self-lock the joint.
---
From contributor C:
I believe what contributor N is trying to say is that a true dovetail joint is not possible in a flatbed nested CNC format. When I inspected the Thermwood promotional photo of the dovetail nest, in my opinion, it appears that the joint created is a pseudo dovetail and in actuality probably more correctly called an interlocking joint with some dovetail characteristics. I too am interested in hearing from anyone who has actually produced these drawers. Does one use 4 x 8 sheets of plywood, MDF, alder wonderboard?
---
From contributor K:
Visit the eCabinet Systems forum. I think that there are several guys nesting drawers now. I was at Thermwood when they ran a first nest of drawers. It is a great joint. All you have to do is snap the pieces together. You can adjust the size of the tails to get the look you are after.
---
From contributor N:
The Dodds single machine dovetailer will make you 30 to 40 drawers a day (one person). Three weeks ago we installed a Northtech single automatic, which makes one drawer in 48 seconds. Our almost new Dodds is for sale.
---
From contributor G:
It is interesting to see Thermwood and E-cabinets market this dovetail as their own invention. James Eichling ran the same joint on a Komo about 2 years ago. The joint Thermwood is promoting (and the one James ran prior to them) is not a true dovetail, but very close. Without providing a drawing, there's basically a small radius at the acute angles of the joint.
---
From contributor K:
To be fair to Thermwood, they are not marketing the joint as their own invention. Here is a quote from the article that the picture above came from.
"To be honest we didn't invent this joint. It has been around but it has always been difficult to program, so it wasn't used much. What we did is integrate the joint into eCabinet Systems software so programming is automatic."
It isn't what a purist would call a "true dovetail," but then neither is the joint cut with a router. A true dovetail is cut with a saw and chisel.

---
From contributor N:
You are absolutely right - the true dovetail was cut with handsaw and chisel 100 years ago (when your house cost $30). In 2006 we cut the true dovetail with dovetail machines - fast and clean and you charge for a kitchen $20,000. Times have changed.
---
From contributor K:
The point is that nesting the drawers out of plywood on a router makes a pretty nice lower end drawer box. It has the look of a dovetail drawer when assembled which is a good selling point, and it is a strong joint that goes together easily and lets the machine do all the work while you do something else. I think it is going to catch on.
---
From contributor U:
I too have been looking into making dovetail boxes with a CNC. I have found a software package made by Router Cad that claims it will help you make drawer boxes on a CNC. I would like to know if anyone is using this software? It comes with its own tooling. Purchase price is 2K.
---
From contributor I:
How many different tools are used to make this joint? I would really like to see some drawings.
---
From contributor C:
After the parts are cut from plywood, they obviously need to be edgebanded. Can the edgebander negotiate the pins and tails on the ends of the parts?
---
From contributor D:
They use a magical Thermwood edgebander. Which also uses secret encrypted code.
---
From contributor K:
I haven't heard anything about edge banding. I could see where there could be problems but really haven't heard anyone comment. I would guess the problems would vary with different banders.
---
From contributor Y:
We use Cabnetware and this joint can easily be set up. Any good software should be able to do this pseudo dovetail, all you need is readily available tools and a little bit of time.
---
From the original questioner:
I would still like to see a close-up photo or a good hand sketch, so I can understand the principle and would like to know what shape of tool is recommended. Sorry guys, but on this one I am a little ignorant.
---
From contributor F:
Here are a few pictures of the drawers I'm cutting on my Thermwood. By the way I didn't know that Thermwood offered a Magic series edgebander, but if it links and produces as well as my router has for four years now, I would be very interested. For the time being I'm using my SCM Olympic K208E and it does quite well with a little adjustment I made in the top dovetail.
I have to agree that the CNC routed dovetails do not look just like the real ones, but the money that goes in my pocket is every bit as real. The tooling I use is 1/4" comp, 3/8" DS, 3/8" comp, and the dovetail bit that Thermwood offers.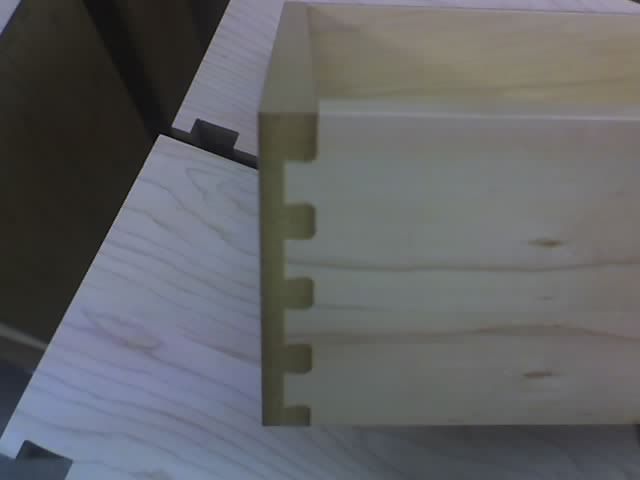 Click here for higher quality, full size image
Here is a Baltic birch drawer.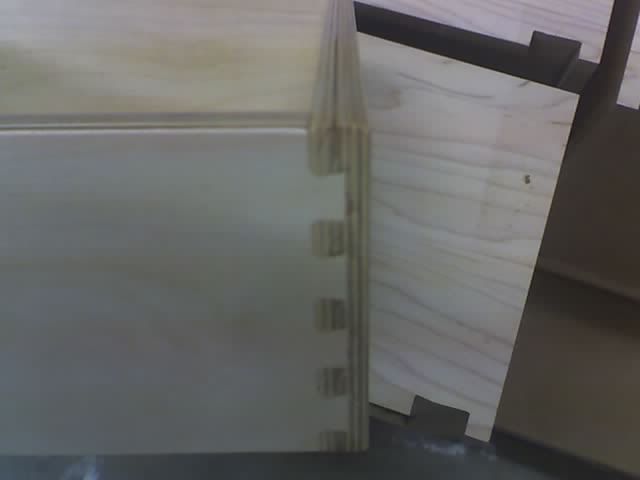 Click here for higher quality, full size image
This is the male tails.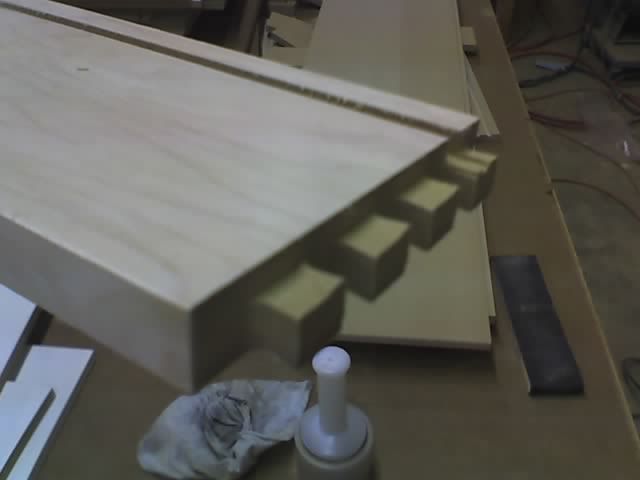 Click here for higher quality, full size image
Female sockets.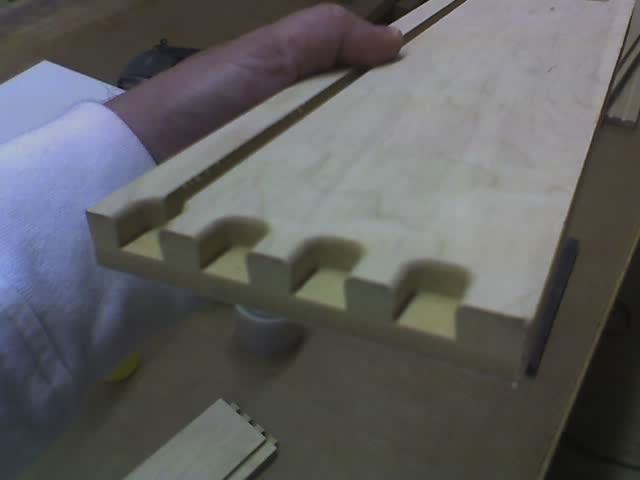 Click here for higher quality, full size image
---
From contributor K:
Thanks, contributor F.
Here is the eCabinet Systems drawing of the joint.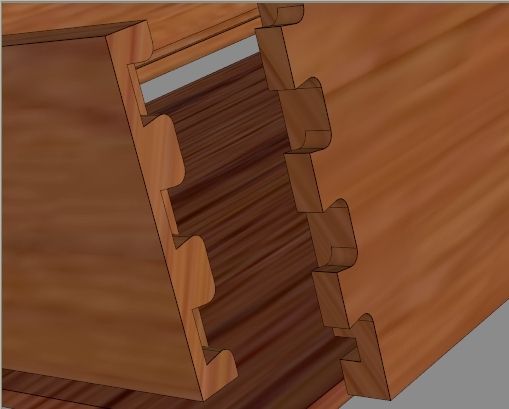 Click here for higher quality, full size image
---
From contributor F:
This is the dovetail bit that you can purchase from Thermwood and probably a few other places. I do machine and flat pack these parts.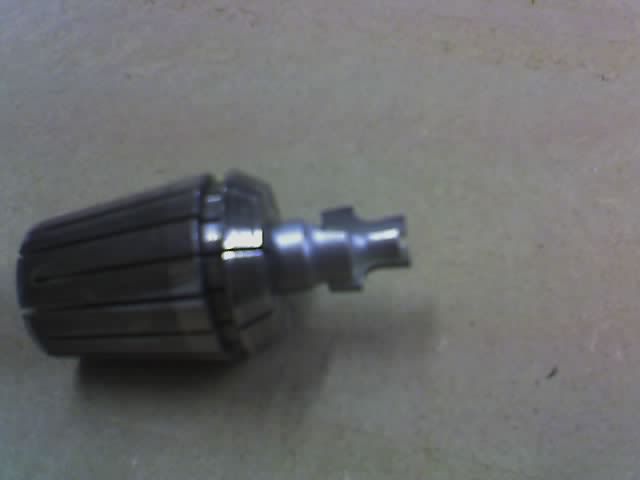 Click here for higher quality, full size image
---
From contributor C:
Many thanks. Quite impressive, the pictures really did the trick for me. We all appreciate
the fact that you are sharing this information.
I'm running Cabnetware. I use mortise and tenon joints for my drawers, but those CNC dovetails don't look that bad.

---
From contributor A:
We can call it what we want, but the customer sees dovetail. And we can charge extra for a dovetail or we can use it as a selling point. I think it's a great use of the CNC.
Anyone with CAD experience should be able to program this joint. Thermwood was giving away samples of the joint in Atlanta. I picked up a pair and I can sit down and program the joint.
It's cut with a straight bit and a low angle dovetail bit. I'd not sell it as a high end drawer box, but I'd definately sell it as an upgrade over the basic box. Then again, my CNC can cut out a whole kitchen of drawers from one sheet of plywood while I sit here and read WOODWEB.

---
From contributor Z:
I make a joint similar to that on my CNC that I designed in Autocad. I use a 1/4 inch straight, a standard dovetail bit you can buy at any Sears or Home Depot, and a 1/4 round over bit. Saves by not needing specialized software or tooling.
---
From contributor M:
I cut dovetails on my CNC all the time. If you can run the dovetail bit over the edge of your table, you can cut dovetails just like they are cut with a hand-held router and a dovetail jig. The half-blind joint that I make is done with a 14 degree dovetail bit just like many half-blind jigs use.
---
From contributor T:
I think some people are missing a large part of the formula here. An early post talked about a special dovetail box machine - okay for very large shop, but you need more labor, more room, only does 30-40 per day, more expense (the machine itself). If you run these in a nest you can get 10+ drawers per nest at 10-12 minutes run time per nest. There is no other piece of equipment needed to do it. You actually gain labor cost by operator doing something else while nest is running. The programming is fully parametric and is fully automated within a ROOM design. You can go ahead and program them by hand one at a time if you like, more labor cost. If you move down the top dovetail slightly as contributor F has, then any bander will work very well with them.
I do not think my Thermwood is the best machine ever produced. I do however think it has been one of the best decisions of my life. The people and support is outstanding, the machine performs as it was billed as a light industrial machine. By the way, light industrial means cuts slightly slower than others that cost 2x what my investment was, and after it shows up, good luck getting any type of support. The eCab program has done something outstanding and not one person has said "that sounds like a great overall system; I need to put some pressure on my machine/software vendor to do the same." If it were me, that is what I would be saying.

---
The comments below were added after this Forum discussion was archived as a Knowledge Base article (add your comment).
Comment from contributor M:
I also own a Thermwood (CS40) and progress on the box making feature seems to have stopped dead. The problem is you cannot do any other machining to the parts other than the finger joint process. Example: If I am using Blum's Blumotion hidden drawer glides this requires a simple cut-out in the back panel of the box, canít do it. If I am making a pantry pull-out drawer and want to radius the front or sides, canít do it or even simply drill a couple of 3/8Ē holes in the front panel for drawer front screws. All this must be done one at a time by hand.
I suppose itís only minor but to watch the CNC cut these joints out and not be able to make the necessary or desired cuts while the parts are nested is a bit frustrating especially when we talk about time and labor saved. Not to mention the accuracy of CNC. I still think itís without a doubt the best investment we have made. Thermwood does have a great support team.