Dovetail Drawer Boxes: Make or Buy?
This thread about whether to make your own drawers includes some details about materials, joinery, equipment, and assembly methods. October 15, 2012
Question
Is it really less expensive to buy dovetail drawer boxes vs. making them yourself? Iím looking to keep as much money as I can for every job I do. Has anyone else had this thought?
Forum Responses
(Cabinetmaking Forum)
From contributor M:
I think it makes sense to build your own if you have dedicated setups to get them done quickly. I build my own. I figure if I can make $400 a day building drawer boxes, why not keep the money myself. I can see how it might cause a bottleneck if you're super busy and not set up for it though.

---
From contributor Y:
I build my own. A simple $110 porter cable jig with my router has made/saved me thousands of dollars since I bought it. I only outsource if I am on a tight deadline. Most times I can crank out all the boxes I need for a kitchen in a few hours. I use soft maple with 3/4" sides and a 1/2" birch plywood bottom. I keep all the money I can in-house.
---
From the original questioner:
I have the Omni jig 24 and a Porter router with the D handle. Does anyone see the point in getting a more automated dovetail machine such as Powematic?
---
From contributor A:
Nobody can crank out a whole kitchenís worth of drawer boxes in a couple of hours. You're not factoring in the stock prep and sanding required to make a really good looking dovetailed drawer box. Contributor M is closer, but still even a whole day to build a full kitchen's worth of drawers if you have tall drawers that require glue-ups along with finishing is the best one can do.
---
From contributor A:
To the original questioner: There is world of difference between the two machines, not only in quality, but in speed too. If you're only building them for your own jobs and you're doing maybe six kitchens a year it might be tough to justify the expense. Stock prep is where all the labor is in a drawer box.
---
From the original questioner:
Do you guys have prefinished materials for the sides? I have been looking for drawer blanks (side material) that are prefinished solid maple/birch 1/2 or 5/8 thick. Has anyone heard of a supplier? That would make it easier, then all I need to do is cut the dovetails. I can get 1/2 finished maple ply for the bottom, but I really want solid sides. I donít like the plywood sides since you see the plys on the end of the tail board. Does anyone have any ideas how to hide that or am I stuck with solid sides?
---
From contributor E:
I was faced with the same deal as you a while back. I bought an Omnjig and a PC 3hp router. We buy our prefinished drawer sides from Richelieu hardware and they are 5/8 thick birch. I would like to make the blanks in our shop but Iím pressed for space and time right now. The blanks we buy are 82" long and various widths. Another option we do is 5/8 maple particle or veneer core ply with dowels. These we finish in-shop (I told him after the pic to put his safety glasses back on).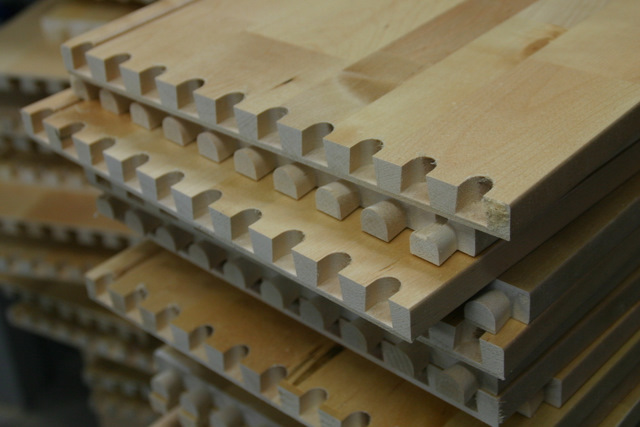 Click here for higher quality, full size image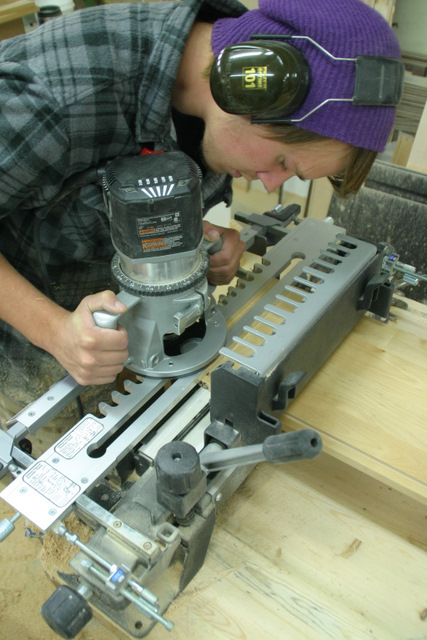 Click here for higher quality, full size image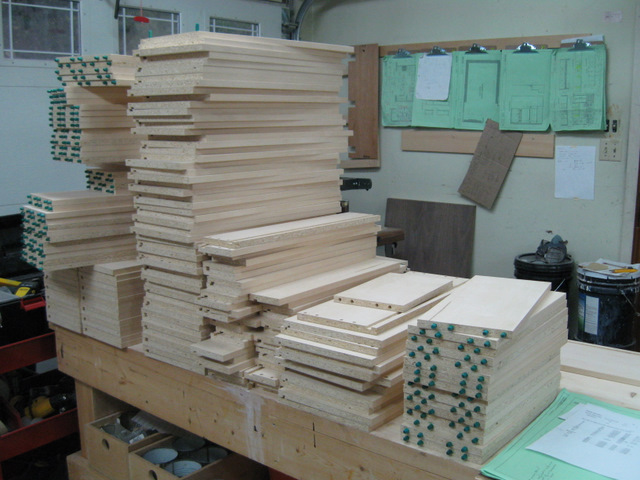 Click here for higher quality, full size image
---
From the original questioner:
Thanks Contributor E. That's exactly what Iím looking for. Which blanks do you use? They look to be finger jointed side, kind of like the ones I found once a while back. Can you tell me the type that youíre using?
---
From contributor K:
If it is just you, the amount of money you make is directly tied to how much product you get out the door. We make our own for custom, but for refacing, which we use for schedule fillers. We outsource it all, and I can tell you that if you really look at the numbers, it is less expensive. By the time you factor in labor for milling, sanding and finishing, electricity, sand-paper, blades, finishing material, gun cleaning, notching, finishing material, hardwood and ply and any other detail work, it's hard to find any profit in it, because it's not the only thing you are doing. This does not take into account the opportunity cost (time you could be spending on getting more business out the door).
The reason the drawer companies can do it, is less expensive labor, automation, dedicated machinery and it's all they do, so their efficiency rate is going to be much higher. Your shop rate is the same whether you are making drawers, boxes, or fronts, so you have to determine if you are really making money, and more importantly, how much, to determine if it is actually worth it, as Dovetail drawers are not generally hand-cut anymore, so the craftsman/skill angle is pretty much watered down.
If you are a one man shop, you have to do it all one step at a time. The more guys you have, the more efficient it is to get the whole project done, and how much your guys get paid play into this. Just consider that the drawer company is an at-will employee, that you pay no payroll taxes to, no bene's, etc. and that everything is made to your specs, and all mistakes are on their dime, not yours, and you don't have to pay them when the business is not there. Now, how many more kitchens will you be able to get out the door in a month?

---
From contributor M:
To contributor E: How are you clamping the drawers?
---
From contributor E:
We use pipe or bar clamps with a wood caul. We use Titebond 3 for the dovetail drawers and hammer them together with a deadblow hammer, clamp for 5-8 minutes, and thatís it. The blind dovetails tend to tighten themselves as the drawer comes together.
The dowel drawers are the same but with water mist on the pre-glued dowels. No space for an air clamp but that sure would be great. With the pipe or bar clamps you have to test each drawers diagonal with a tape to make sure it is square before you let it sit for the glue to set up. In 80 drawers we had only one that was more than 1/16 out on diagonal when we were all done.

---
From contributor Y:
Contributor A - I did exaggerate a little. It takes about a day to get a kitchen's worth of finished drawers, equivalent to what I would get if I bought them. I set aside my wide stock when I buy a pack of soft maple, then I don't have to do glue-ups for deep drawers. Maple is stable enough in my opinion that a glue-up is not necessary if you can avoid it.
---
From contributor F:
I make my dovetailed boxes out of maple and try to get the joint snug enough that I don't need clamps. All the force exerted on a drawer is taken by the dovetailed joint. The glue simply holds them from coming apart sideways, where there's no actual force exerted on them. If you get your setups just right you can just apply glue and use a few light taps from a deadblow to assemble. Check for square and put aside to dry.
---
From contributor L:
I agree with Contributor K. I have an older Dodds multi-spindle dovetail machine. It works ok but when I need dovetail drawers in any quantity I still buy them. Most of our drawers are doweled and we are fairly automated for that so they are made in house. If you are pipe clamping it is way too slow. Make yourself a jig setup for it or buy one of the Taylor clamps.
---
From contributor E:
Contributor L - I did not know the Taylor clamps existed! Silly me, I thought everyone used a case clamp. Thanks for the tip.