Drawer Pull Drilling Jigs
Buy a manufactured one, or make your own? January 26, 2008
Question
I need a good handle/pull/knob drilling jig. I was looking at the Euro Handle Drilling Jig at McFeely's. Any other suggestions?
Forum Responses
(Cabinet and Millwork Installation Forum)
From contributor F:
The SH drawer jig is expensive, but I don't think any other drawer drilling jig offers both horizontal and vertical self-centering.

---
From contributor M:
I have the euro handle drilling jig. I just got it about two month ago. It's not bad - it works pretty good. It is made out of some kind of strong plastic (so they claim) - who knows how long it will last. I keep the jig in the front of my truck so that it doesn't get messed up. Maybe it will last a long time, but for the price, it's not a great loss. Try it and see if you like it. So far I do.
---
From the original questioner:
Thanks for the responses. I think for 40 vs 330, I can be the self-centering mechanism.
---
From contributor C:
I just bought the jig that contributor F mentioned at a trade show for $250. Damn if that isn't the sweetest working jig I ever used. I purchased a $75 jig from Woodworker Supply and sent it back after using it for only 3 pulls. Check out Custom Service Hardware for the jig. You won't regret it.
---
From contributor M:
Looking at the SH drawer jig, it shows that you can only drill for handles with 3", 31/2", or 4"oc and a couple metric sizes (76mm/96mm), for which you have to replace the insert. What if you have a handle with 3 1/4" oc or 6" oc? For $330.00, it should be able to drill for any size handle. Or am I missing something?
---
From contributor L:
I have the TruePosition drill guide. I like the TP guide, but it is not without quibbles. I found the fence to be too short top to bottom. The problem is that unless door/drawer edges are square and not very profiled, the jig didn't rest on much material and was prone to moving. So I had my machinist make a taller one. I've had the jig for about 10 years and use it for field work.
---
From contributor I:
I too cannot justify $300 for a jig that I could make in 20 minutes with scraps and $2.50 in bushings. It may not be fully adjustable, but making a few for the different size handles that I install is not a problem. I also made one for doors. The bushings are aluminum (brass ones were out of stock) and are pressed in.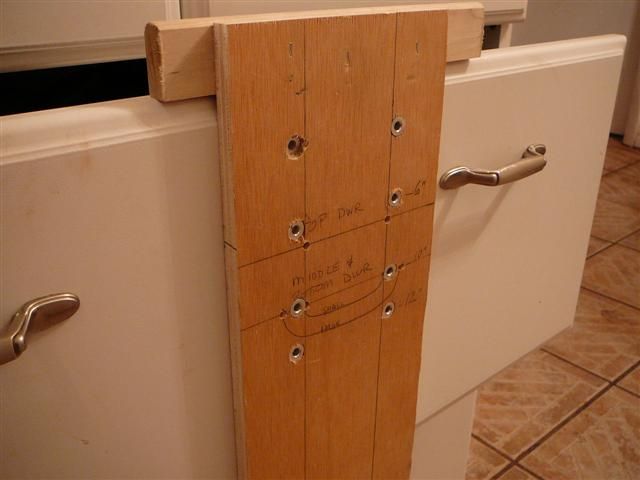 Click here for higher quality, full size image
---
From the original questioner:
I have done it the homemade way in the past. If you only have a couple different handles/placements to deal with, it works great. For me, this was $40 well spent. It worked like a charm.
---
From contributor N:
I build a new jig for every job. There's less of a chance of drilling out the wrong hole even though I tape the holes I'm not using. It usually takes me 5 minutes per jig, and I obviously have to do a separate one for the drawers.