Drill Press Stops that Register Off the Face of the Workpiece
Here's a shop-rigged solution for drilling to a pre-set depth in any panel, regardless of panel thickness. August 30, 2010
Question
Blum hinge insertion machines come with a device that you can use to limit how deep the hole is drilled. This device bottoms out at the top facet of the door. It doesn't matter how thick the door is. The stop hits the door and the drill bit penetrates X millimeters from the top face of the door.
Does anybody know of an attachment like this that would work for a drill press? I would like to be able to control the depth of the drilled hole, but be able to start with variable thickness doors.
Forum Responses
(Cabinetmaking Forum)
From contributor K:
You could always use the depth stop/gauge located on most drill presses in conjunction with a test piece, or you could lower or raise the bit in the chuck (although the former is easier). Best of all, it's free!

---
From the original questioner:
I am familiar with the jam nuts on a drill press. We use them all the time for one-of-a-kind applications. What I am looking for is something that produces the same depth of hole, regardless of material thickness. I would prefer to do this without having to run a test cut first. I guess it would be possible to have a collar made that could live directly above the drill press chuck. It would be simple enough to add a couple of jam nut type posts on both sides of the collar.
---
From contributor K:
Fair enough. In that case, place the material (door I assume) you are going to use on the press table, lower the bit (while inside chuck) to the desired depth, lock it and you are set to go. Since it is not a dedicated machine to one function, you will have to put the bit in anyway, right? It'll take seconds. Why add another step with the added part?
To answer your original question about another item, I'm not familiar with any.

---
From contributor N:
I started to over think the problem and came up with a simple solution. I set the depth with a piece of all-thread like you would set the depth on a router. You would touch the drill bit to any surface, set the threaded rod off that surface to the desired depth you want to drill, and whatever thickness of material you drill when the all-thread bottoms out, you've got the same hole depth.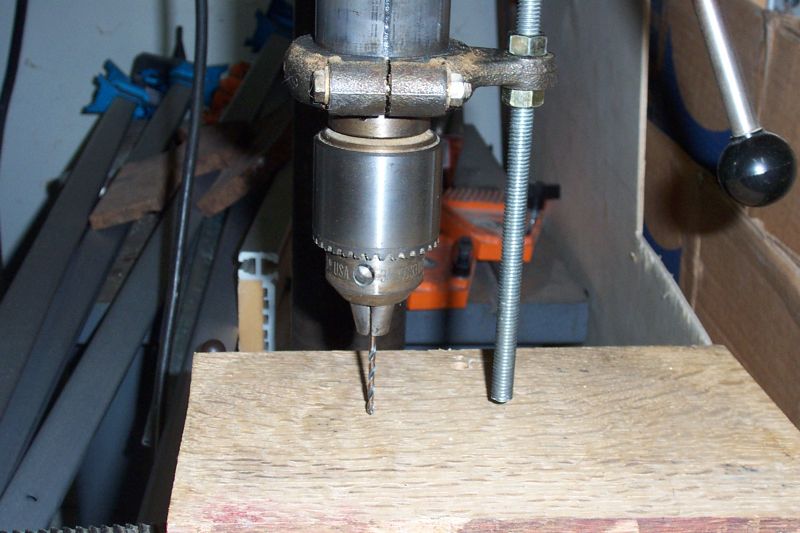 Click here for higher quality, full size image
---
From the original questioner:
That is exactly what I am looking for! What I want to use it for is recessing round metal strikes into cabinet doors. Our preferred magnet for butt hinge doors requires 4mm to accomplish magnet and strike. All the other elements are 2.5mm. Our doors sometimes vary in thickness. Your jig will help us hit that magic 1.5 mm depth every time, regardless of door thickness. Have you been using this fixture long? I think you have something here.
---
From the original questioner:
I just enlarged your picture and see that you put this together out of some kind of cast bracket. The bracket looks vaguely familiar. Is this something you might use to hold sprinkler pipe to Kindorf strap?
---
From contributor M:
That actually looks like a modified, older style of depth stop. Maybe you could modify a mortising attachment?
---
From contributor N:
Take a look; itís the original stop bracket. This is a '60-'70 Rockwell 15" drill press. I just removed the adjusting rod and attached the all-thread. This would be a simple part to fabricate if you don't have a similar arrangement.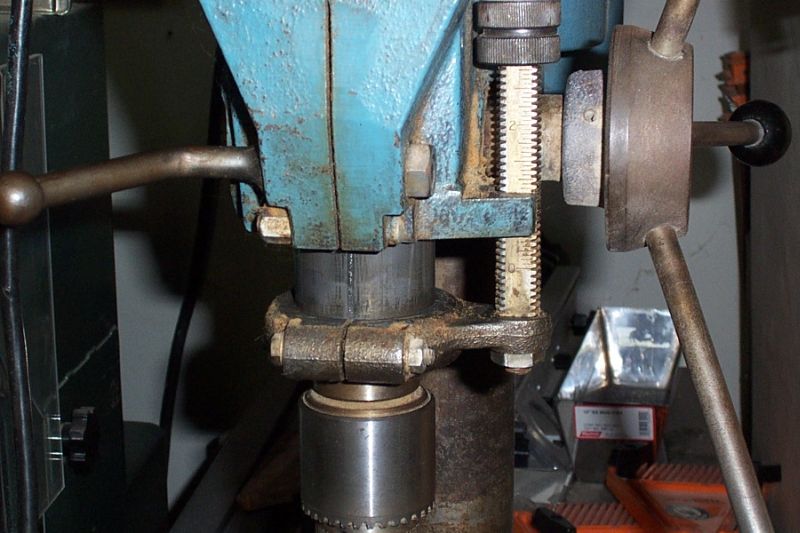 Click here for higher quality, full size image
---
From the original questioner:
Now I understand what you mean about thinking too hard.
---
From contributor I:
Thatís a great jig! Now you can add a couple of quick release nuts and the process of setup can be fast too. Maybe add a coating of liquid plastic on the end of the rod so you donít mar your doors.
---
From contributor M:
Maybe a Woodtek Slipstop collar is an even simpler option. You could have multiple bits, set up for different operations, ready to go. Just change the bit, set the fence and stops and start drilling.
---
From contributor H:
Rockler sells flat bottom bits with long shafts and a jig that limits depth drilling from the face of the panel. I use these to drill 15mm holes in my cabinet decks for knock-in euro legs and for the 20mm Blum drawer leveler mechanisms. You can use them in a drill press or cordless drill.