Drying Cherry in the Basement
Even for a brief storage period, a basement is a dubious place for stacked, stickered wood. January 14, 2009
Question
I happened to be at the right place at the right time to get 8/4 cherry. I can't get it to a kiln until two weeks time. I have stacked it carefully in a controlled basement with 3000 psi rigid insulation foam as stickers (the only thing I had available). I have also ratchet strapped it all together and painted the ends with 2 coats of oil based paint. Does anybody have advice on whether this is going to work for the two week period, and should I put a fan on it, cover it?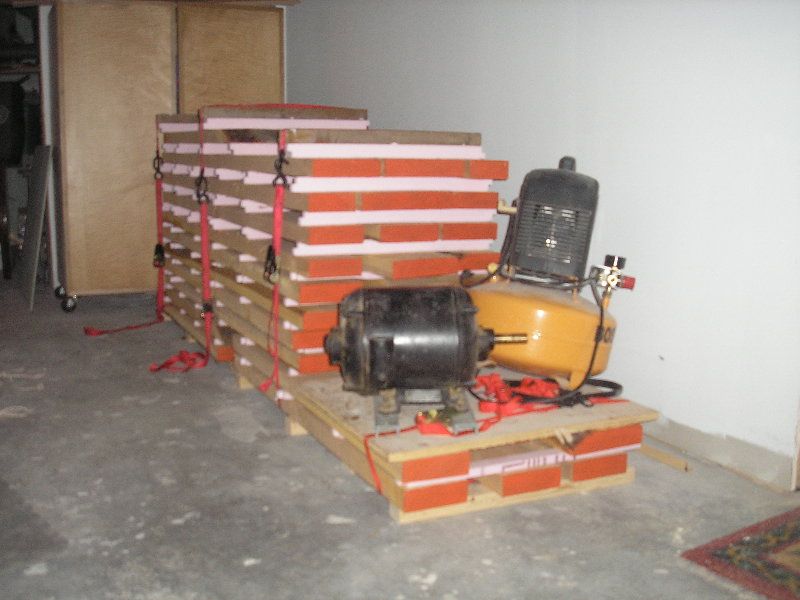 Click here for higher quality, full size image
Forum Responses
(Sawing and Drying Forum)
From contributor T:
Looks okay. If you had it to do again, I would put it higher off the floor. Put a fan on it so it blows air through the stickers. Hopefully you have 6" minimum between the stack and the wall for air flow.

---
From contributor S:
Looks good to me. Don't know about the fan, though. Go easy, you don't really want to dry it much at this point. Do you have any weight on the top? Also ask the kiln place when their next kiln charge is going in. No point in taking it there too early unless they have really good storage. I hope it will go in with some similar 8/4 wood. If they put it in with 4/4 and dry it fast, you could have trouble.
---
From Professer Gene Wengert, forum technical advisor:
It looks like the plywood under the compressor is right on the lumber. You need to have spacers here too. You need to have it further from the wall. You need to move it from the basement, as with all the moisture in it and the poor circulation and high RH, it will not dry well and mold is likely. It is likely that the moisture in your basement could create some issues with metal in the basement and make some mold in other sections of the basement.
I suggest that you make sure that the person drying the wood knows how to handle thick cherry that has been only slightly air dried. It is possible that your kiln will have mixed MCs, which is not good.

---
From the original questioner:
The RH is 52% currently and I have set up a fan that draws air through it rather than blowing air on it. Current T is 78. Have put more weight on top and changed sticker. Just out of curiosity, what is the schedule for this stock, i.e. RH and kiln temp? Thanks for the input.
---
From Professer Gene Wengert, forum technical advisor:
See table 36 on page 48 in the link below. This schedule has the temperatures in degrees Fahrenheit and degrees Canada.
Dry Kiln Schedules for Commercial Woods

---
From contributor D:
Couldn't this also be dead stacked for the two weeks - to try and preclude any AD degrade?
---
From Professer Gene Wengert, forum technical advisor:
In warm weather, it would stain and have heavy mold.
---
From contributor S:
Staining isn't a problem with cherry heartwood, however the sapwood turns a greyish color after a while. I don't see any sapwood at all in the picture above.
---
From Professer Gene Wengert, forum technical advisor:
Sometimes cherry will get dark streaks due to staining in the heartwood.