Drying Wood in a Shipping-Container Kiln
Insights on using a dehumidifier kiln built from a shipping container. December 11, 2007
Question
Are there any forum members using insulated sea containers for their DH kiln operations? I see this container as an economical solution to my needs. In the South there are plenty of van bodies as well as containers on the market.
Forum Responses
(Sawing and Drying Forum)
From contributor D:
We [Nyle] have equipped a number of sea containers and railroad containers as dry kilns, both conventional and dehumidification, and for sterilization and firewood drying. It can be a decent solution, though you pay a penalty in convenience in loading.

---
From contributor B:
I have a 24' container with a Nyle 200 DH. I solved the loading problem with a track and cart, but have had difficulty keeping the temp down in the summer. My suggestion would be to go to either a 40' container, or use the smaller DH unit. In the winter it works like a champ.
---
From the original questioner:
Please explain the temperature situation. I am familiar with automatic dampers that could vent the excess heat. I would hope that venting would be a better option than conditioning the extra 1280 cubic feet of area. Plus filling a 20 foot container versus the 40 is easier for me.
---
From contributor B:
While drying California black oak (member of red oak family), I could not keep the temp below 120 F. For ponderosa pine, this is not a problem. I have not tried to add extra vents yet. The unit comes with two, which are nothing more than RV top vents.
---
From contributor S:
This thread from the archive has some good information about using containers as a kiln:
Converting a Shipping Container to a Drying Kiln
I have a DH kiln set up in a 45' hi-cube container. It was not the insulated variety (I have some of those as well - not used as kilns, though).

---
From contributor R:
Here is my 40' insulated high cube container. Loading is easy with carts, but I do have the same problems mentioned above about keeping temps down in the summer.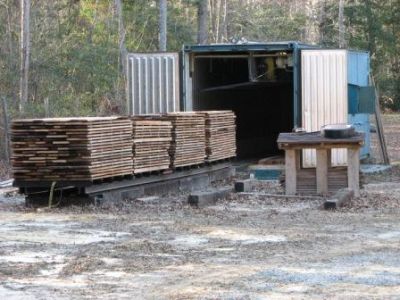 Here's the inside.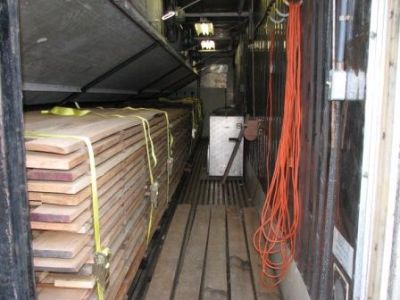 ---
From contributor S:
That's a nice looking setup. One question... How do you handle baffling the ends of your load when you can't fill all of your carts?
---
From the original questioner:
Great photos. What brand of DH unit are you operating? In the first photo there is a box on the RH side of your container. Is this part of the DH unit's cabinet?
---
From contributor R:
Very good question. The short answer is, I don't baffle the ends. I rarely run short loads. The kiln holds about 4200 bdft, if the lengths are just right. For loads more than about 2000 ft, I spread the load out over the length of the carts, and band it down in shorter stacks. I have dried a few small loads without spreading it out and without baffling the ends... I just centered the load in front of the DH unit, and lowered the baffles to the top of the stack. It worked, but it took longer to equalize. Full loads work best for me... they are easier to control airflow, and tall, heavy stacks make flat lumber.
This is a Nyle L200. The box on the outside of the kiln in the first picture has the kiln and fan controllers.

---
From contributor J:
The flooring in your container... Is it metal? Or the hardwood slats? I have the opportunity to buy a 45 foot container for real cheap. And the kiln idea has been in the front of my brain for some time. I was going to use some of the 200 concrete blocks that I have laying around, 2' x 6' x 2', and just pour a concrete floor with tracks for the carts. Now I'm wondering if the container would be easier.
---
From contributor D:
The floor is aluminum in the picture and that is standard in a refrigerated shipping container. Never try to use a standard non-refrigerated shipping container because they are not built of materials that will survive as a kiln. "Reefers" work well and last a long time.