Dust Collection for a Low-Ceilinged Shop
A shop owner decides the dust collection system he wants to install requires too much head height. October 26, 2011
Question
I would like to set up this dust collector in a shop with a 7 1/2' ceiling. It was designed to be used with a 10' height. What will happen if I shorten the drums by a foot or so and choke down the bag height to make it fit? The motor is 5 hp and the blower seems to be a high CFM. I hate to ruin the drums if this isn't going to work, as I could sell it and get a smaller DC, but if it would work it would be an awesome addition to my shop. I really don't want this thing to blow up and blast me with enough dust to take a month to clean up.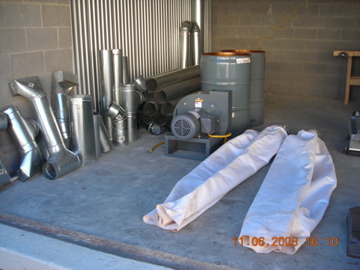 Forum Responses
(Dust Collection Forum)
From contributor J:
Keep the drums and get another set of bags to keep at least the same cloth area. American Filter Fabric can custom sew a solution for you. (No affiliation.) If you choke up on filter area, the pressure will go up and you will get more fine dust blasting through. Not to mention the possibility of a big dramatic cloud.

---
From contributor K:
Converting mine to a cyclone was the best thing I ever did in my shop, but I have taller ceilings too. The size of your bags determines the amount of air flow and how easy the particles flow. Try and not restrict the air flow by making the bags too small.
---
From contributor B:
If you cut the bag area you will lose suction because of the increased resistance for the air to get out of the bags. Modify your piping to use four bags that are shorter and fabricate a catch box that is shorter and fatter. You want as much filter area as possible. Save the drums until someday you get a shop with a taller ceiling. Filter bags are a consumable item, so replacing them with ones that work in this situation makes the most sense.
---
From contributor E:
I agree with contributor J. Leave the drums alone and get custom bags made. It will be a small price to pay to get a good system up and running.
It looks like your blower is just blowing everything right into the drum/filter assemblies - is that correct? I don't see a baffle or cyclone in the pictures. If so you'll want as much filter area as possible because the dust will quickly clog up those bags. Usually there's a baffle system of some sort to keep the heavier stuff towards the bottom. Maybe I'm just not seeing it in the picture though?

---
From the original questioner:
Thanks! I followed contributor J's advice and called American Filter Fabrics. They're really helpful, but I am getting the feeling that this isn't the system I need. There's way too much output from the blower to make this work, in realistic terms, in a basement environment. I need to sell this system and get one that's designed for a shop my size. It's just me in the shop and this system is way past overkill.
Contributor E, the blower sends the dust into the top of the bags and the heavy particles settle into the drums at the bottom.
Thanks for the input. This is a cool site, huh?

---
From contributor D:
Replace the bags and add a couple sister bags to keep a good air to cloth ratio. I got a quote from the bag company listed above and then got the same weight bags from a local company at one third the price. If you need good bags cheap, call Steven at Air Equipment & Engineering.
---
From the original questioner:
Thanks for the info, guys. It seems to me that I'm trying to make something work here that really isn't designed for what I need. In investigating this I've found that I would be better off to bite the bullet and get a system that will really clean the air as well as take care of the chip removal, and fit in the minimum of space. I'm going to be checking into the cyclone systems. I kind of like the Clear Vue from what I've read. Any comments along these lines? I have less than 8' of ceiling height so that is an issue as well.