Eastern Red Cedar for Outdoor Use
Thoughts on drying Eastern Red Cedar, and on the wood's value for decks or outdoor furniture. December 6, 2009
Question
I was thinking of buying green 5/4 cedar decking and using it for some outdoor projects but I think it should dry it first. Assuming I stacked it outside properly, I was wondering about how long it would take to dry. I live near the ocean in MA; there is lots of wind and it doesnít get too hot in the summer. What if I stacked it inside? We have a sun room with lots of air and it would stay dry there.
Forum Responses
(Sawing and Drying Forum)
From Gene Wengert, forum technical advisor:
Eastern red cedar is seldom used for decking because it is so soft and likes to split. Consider Northern or Atlantic white instead or maybe even treated pine.

---
From the original questioner:
I should have been more specific. Itís western red cedar. I havenít bought it yet, but its only $1 LF. I am not going to use it for decking. I am going to use for Adirondack chairs, planters, etc. $1 LF seems like a good price around here for 5/4 material and weather resistant.
---
From contributor A:
I sell Eastern red cedar 5/4 x6x8' for about $0.54LF. We use it for porch decking all the time and it holds up well in the weather. The porch for my office is ERC and gets heavy traffic with muddy boots and holds up well. It makes great chairs and furniture, you just have to watch knot placement.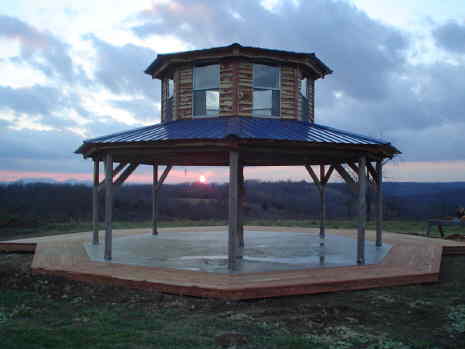 Click here for higher quality, full size image
---
From contributor A:
It dries pretty quick and is very forgiving. By the time they got the western red to you it should be down to 20% MC.
---
From Gene Wengert, forum technical advisor:
I did indeed have a moment when my brain was asleep. Northern and Atlantic white (which is what I thought you had because you are in that area) is very soft, but eastern red is actually harder than western red. WRC is also quite soft.
---
From Gene Wengert, forum technical advisor:
Here are hardness values at 12% MC for cedar:
Atlantic white 350 pounds
Eastern red 900
Incense 470
Northern white 320
Port Orford 630
Western red 350
Yellow (Alaska) 580
So Pine (loblolly) 690

---
From contributor P:
Here's some eastern red cedar right here.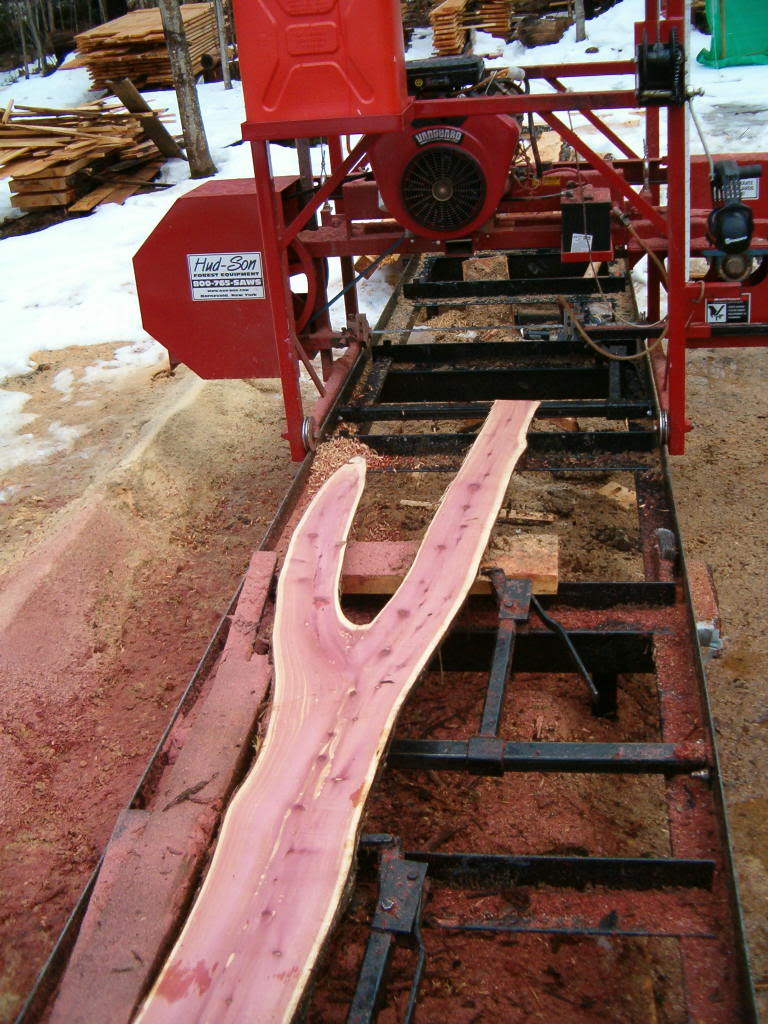 Click here for higher quality, full size image
---
From contributor S:
I've used western red cedar for Adirondack chairs and I wasn't real happy with the choice. The wood is really too soft to hold screws. Also, the wood will get rough as it weathers. The rot resistance is great. I wouldnít worry too much about air drying it for outdoor furniture. If you are going to make outdoor chairs with it let me suggest using white oak for the frame parts that will hold screws. Also note that "Atlantic white cedar" isn't cedar at all, but is actually cypress. If I was going to make some outdoor furniture, I'd give cypress a try. In your area the white cedar will be easier to get but I'm not sure how it measures up compared to the bald cypress.
---
From contributor C:
We sell a lot of ERC for decks, Adirondack chairs, pergolas, fence boards, fence posts, lattice, and etc. ERC will weather a nice grey if nothing is put on it. After about 15 years the sapwood may deteriorate in a few spots. Our deck is ERC and has been up since 1992. I'll put it up against any treated deck. I will walk with bare feet and never a worry about splinters or raised grain (try that with treated). It is a stiff wood and will not stand much bending like oak will, but that property keeps it from going squirrelly on you when it gets wet and dries 50 times. ERC is one of the most underutilized species in this country considering the many great properties it has.