Equipment to Make Carved Mouldings
Is it worth it to buy a CNC or a specialized carving machine for making egg-and-dart mouldings or other carved moulding details? March 26, 2009
Question
I'm trying to find a machine to make wide crown molding and other types of millwork to finish off my cabinets. I haven't been in business as a cabinetmaker for very long. I just don't feel like paying the high prices for the moldings. I've been making everything so far on the router table but I'd like to get into dental, egg and dart, rope, and other decorative accents for use with the crown molding. What kind of machine does that stuff? I know a wood molder can make the crown but what about the accents? I've toyed with the idea of buying a compucarve to get me by until I can get a large industrial CNC, but Iím not sure if the compucarve can really handle the demand. Itís more of a light duty weekend hobbyist type of machine in my opinion.
Also, what are some good fair priced places to buy these moldings and accents from? Keep in mind I need a variety of species: walnut, alder, cherry, maple, red/white oak, hickory, and pine. In case I can't buy the machine I need (whatever it may be) I need a good supply place for this stuff. Here is a picture of an example of what I want.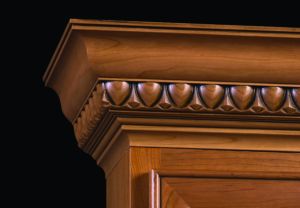 Forum Responses
(Architectural Woodworking Forum)
From contributor R:
Dentil molding can be shop made, do a little web searching and you'll find how to articles. Rope molding, egg and dart and the like require some highly specialized machinery to produce in any quantity. Really, it is much better to buy out such details unless you really plan on selling it to other shops.

---
From contributor L:
It may look expensive but I'll bet you can't make it in small quantities for less, no matter what equipment you buy. If you insist on finding that out for yourself look at a Shopbot. Itís a relatively cheap, light duty CNC. Still if you count your time for anything, I'd still bet it's cheaper to buy out!
---
From contributor M:
I'm in Southern California and I buy crown in multiple species that is milled with a flat or L space in it so you can add whatever accent (egg and dart, dentil, etc.) you need. So, mill the crown yourself, just buy the accent strips and glue/micro pin in place.
---
From contributor J:
I purchased a Compucarve after seeing it on TV. Bid the cost into your job or eat an extra hundred to let the job "pop" for the customer. I can just about bet that extra hundred of outsource cost will turn a few more hundred or thousand on other jobs.
I used Outwaterís mouldings under many apiece of crown, and received many a job referrals for going that little bit more, that has been our standard for a long time now. As for the Carvewright, well it's out in the barn and while it was a lot of fun! It led me to purchase two CNC tables and learn my long awaited lesson about why I waited so long to do that.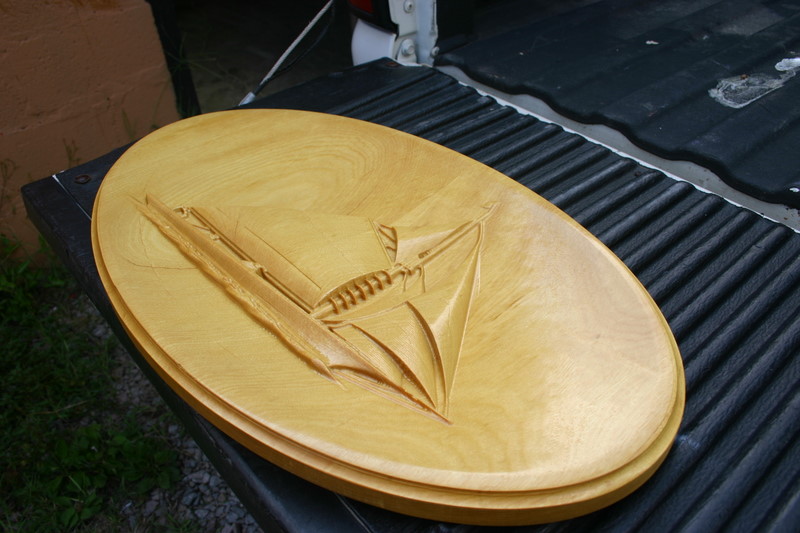 Click here for higher quality, full size image
Hereís a use of outsourcing (remember customers pay the cost, they get to keep it).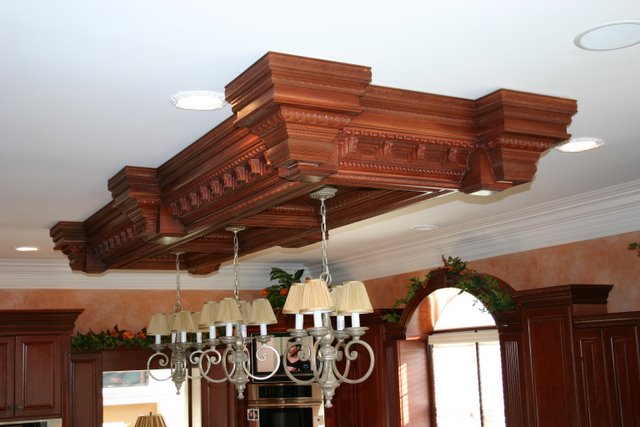 Click here for higher quality, full size image
---
From the original questioner:
Well, it looks as if I'll just have to put off the in-house specialty trim for a while and outsource it. I do believe a high quality CNC 12' long or so could easily pay itself off creating those expensive designs. At $100/stick of egg and dart my price, I bet I could pay off a CNC within a couple years.
Contributor J, I was thinking the same thing about the Compucarve with the breakdowns. Thatís a cool plaque you made. I wish there was a machine just like that but made for tough duty apps.

---
From contributor N:
I would not recommend this for a first timer, or for a large productions shop, but if you really want to get into get into a small CNC cheap, build one. As I said, you would have to treat it as a hobby to build it, but I am almost done with my 2' x 4', and it will have cost me about $1,200 with software. It could easily have been 2' x 8 or 12' do to the rack and pinion on the x-axis.
---
From contributor J:
The technology of CNC drivers, linear motion, motors and software have reached the level where anyone with a desire to have it can achieve it. I have helped a friend of mine get a machine that while its table size will not let him nest or machine a 4x8 he is producing carved doors, fluted columns with inlayed rossettes, cartoches and mouldings.
---
From the original questioner:
I look forward to buying a machine, I just don't have the funds as of right now. I guess I need to look at the reality of everything and concentrate on what I do best like all other forums say. If I have to buy something that I cannot efficiently make, so be it. Itís hard to say that when you see the dollar signs rolling away to somebody else when youíre trying to build up your own pocket. Thatís just how it is I guess.
---
From contributor J:
Actually since this thread started I have done some fluted columns for a bathroom Vectorart 3D file, used cut 3D from vectric and vcarvepro, 1/16th taperbit 3"x3" carve, 600 ipm on my camaster, 3/8" flutes!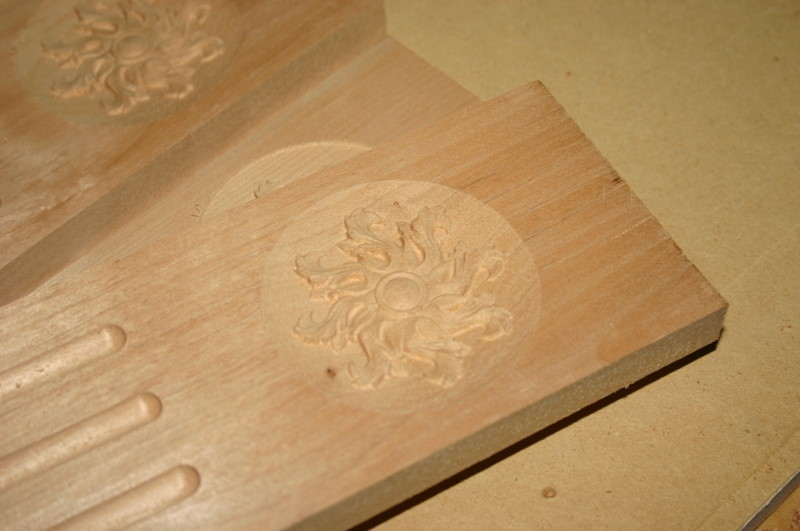 Click here for higher quality, full size image