Equipment to Saw 6-Foot Diameter Logs
A discussion of stock and custom bandsaw mills able to handle very large logs. October 26, 2011
Question
What equipment is available out there such as a chainsaw, swing saw, or band saw to cut five-six feet in diameter butt logs, which are up to eight feet long?
Forum Responses
(Sawing and Drying Forum)
From contributor G:
All three will do the job. A bandmill will likely need to quarter the log. I would select a swingmill. On large diameter you will likely need a way to get the mill and operator up higher. Unless you are going to slab the log, then a wide slab attachment on a swingmill is the way to go.

---
From contributor B:
I run a bandsaw out here in Oregon that will slice 72" very nicely, and I'm sure I'm not the only one out here.
---
From contributor G:
Hudson makes a mill that cuts up to 52" wide, but it comes with a ground track because it is over DOT width. Contributor B - what brand do you have? I am not familiar with any band sawmill that raise over 72" and have that size guide spacing.
---
From contributor V:
A swing mill is a great option. Call the folks at Bailey's (you can find their number online). They are really helpful.
---
From contributor B:
To contributor G: It is a Linn Lumber mill, modified from its original design to cut bigger. The head assembly is lifted, turned, and set into a custom cradle to allow for travel; all really cool, we're still practicing and getting pretty good at it, hoping to go at it full time in a year or two. We'll see.
---
From contributor E:
To contributor B: Do you have any photos of your 72" mill in action?
---
From the original questioner:
Here is a picture of the mill. 46" black walnut crotch loaded and getting sliced at the time.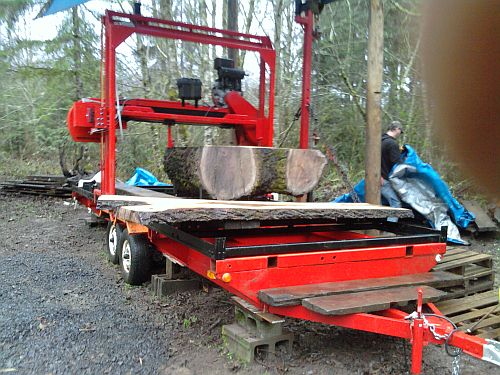 Click here for higher quality, full size image
---
From contributor U:
Here is how I do it and I was able to get 13 4" slices out of this pecan. It was 79" by 65" and I cut the 65" direction with my 72" bar. It took about ten minutes per cut. I cut cookies out of this because the owner of the log wanted five that way and so I continued all the way down but I could have cut flitches just as easily.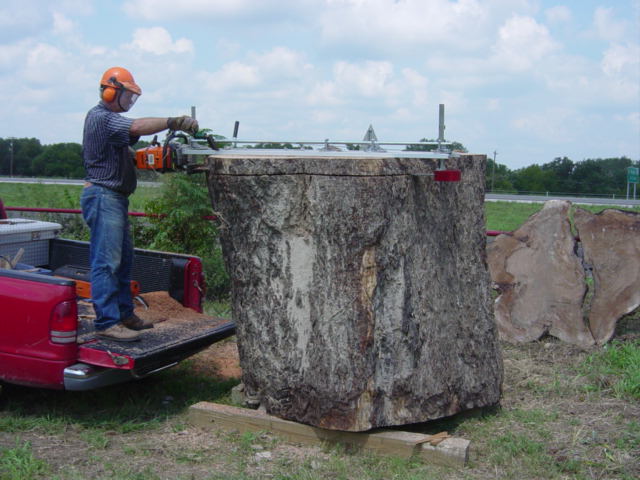 Click here for higher quality, full size image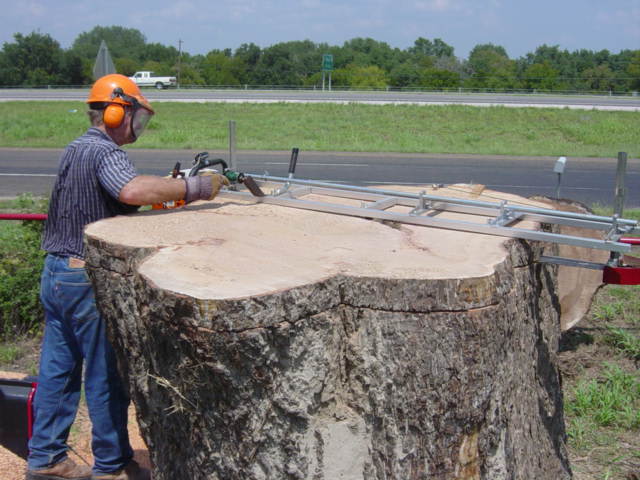 Click here for higher quality, full size image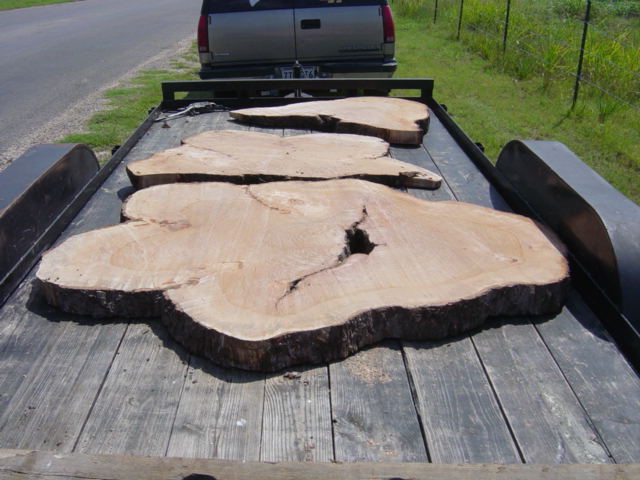 Click here for higher quality, full size image