Euro-Style Hinges for Frace Frame Cabinets
Advice and information about hinges that work in the Euro manner but look good with overlay doors in face frame cabinets. September 3, 2014
Question (WOODWEB Member) :
Does anyone know of a euro/concealed hinge for face frame, (1 1/2" rails),
that will overlay the full face frame that doesn't leave a huge (3/16) gap between ff and door? A 1/32" would be acceptable. I'm thinking about cutting out (router) the inner edge of the hinge side FF so that I can use a regular full overlay frameless clip hinge. Anyone ever done something so drastically stupid?
Forum Responses
(Cabinetmaking Forum)
From contributor H:
I think Salice has a 1 3/8" overlay, but still sits off the face frame 3/16". It requires larger reveals between doors as well. Have you considered frameless box construction? Easier and cleaner than hacking frames to achieve same result.

---
From the original questioner
:
I think frameless would have been the ideal choice. I'm just not keen on the weight of particle board or MDF and I can't get any plywood that is stable enough. So, I'm just kind of stuck.
---
From contributor M:
Blum carries face frame hinge with up to 1 5/8" overlay and 1 1/2".
---
From contributor C:
Woodmode (very high end factory cab) will notch 3/4" out of a face frame in the area of the hinge to accommodate a euro hinge. This gives them the cut- plus the overlay. Hell you could cut a 1" plus the overlay that could be a 1 5/8" on a 1 3/4 face frame stile).That can be whatever you want to try (in my opinion). I dealt with these cabinets 12 years ago when I got an invitation to install with an open checkbook get it done job. The cabinets were utility cabinets and had 42" doors and three hinges notched per face frame. This allow for a good adjustment option in my opinion.
---
From Contributor B
:
What you are proposing is not drastically stupid. In fact, it is a common method in some markets. Even if you do notch the frame you will not achieve a 1/32" gap behind the door. The gap will need to be larger for square edge doors but can be reduced by easing the edge of the door somewhat. You should be able to maintain a gap of 2.5mm (3/32"). This is still significantly better than the gap you get with a typical one piece face frame hinge. In addition to the gap behind the door, you can also maintain much smaller gaps between two doors.
As an alternate to cutting a notch in the frame with a router or jig saw, Salice offers a recessed mounting plate that achieves the same results. The pocket for this mounting plate is made by using the 35mm hinge boring bit (R=17.5mm). The cut is best accomplished before the frames are assembled as you will machine this using your hinge machine. This method eliminates the need to finish the cut surface and gives a nice engineered appearance.
Here are the details: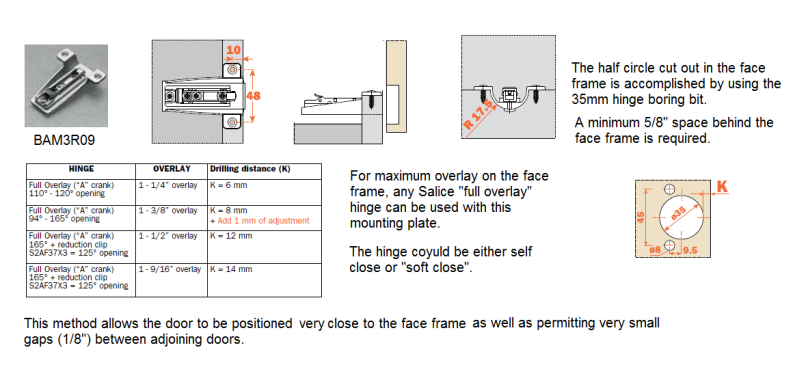 Click here for higher quality, full size image
---
From contributor D:
All the regular face frame hinges for large overlays leave you with the gap which is needed for hinge to swing freely. Hafele offers a Salice hinge plate, Mezzaluna, Salice item BAM3R09, which inserts into half circle cut out in edge of frame. Hafele item #329.82.640 solves this issue and offers large overlays with minimum door gap.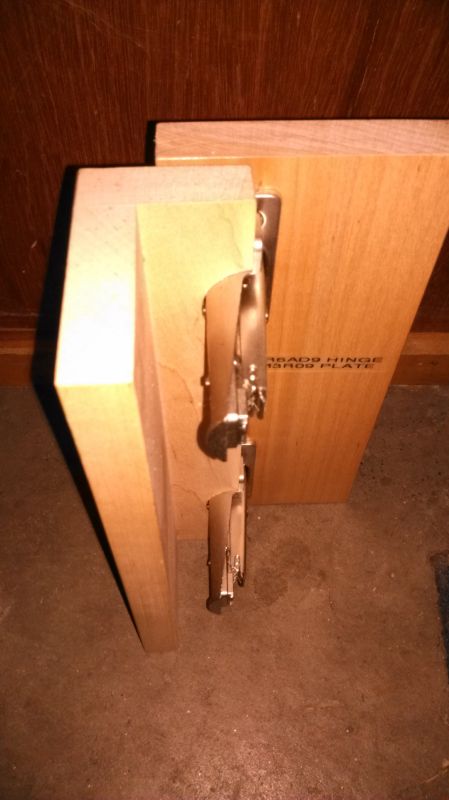 Click here for higher quality, full size image
---
From contributor H:
Seems like a lot of fooling around when a euro constructed box eliminates this. Building a cabinet out of plywood is possible but learning how to deal with the added weight of a composite board would provide benefits in the long run.
---
From contributor U:
I am not sure about the projection but Salice has a 40mm bore hinge that will overlay I think 1 1/2" with 0 mm plates depending on the tab distance. You would have to play around with it to see if it fits your application. That's what we use for overlay pocket door application.
---
From Contributor B
:
The 40mm cup Salice hinge is the "F" series. The maximum overlay is 1-3/8". It will however accommodate doors with thickness up to 1-1/2" with small reveals. You are right about the overlay pocket doors. The F series has been a standard for this application for many years.