Euro Upper Corner Cabinets
Here's an advanced discussion of design and construction details for frameless corner cabinets, focusing mostly on the operation and appearance of doors. June 16, 2014
Question (WOODWEB Member) :
Can anyone guide me through the best way to build my 45 degree upper corners in euro frameless cabs? I've done it before with my 12" sides square to the front edge, and had to float my door way out to get it to line up with the adjacent doors. It was a pain. I wondered if I should have put a 45 on them. I feel like I'm reinventing the wheel. If someone has a plan view drawing and some words of wisdom this humble carpenter would be most grateful.
Forum Responses
(Cabinetmaking Forum)
From contributor F:
Use a cranked hinge, this is what we did recently.

---
From contributor H:
Make a sample, it's not all that hard. I always make mine the same but am willing to vary the depth and width of cabinet as long as it the door is on a 45 degree angle.
---
From contributor D:
Just make the top and bottom extend out enough to touch the door when closed.
---
From contributor Y:
Just make the sides a .25 inch deeper than the cabinets to either side. The neighboring cabinets doors hide the exposed .25 inch and the doors line up much better.
---
From contributor V:
My experience has been that the hinge manufacturers (Grass, Salice) have the door alignment issues figured out when using euro doors (those with square edges). Problems arise when we use doors that have detailed edges which then make the gaps excessive and cause them to look bad. Consult your hinge manufacturer's technical catalogue and make mock-ups to see how your exact combination will work. The reason for applied finished ends (AFE's) or flat fillers (basically a 3/4" x 4" piece of finished material) is to gain clearance for the knobs/handles on the adjacent doors on uppers and on the adjacent doors and/or drawers fronts on lowers.
---
From Contributor B
:
I can see exactly the visual problem that will develop with profile edges. The same problem occurs when hinging two profile edge doors together for a pie corner application. This can normally be addressed by profiling only three sides of each door and leaving the adjoining edges square. I'm thinking that possibly the best solution for profile doors would be to abandon the diagonal corner all together and design in a blind corner or pie cut corner. What do you think? How do you approach this?
---
From contributor Z:
I hate the look of diagonal corners and only make pie cut ones with the lazy susan hinge from Blum (Salice or other companies have them as well). They take less air space over the counter and are a better use of the space. In a typical 24x24 corner, you can use every inch of each shelf and access anything without having to move something else. The L-shaped shelves and top and bottom do have to be banded by hand, but my clients love the look and efficient use of space.
Here are some pics of my upper corners. One of the corners has a check in the back as there is a drain in the corner.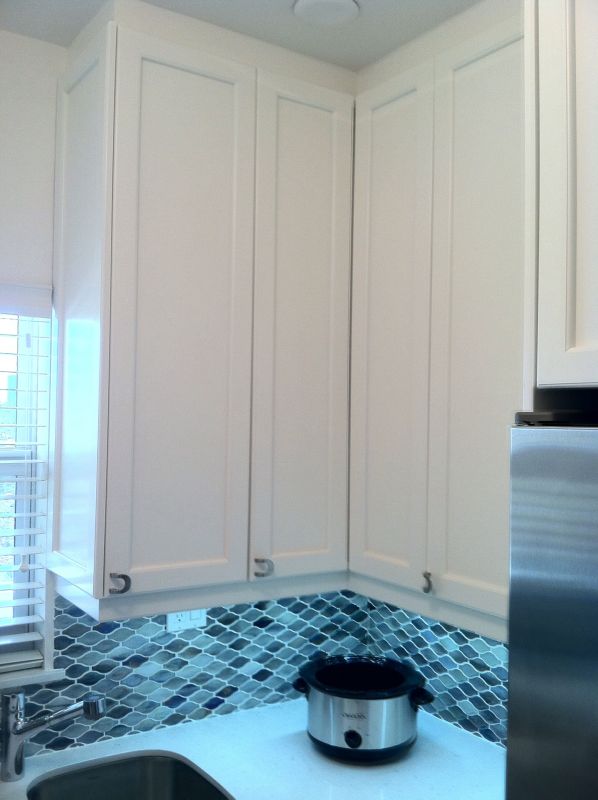 Click here for higher quality, full size image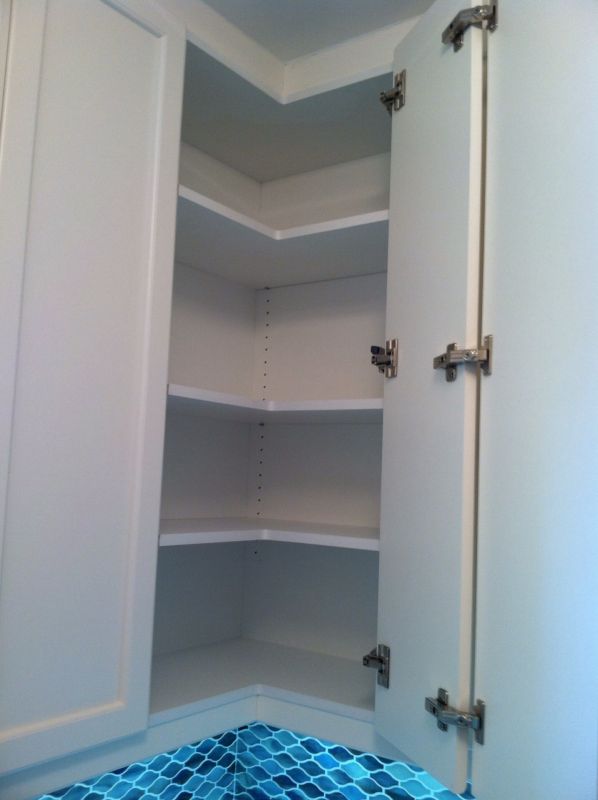 Click here for higher quality, full size image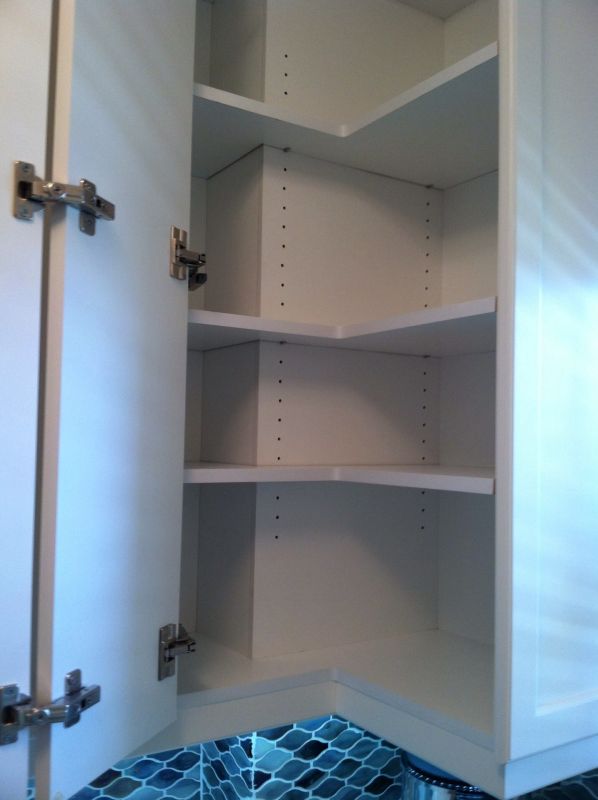 Click here for higher quality, full size image
---
From the original questioner
:
Very nice Contributor Z. I think I'll go with your layout. Do you cut the top and bottom shelves in an L shape?
---
From contributor Z:
Yes. Our cabinets are made with either 5/8 melamine with 5/8back or 3/4 prefinished maple with 1/2" maple backs. We bore the shelf support holes for the sides and backs at the same time and the backs are planted on with nails and screws. This gives client a full 11.875 or 12" inside. We cut the top, bottom and shelves with a jig saw 1/8 oversize in the front, clamp on a premade jig and rout the front insides smooth with a router. Edge with contact cement as we found the fast cap tape did not stand up. 176 degree hinge on main door and corner hinge for second door that has spring to keep the door closed. This is a standard Blum hinge that has several adjustments.
---
From contributor Z:
When we are forced to do these corner cabinets we use 1/4"thick bumpers that are readily available and put one on the cabinet edge and another on the back of the door. It works out perfectly.
---
From contributor G:
We use fillers on either side of the corner cabinets that allow for the door to be the same width in all situations. We cut the top and bottom out a little over 1/8" on the 45 so we can use a standard bumper. We use the Blum 45 degree cross corner hinges that allow 7mm from the back of the door to a line drawn through the inside corners of the gables. By bringing the top and bottom out it solves the custom bumper problem. I do like the look of Contributor Z's corner cabinet and will look at offering that as an option. Below is a pic of a cross corner cabinet with an appliance garage under that we find is quite popular.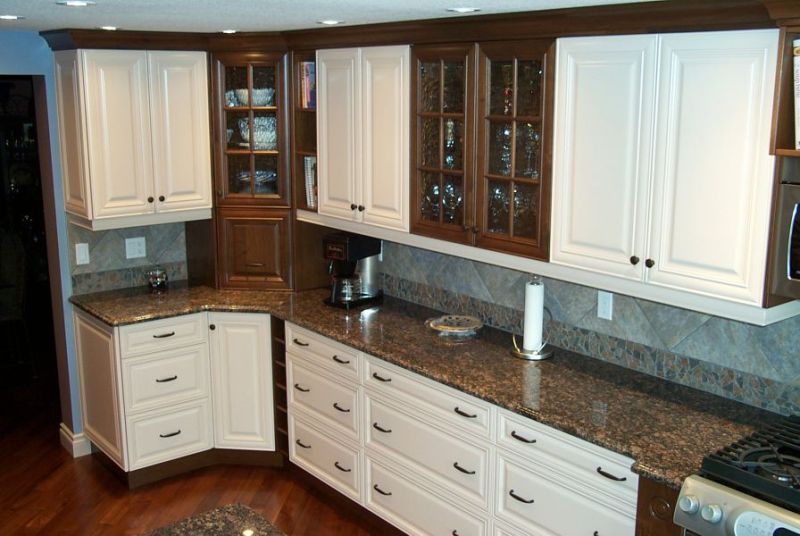 Click here for higher quality, full size image
---
From the original questioner
:
To contributor Z: What would be you min-max door width? I also noted that you use three hinges. Do you do that on all your folding corner doors?
---
From contributor Z:
Most of my corners are 24x24 as they fit over a 36x36 corner with a 12" next to it if it ends at a microwave upper over a stove, or it can join other cabinets on either side depending on the configuration. If the corner ends at a window, the longer side had been 30" or more, but there is no set amount. The cabinets in the pics are 48" high and a middle 3rd hinge keeps the door flat. Otherwise I use two hinges up to 36" height.
---
From Contributor T
:
I rabbet my end panels for the top and bottom 9mm on a 19mm panel. I make my net cabinet 600mm leaving a 10mm gap along both backs. When pinned between cabs on either side no big deal, if one end or the other needs to run to the wall I add on a 10mmx10mm scribe to that side and skin it, or you could make that panel deeper. I also use 19mm full captured backs. Not sure if that all makes sense? I spent a bunch of time laying out my shop drawing and found that the rabbet pulled it all together, and truly keeps a 2-3 mm gap and the face plain without totally maxing all the hardware.
---
From Contributor R
:
I make the AFEs only about 100mm wide. That gives some clearance for the corner if it is out of square. I make the door the exact width of the opening using Grass Nexis Impresso hinges and plates. All boring is the same as full overlay doors. I pull AFE about 10-12mm proud of case and that hides any gap on the sides. If the door has a profile it can overlay a bit and the profile gives it some clearance.