Extending Bit Life in Laminates
Some HPL laminate panels are extremely rough on CNC tooling. Here are suggestions for choosing bits that will last longer. January 31, 2012
Question
I have been using 1/2" Vortex and Onsrud compression bits for all of the two sided HPL laid up on Ultralight MDF. It seems there are certain laminates, in this case hard rock maple by Pionite, that shorten the tool life dramatically. When I notice edge flaking, I pull the bit out and it looks like gouges exist on the flute. Does anybody know why this would happen? Generally, I can cut up 50 sheets or more without any issues.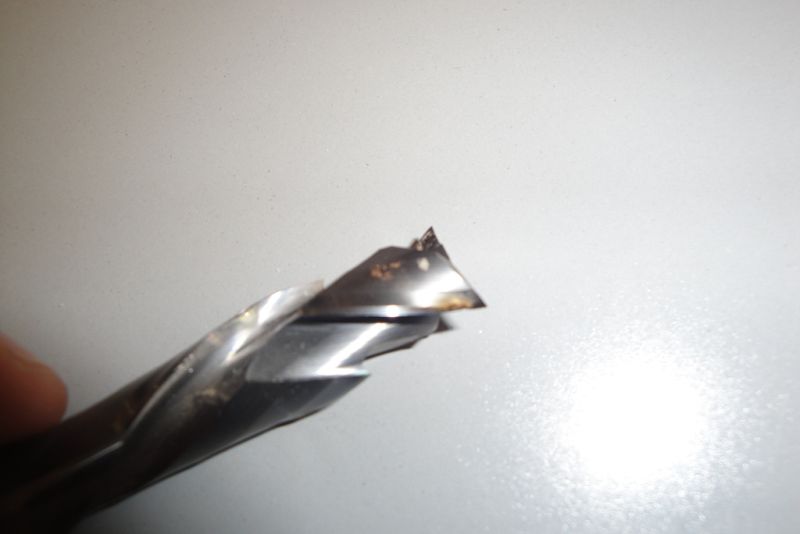 Click here for higher quality, full size image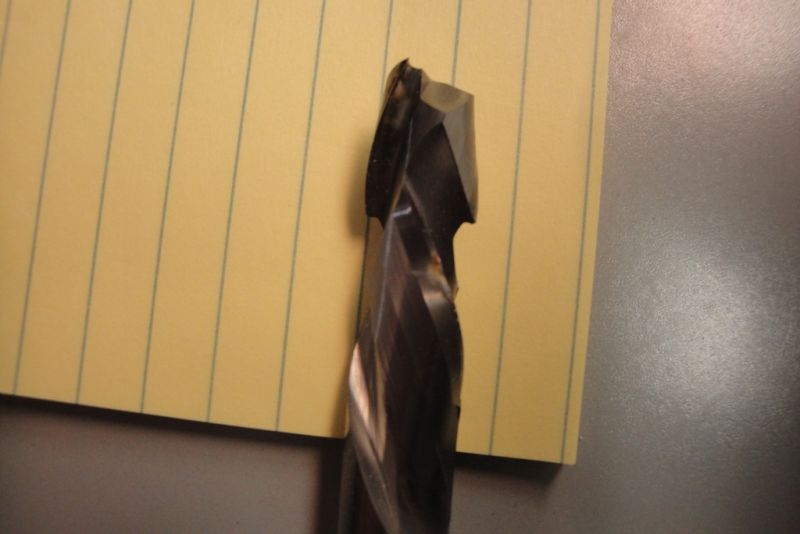 Click here for higher quality, full size image
Forum Responses
(CNC Forum)
From contributor B:
This has been discussed here in the past although I think it was quite some time ago. I believe one of the things discussed was adding some z-axis oscillation.

---
From contributor T:
Z oscillation is not really the answer here. You may get a little better tool life but you will be resurfacing and replacing spoilboards much more often if you use it. There are some laminates that seem to be harder on bits than others. Both Vortex and Onsrud have addressed this problem with new alloys that perform better. Make sure you are using the proper bit for the application. I have a customer who cuts a lot of laid up HPL material and with the new Vortex bits they tell me they are getting between 60 and 70 sheets out of a 1/2" 2 flute compression spiral bit. Before they changed tooling they were getting less than 10 sheets per bit. Of course heat is your ultimate enemy. What is your chip load?
---
From contributor M:
The article below is from the Knowledge Base. It might be what contributor B is referring to. I am definitely hearing what you are saying about the hard rock maple. It is even worse with the high gloss finish, which is very abrasive, but still requires a real sharp bit so as not to burr the finish. I had a short stretch where (ultimately due to bad feed rates and less than optimal tooling) I was getting only 4 or 5 sheets to a bit in the high gloss in that material. Contributor T is right on with the improved Onsrud and Vortex tooling. I am cutting with the Vortex lately, 3/8 2 flute 3130XP at about 800 IPM. It has made a huge difference. The Onsrud MW series works well too.
Melamine Tooling Issue: Grooves Worn Where Tool Contacts Paper

---
From contributor E:
I recently finished a commercial job that was all laid up laminate material. Laminate on laminate on particleboard. The job was about 100 sheets over a 4 week period. Because this was the first big job we have had in about 7 months I haven't been buying a lot of new tooling. The first part of the job exhausted my tooling 3/8" U/D compression from Vortex. I noticed that the tools weren't lasting very long, much like your pictures. 3 - 5 sheets before noticing a fuzz in the top laminate. The grind was right where the laminate met the board. The part of the cutter that met the particleboard was sharp, while the part that cut the laminate was wearing away. My solution was to switch to 2 edge flat/straight cutters. Good old end-mills, cheap, and they worked. The dust collection was lost to the groove but the edge quality was great and the tool cut 8 -10 per cutter for about $8.00 per cutter. I prefer the U/D comps for plywood and veneered product, dust extraction, noise level and general long life but when cutting laminate, the cheap cutter does the trick for me. I also kept good feed rates and quality of cuts.


Click here for higher quality, full size image
---
From contributor G:
Most of our [Courmatt's] customers are using a 3+3 flute design, which has extended the life to 70+ sheets.
---
From contributor S:
Active Machine and Tool has a coating that will give you 5 to 7 times the tool life.
---
From contributor K:
I'm using a 1/2 diamond tipped 2 flute compression from Carolina Specialty. The price of the bit is about $160. We are cutting two sided melamine, HPL two sided PB, melamine 1 sided with HPL on the other side, and 1" PB. I get between 165 and 185 sheets per bit before the chipping is seen. I also noticed the PB core is causing the bit to dull faster than the HPL. The part number for the tool is 280055. The investment is high but the longer life of the bit means less down time and a more productive CNC.