Face Frame Width Issues
Structural and esthetic design considerations influencing face frame widths. April 10, 2012
Question
I am a newby and have read "Building Kitchen Cabinets" by Udo Schmidt and am ready to begin my first kitchen project. Has anyone modified the two inch wide FF to 1.75 with success using the Kreg Pocket Screw system? I hate to stray from the instructions but I am looking for less face frame exposed.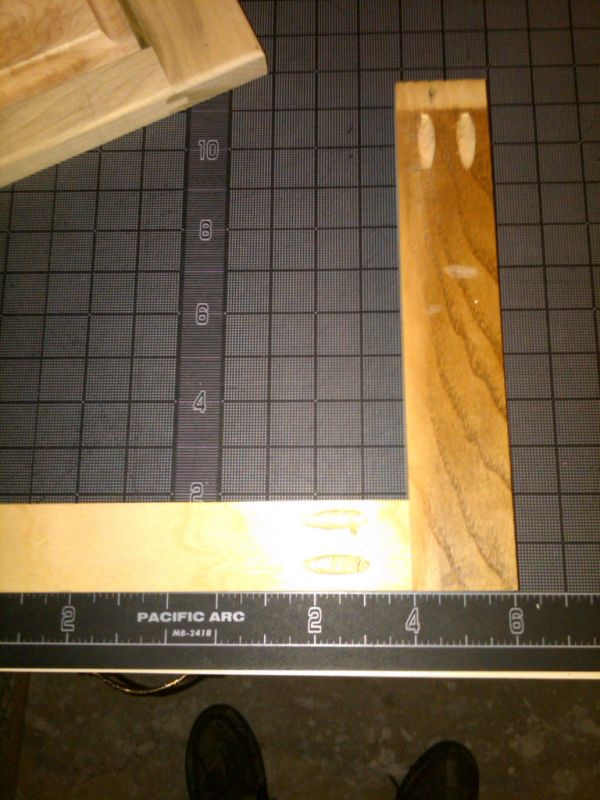 Click here for higher quality, full size image
Forum Responses
(Cabinetmaking Forum)
From the original questioner:
That picture is a test of the two sizes (2" and 1.75"). It seems to be alright, but I didn't know if I was missing something. After reading the posts here I see there are no strict guidelines to face frame width (2" is popular, not sure why). I also ripped a piece 1.5" wide but that might get a little hairy trying to use two pocket screws in something that narrow. Are there other folks using two screws on a 1.75 wide FF?

---
From contributor B:
While making your frame width decision it will be very important to consider the type of hinges you plan to use. Consider this if you plan to use a European concealed hinge: If you make your frames 2" wide, the most you will be able to cover will be 1-1/2" (leaving 1/2" exposed frame). There are a few exceptions to this rule.
The frame width does indeed vary from one region of the country to another. The most common width however is 1-1/2". If you make the frame 1-1/2" wide you can easily use a 1-1/4" overlay European hinge leaving 1/4" exposed frame. A 1/4" reveal is typically the minimum gap you can have between doors that will permit the hinge to turn the door without hitting an adjoining door or wall. The 1-1/2" frame width is used very frequently with a pocket screw joint with absolutely no problems.
If you really want small gaps between doors, consider building the cabinet frameless and using European hinges. By doing this you can reduce the gaps to 1/8" or less. I would suggest you get a European hinge catalog and study the specs before making your frame width decision.

---
From contributor K:
There is nothing wrong with using 1.5" stiles and two pocket-holes. It also solves all of your hinging issues.
---
From contributor U:
There are really no rules about face frame width. Face frame width is a matter of aesthetics. It is all about how much wood you want to see to get the look you are after. The trend toward the 1 1/2" stiles and rails that Contributor B talks about is probably about shops trying to get more yield from their lumber.
---
From contributor B:
Use stick-type Euro hinges with face frame plates, and you can cover 3/4" of the FF. My standard stiles/rails are 1 3/4", with 1 1/4" bottom and mid-rails.
---
From contributor F:
I was once told that the 2" FF width came from simplifying the math that goes with figuring cut lists. As times have changed with computer generated lists, it really makes no difference - just something to consider.
---
From contributor S:
Like Contributor F I believe the 2" is to make it easier for the math. When I learned (early 80ís) two inch frames and 1" overlay made for simple math. Nowadays I only overlay 18mm or 9mm (full overlay Euro hinges or half overlay). My mid-rail or mid-stiles are 50mm, my finished end stiles are 32mm, when two cabinets meet the stiles are 25mm. These frame sizes with full overlay hinges create 14mm reveals for every door regardless of its situation. If I want more or less reveal I simply change the hinges to half over-lay or use a super overlay hinge (25mm overlay).
When I first thought this up (two or three weeks ago) I was worried about the 25mm stiles being too narrow and bowing. This has not been an issue. Because the 25mm stiles are always paired with the next cabinetís stile they are strong enough. I agree with others who suggest you look at frameless if you want reveals of less than 1/2" Sorry I am using mm instead of inches. I guess you know 25mm = 1". Just remember the goal is usually to have an equal space (reveal) between all doors. This includes doors on adjacent cabinets.

---
From contributor E:
I am not going for a full Euro look (somewhere in between). Our home is out in the country. The cabinets that were in the home were hideous, with 3.5" of face frame exposed in some places, and mostly 2" (too much). I will use the two inch that I have and maybe look at a 3/4 overlay hinges (giving 1/2" gap between doors and drawers). Are the 3/4" as available as the popular 1/2"?
---
From contributor N:
Yes, 3/4" overlay hinges are equally available as are the 1/2" overlay hinges. Keep in mind however; a typical 3/4" overlay, one piece, European face frame hinge requires approximately 11/32" (8.3mm) gap between doors to open one door without interference. If you are mounting these back to back on a common frame, you will need 2X this gap (11/16") to open both doors at the same time.
If using a "one piece" hinge I would suggest a 5/8" overlay. This would give 3/4" between 2 doors and they both would open (simultaneously) without interference. A better solution (to a one piece hinge) would be to use 3/4" overlay "long arm" European hinges. This will allow both doors to open without interference when mounted back to back on a common 2" frame. This would give the 1/2" gap between doors that you are looking for.
This can be accomplished by using a "full overlay", long arm European hinge with a face frame mounting plate. These calculations are pretty much similar with all European hinge brands.
One more consideration: Will all doors be mounted back to back on common stiles? Have you considered the locations where only one door is hinged to a wide frame? You will need to have a hinge plan for these doors as well to maintain the same reveal (amount of frame showing).

---
From contributor C:
The dresser pictured has 1.25" faceframes sized, glued, and pocket screwed with one screw. The key is that the faceframe bears no load. The load is carried by the carcass. The faceframe is also pocket screwed to the carcass in the front and splined on the sides.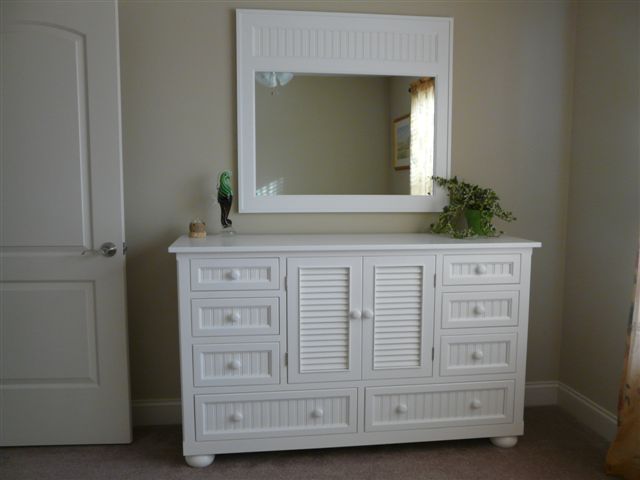 Click here for higher quality, full size image