Festool Domino XL for Entry Door?
Craftsmen discuss using Festool's loose tenon tool for building doors. January 23, 2014
Question
(WOODWEB Member):
Anyone using the Festool Domino XL with sipo stock for exterior loose fit mortise and tenons? I have a large (4' x 8') exterior solid wood door in quartersawn white oak to build and am considering one in lieu of chopping 3/4-1" full mortises. Cutting multiple 14mm x 28mm to 254mm or longer from sipo for 8-12"w x 2"th rails into 8" x 2" stiles is the idea. I have done both blind and through tenons in the past, but my slot/standup mortiser bits are never long enough, so a lot of hand work is necessary and I'm not getting any younger. I'm also looking at a new Laguna Platinum slot mortiser. Any thoughts on the durability/longevity of a Domino joined rail/stile?
Forum Responses
(Architectural Woodworking Forum)
From contributor R:
I played with the regular Domino when it first came out, and had the idea that it wouldn't take me long to work out a bench top platform and clamps to improve accuracy. The XL seems even more like a bench top mount candidate. No direct experience though.

---
From contributor J:
I just completed four entry doors with the XL. I did 14 mm mortises, 170 mm deep which is the max. I picked up the sipo sticks, but I found them to have a lot of variation in thickness, even within the same piece, as much as .010". I don't like counting on the glue that much, so I switched to the precut beech dominos with much better results.
The joinery went incredibly fast - you barely need to make a pencil mark on the wood other than keeping track of your reference surface. Things came together well, very close to flush everywhere. I've had problems in the past mortising stiles on the multi-router getting deflection from a long piece, and also you can't go deep enough. This is a better way if you ask me, better take the tool to the wood than the other way around. A couple more doors and I'll have paid for it easy. As for longevity, I think it's as good as any loose tenon joint. It's hard to get the dominos out after a dry fit. The tolerances are very good. For doors that aren't cope and stick, I don't think I'd go back.

---
From contributor S
:
Thanks for that rundown. It's interesting to hear that the sipo has lower tolerances than the beech. I wanted to use the longest possible tenons but I guess I'm back to the cutter head depth limitation - which is 170mm(?). So that also means that the tenon length would be 340mm or about 13 3/8". I'll have to check on the beech tenon stock lengths. This particular door is completely shielded from driving rain by a deep, full length porch, so the exterior rating of the sipo isn't much of an issue. I'm mostly worried about sag pull on the joints and expansion with summertime high humidity.
---
From contributor J:
Sorry, it was late and I don't think in metric well. The max tool plunge is 70 mm - you'll always be limited by that, unless you are through mortising from both sides of the stile. I think the 70 mm (like 2 9/16") is a good depth for door mortises, especially when ganging several per rail.
---
From contributor D:
We did 20 1 3/4'' maple interior doors this summer with the XL. Things worked out well. Also just did an exterior 1/4 sawn white oak entry with cope and stick, which worked well. I loaned it to a buddy who built a bunch of exterior doors and he was very happy. We also have the smaller one, but the XL is more versatile. It is amazing all the things we use it for now.
---
From contributor O
:
I just made a small run of three exterior doors using the XL and Sipo tenons (70mm boring depth) and things went fine. Alignment was good but things are tight and it's hard to do dry fitting with this system.
For larger runs I much prefer using No-Rot dowels. Rangate sells boring bits that are 0.1mm oversized which makes fitting things together for a dry fit or during assembly so much easier.
As far as boring machines go, I've had very good success with my Felder FD-250. It's not comparable to the Hofmann or Ganner boring machines ($18k+) but it is quite versatile and has no stability problems with an 8' stile hanging off the end. I've added pneumatic clamps which has sped things up considerably, along with Aigner extension tables to each side. It has been worth the investment.

---
From Gary Katz, forum technical advisor
:
I've been using the XL for a lot of stuff - some things that really surprise me. I started using it on doors - built my 4/0 x 8/0 shop door with it, 2 1/2" thick. And used it to assemble all the carriage doors that I attached to my roll-up shop door. And I used it to reinforce all the butt joints in the fascia. And I used it to assemble all the 2x trim around the doors and windows. And I used it to… Well, you get the picture. What an awesome tool. I thought I use it far less frequently than the smaller version, but I was really wrong about that!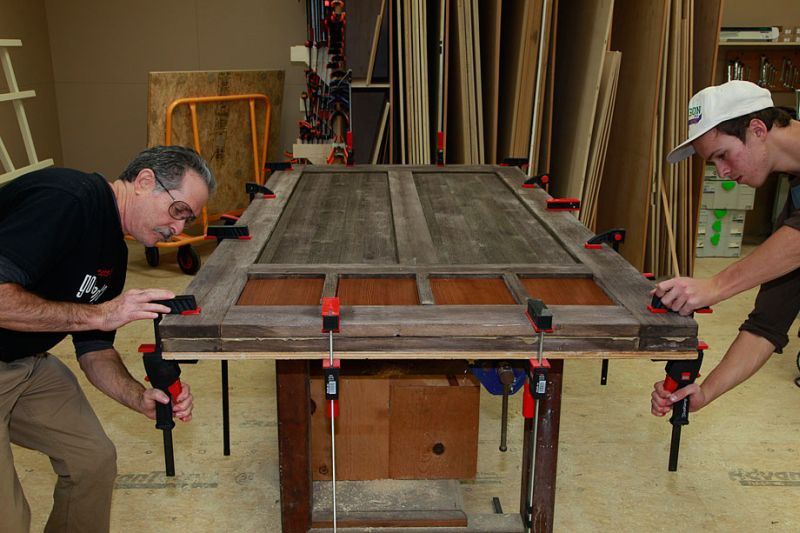 Click here for higher quality, full size image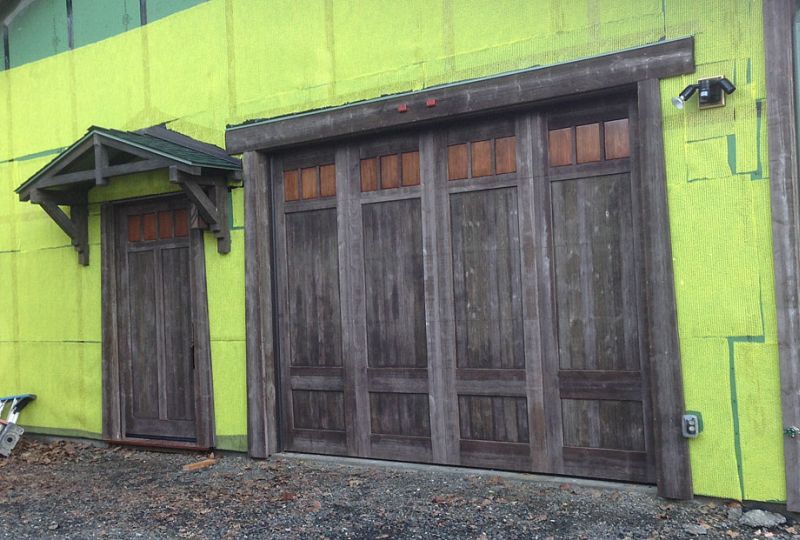 Click here for higher quality, full size image