Fine-Tuning a Crackle Finish
Advice on how to create a crackle finish that only breaks through in selected areas. April 19, 2006
Question
I've been experimenting with Mohawk crackle lacquer trying to nail a sample for an upcoming cabinet job. I have 20 plus cabinets to put a crackle finish on. Here is my dilemma. The customer wants the crackle to be very random - like in some corners of the raised panel doors on an edge here and there. The customer wants the base color to be stained with the top color black. Crackle lacquer is obviously designed to crack throughout the coating. I'm trying to figure out a way to control it and put the crackle in specific places on the door instead of the whole finish being crackled.
This is what I've tried and it has almost worked: Stain/ Vinyl S./ High Gloss Nitro./Black pre-cat./ then while the Black is flashing off I took a cup gun turned to round pattern with clear crackle and sprayed specific spots. The finish did crackle, but it is not opening up enough to really see the stain under layer. Mostly the clear crackle is just doing its thing on top of the black.
I'm dumbfounded on how I can get it to do what I want. I have made up many sample boards with no good results. I know there is a way to do it with latex paints, but I don't even know where to start.
I know I could lay down a stain color or base color of paint and apply a water-base crackle medium or hide glue in specific spots and top coat with a black latex to get there, but I have a feeling that this process will be entirely to long for my shop to produce in a timely fashion. If I had to do it that way, can a topcoat or clear coat over latex?
Forum Responses
(Finishing Forum)
From contributor G:
I'm not familiar with that process, but you might try adding some retarder to the black pre-cat.

---
From contributor M:
Campbell has just what you're looking for and it may well work with Mohawk lacquers. It's called "Crackle Light". They have 3 types of crackle, so make sure what you get is "Crackle Light".
Load it up in a cup or hvlp cup gun with a nice fine tip, like a .9. Spray regular lacquer or pre-cat or even conversion varnish over white primer. While that coat is wet, shoot it randomly with the C-L. Watch and behold the spectacle.
Topcoat in clear of the same kind while the crackled finish is still chemically wet, but almost dry enough to touch because you can't scuff sand the crackled finish. You don't want the C-L so wet it crackles the top clear. If you want build, you can scuff sand the top clear and clear a second time.

---
From contributor M:
You basically wind up shooting the black finish, crackle light, and clear topcoat on the same piece in the same step. Shoot the crackle light on the black while it's sopping wet.
---
From contributor C:
Most paint store sell a crackle medium paste, it is sold in both a small fine and a large crackle.
The image below shows small crackles in a faux patented finish. You can place the medium exactly were you want it on the pieces. Just follow the instructions on the label and always make up some samples first.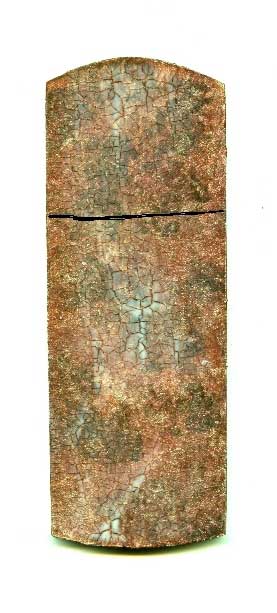 Click here for full size image
---
From contributor K:
Try applying the crackle medium in just the areas where you want the cracks to appear prior to your black pre-cat topcoat. This should give the results you are after.
---
From contributor G:
When I did this, we did our panels in the base color. Then we put a wet coat of Duravar, a wet-on-wet coat of tinted MLC crackle and another wet-on-wet with more Duravar with fast thinner. We used three guns. The crackle depended on how long you wait before the last coat. I guess that would be chemically wet.