Finishing Bamboo Plywood
Plywood's natural shade variations make consistent color matching difficult. Here are ideas for dealing with that problem. March 29, 2006
Question
I just finished a 60 sheet wall panel job of Bamboo plywood (Plyboo). It was a yellow/green dye stain to enhance the natural patina. The problem was and will be again is Bamboo cannot be selected for consistence. You get what you get and at $350 a 4'x'8' it is hard not use all you get. The natural color ranged from a light brown to a fluorescent green. Shading helped, but it still looks like a checker board when installed. What am I missing? Buy the way, the scrap made a gorgeous fishing rod holder and cabinet.
Forum Responses
(Finishing Forum)
From contributor M:
The only way to get consistent color time and time again on the bamboo and other wood species that vary in color is to use a translucent tinting toner. You would mix that to a color close to the natural bamboo. Thin out the toner so you do not block out the natural bamboo, it should be translucent and not a paint. You may need a compatible wash coat before you apply your stain.
Make up some complete start to finish samples.

---
From contributor G:
A few years ago I had to make stain similar to what you describe for bamboo. I wound up having to make different matches for the different colored sheets. Fortunately, there were only 3 distinct color variations.
---
From the original questioner:
To contributor M: I did exactly what you described, but the color match the customer wanted and approved was lighter than the natural color of several of the panels.
---
From contributor M:
You need to go lighter on all the panels, and then adjust the color to bring them all together. These types of jobs are not done by eye, they require complete start to finish samples to be made up and adjusted, in some cases with color glazes or shading stains.
---
From the original questioner:
The specific problem I'm having is the approved sample is on a lighter piece of bamboo than about 20% of the job. In other words I have wood stock that is darker naturally than the approved sample. The approved sample is lighter with finish on it than 20% of the raw wood (bamboo).
---
From contributor M:
If you look at the 4 different pieces of wood in the sample below, you will see that they vary in species and in color. By adjusting your toner, glaze, and shading stain you should be able to bring all the panels together in the end.
On the darker panels try using 2 toners, one that could be a lighter color toner, and then the second toner would be your unifying color like I did with the tinting toner in the samples. This would make all the woods look similar. You may want to seal in the toner, so you don't lose the toners background color.
Now, you can go for your color match with the stain, and with a color glaze if needed. John, you might want to make up a new sample and get it approved, because with this new sample, you know you will match that one.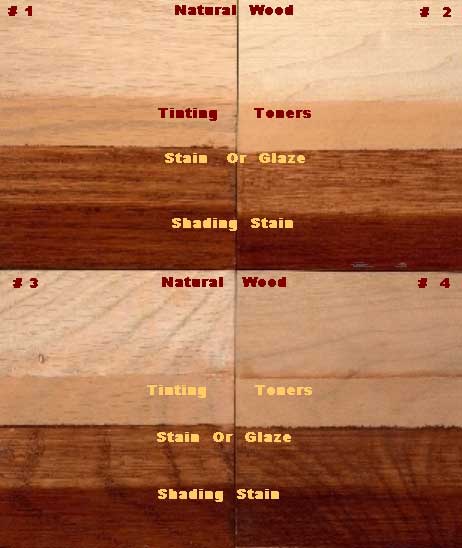 Click here for full size image
---
From contributor R:
This sounds like a job that should have been finished once the panels were in place, not one at a time in a spray booth. The person or persons who installed them in the raw state should have placed all panels in position first and then played musical panels until they looked the best they possibly could have.
Commencement of the finishing steps should have begun then. If that was done, you could have presented your target sample to the client and explained the various steps needed to make sure everything matched. Just because the finishing steps worked on the sample piece doesn't mean that that formula will work on every piece of panel. That would have given the client a chance to
reject the panels that were to inconsistent with the overall look.
If the client decides not to replace any of the panels, you could have proceeded with Mac's advice and made the darker panels lighter by toning or glazing. Once you obtained an overall color that was approved by your client a top coating would have ended your involvement in the job. As I see it, you now might have to strip some of the panels and start over.