Finishing Children's Furniture
Thoughtful advice on child-safe, durable, and simple finishes, both pigmented and clear. March 9, 2010
Question
I have looked, read, pulled hair, stomped around, and even cried a little. I am building children's furniture and I need to know once and for all what is a safe, durable, and affordable solution.
I have read about shellacs, lacquers, varnishes, conversions, polys, etc. They either dry safe and non-toxic but don't hold well against water and cleaning products, or they hold a great chemical barrier but aren't food safe and so on.
So, for children, what is durable? (Can last through the little one's exploration, if a glass of milk is left on the surface for a day, if parents use various cleaning products, etc.) What is safe? (So they can eat, play, drink, and create, all on the same surface.) What is affordable? (I have a few tools in my room and some outside; I don't have the option of spray rooms or days and days of sanding, prepping, sanding, coating etc.)
I do have some time, some money, and some space. I am not looking for the cheapest method or the fastest, but the overall, small production, best option.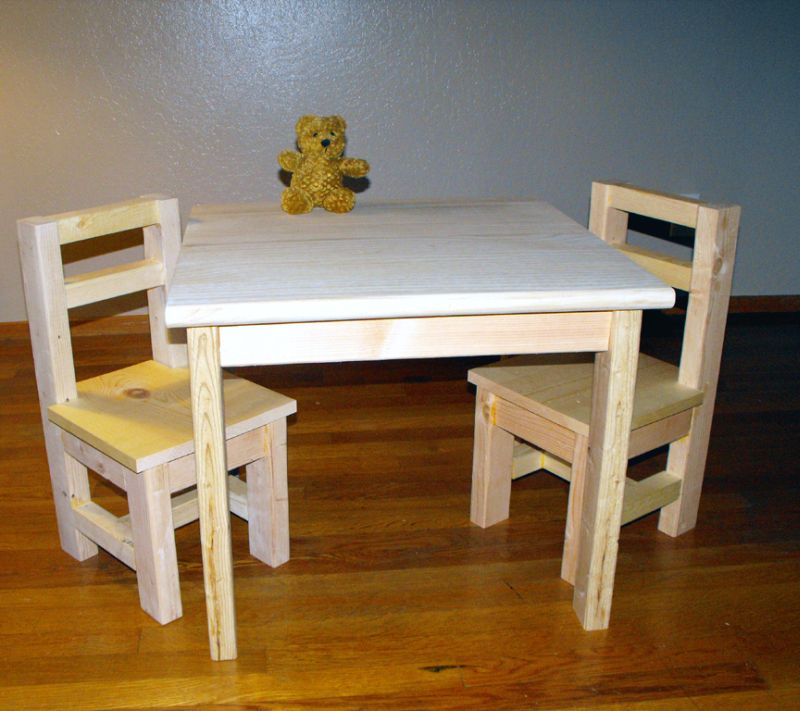 Click here for higher quality, full size image
Forum Responses
(Finishing Forum)
From contributor C:
You list things that you're not going to find in any one product. No finish is kid-proof, so cross that off your list. This stuff is going to get damaged! I recommend you use something that will be easy for the clients to repair as time goes on, or heavily distress the furniture to begin with so that new damage just blends in. Many small dents and other marks at the outset will make it look old (but still attractive) and can be used as a selling point.
I would recommend this finish schedule:
Stain (if you want to) with food safe stains in bright colors or wood tones made with food coloring - red, yellow, and black can make a myriad of wood tones for this purpose, and the stain is cheap.
If not staining, then the first coat of material should be a good acrylic evaporative finish. Non-toxic when cured rock hard (30 days), just like all other evaporative finishes. It should be a sanding sealer that sands easily and two coats should be given and only sanded after the second coat.
Next, apply the acrylic top coats (as many as you desire, nibbing with fine sandpaper if necessary), and let cure. After curing, deliver and collect your money.
Only coatings that contain recognized harmful substances are not good for kids' stuff - lead or other heavy metals or known toxins that remain in the coating after fully curing.
You may also look into a sand-able vinyl sealer as a second choice for first coats.

---
From the original questioner:
Thank you, that's the kind of information I was looking for. Would I have to let the evaporative sealer cure for a full 30 days? If that is the case I may look into the sandable vinyl sealer as well. I am aware that nothing is kid proof, but you gave me the steps I need to ensure that it is kid-friendly.
---
From contributor S:
Are you looking for strictly clear coats or pigmented coats also?
---
From the original questioner:
Mainly clear coats. I do, however, want to provide a painted option as well, for those who want to match walls, existing furniture, etc. I have been trying a primer, paint, shellac, but that doesn't feel strong or safe.
---
From contributor S:
Check out Muralo.com. Their pigmented Ultra waterborne (interior paints) is a wonderful product. I use it in kitchens and baths. You can brush it on and it lays out as if you sprayed it. Durable and easy cleanup, almost no odor, and it touches up beautifully. I use their waterborne universal primer first.
They have a clear coat, Ceramithane (specialty), which is an acrylic-urethane which crosslinks, making it durable. Check out the TDS on it for its test results with cleaning products and food stuff, etc. Crosslinking generally means it is difficult to touch up.
And I completely agree that no matter how durable you make it, a kid will still mess it up. I haven't used it myself, but their products I have used are very good.

---
From contributor C:
You can also just use white pigmented acrylic. I say this only because it cuts down on the types of finish you have to have on hand - therefore, less cost in the long run.
---
From the original questioner:
Awesome - you guys rock. Now I have a whole gambit of ideas to try. I will definitely check out that Muralo.
---
From contributor C:
If you're going to distress the wood, please do it before the sanding so there is no sharpness.
---
From the original questioner:
Honestly, the pine that I'm using carries enough distress; I sand what's already there and it comes out with nice character. I run my hands over every surface to catch any unseen splinters, sharp edges, chips, etc. I'd rather suffer a small splinter than have any child put at risk due to bad finishing.
---
From Paul Snyder, forum technical advisor:
You don't need to worry about health hazards associated with the paint and finishes you use. Once dried, they're all safe for human contact. Bob Flexner has an article, "The Folly of Food Safe Finishes," that discusses this topic.
For the clear coats, I'd recommend Waterlox Original (waterlox.com). Oil-base varnishes (including polyurethane) are among the easiest to apply and offer a lot of durability compared with a number of other finishes. And with Waterlox, you can always do repairs easily. It's more difficult to repair polyurethane (e.g., Minwax), but it is a little more durable.
For the paint, I'd recommend you use a quality house paint. I've had excellent results using 100% acrylic enamel paint like Ralph Lauren (local home center), Sherwin Williams ProClassic Waterborne Acrylic Enamel, Benjamin Moore Waterborne Impervo Enamel, and Insl-x Cabinet Coat Acrylic Enamel (Ace Hardware). They all do a nice job and are easy to repair/touch up or repaint if needed. An alternative is milk paint (realmilkpaint.com) with oil-base varnish over it. It's not as easy to repair, but it will be even more durable.
---
From the original questioner:
That was a great article on safety concerns. I am much more at ease with the choices I have available, and thanks to everyone's information, I have a whole bunch of ideas for various finishes now.
---
From the original questioner:
For latex coats, I've used InsulX Cabinet Coat. It has a urethane component so it dries tough. While I've had success with this (not on children's' furniture, but built-ins and cabinets), not everyone likes it (and it is expensive) - mostly the people who don't know how to spray properly don't like it much. But for a latex, you're not going to find much else out there that's as tough as this stuff is.
---
From contributor J:
There are regulations for furniture and toys for children under the age of 3 that are established by the CPSC. As for the finish, all it has to be is "non-hazardous." This is a pretty wide open statement, but I can tell you that currently the Feds and the CPSC are mostly concerned with lead. The regulations regarding the reporting and testing of products for lead are really in a state of flux and they are going to get (or are now) very stringent and specific. You should ask your finish supplier for written information regarding their finish and lead test results. I can't speak for other finish companies, but I do know that General Finishes can supply you with the correct information.
---
From the original questioner:
Thank you. Getting a test result on the finish would be great, and I assume that is something I can have on hand to alleviate any concerns that customers may have.