Finishing Ipe Outdoors
Finishers discuss the best finish for an Ipe wood porch floor. May 24, 2006
Question
I have installed Ipe flooring on an exterior porch. I am looking for some type of finish that will offer it good protection and bring out the grain. This is a high end home and I am looking for a good reliable top coat. I have read on this forum that it is difficult to glue. How has west system epoxy fared when used?
I am screwing the material down with small head stainless screws and sinking them about an eighth of an inch. It is my intention to fill the holes with west system with a colorant to try to match the color of the wood the best I can. I then would like to top coat it with a coating that would give the west system some protection from uv. Any help would be welcomed. I like to do things right and right the first time.
Forum Responses
(Finishing Forum)
From contributor R:
I think you may have a heck of a time getting those epoxy filled holes fair and to stay fair. The proper way in my opinion would be that of teak decking on a boat - counterbore and plugged. 1/4" counterbore would be sufficient, more is better if your flooring is thick enough.

---
From contributor S:
I'm not a floor guy, but plugging sounds better than trying to fill. As for the Ipe, isn't that Brazilian walnut? From what I understand it works well exposed to the elements. I would suggest trying a varnish and applying it when needed for maintenance.
---
From contributor A:
You'd be amazed at how well a little Ipe sawdust and titebond II will make those holes disappear. A quick sanding after to bring them flush, and you're done. I've used the Cabots Austrailian Timer Oil on one porch, but didn't care for the results. It took forever to dry (even though it was just a wipe on, wipe off technique), and the color was just too red. I prefer a product called TWP. It works real well for outdoor Ipe. I think Messmers makes it.
---
From contributor B:
Varnish probably would look nice for a year but sooner or later you may have a refinishing nightmare. I used 2 products. Mesmers oil is very easy and looks good. The one which can be built and looks great is a Flood product - Teak Works. After a couple coats it really looks great. It can be buffed to a fairly smooth finish, but on the floor surface you might just want to leave it.
---
From Paul Snyder, forum technical advisor:
I recently worked on an Ipe gazebo and used Sikkens Cetol. They have a penetrating finish and a film forming finish for decks. After sanding, and just before applying the finish, the directions said to wipe down the wood with acetone to remove the natural oils from the surface of the wood. These oils interfere with the finish curing process.
All sides of the wood, especially the end grain, need to be covered well with the finish. Any holes you make should be treated as well.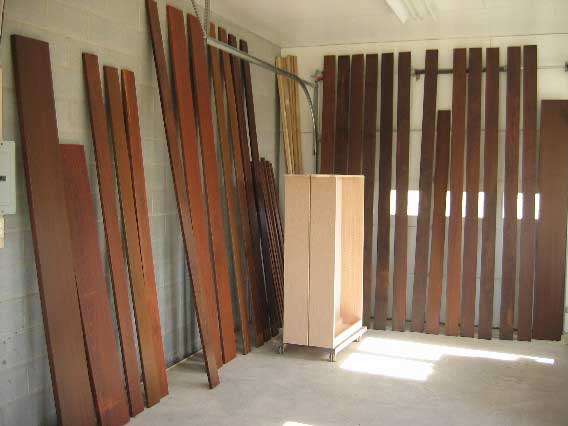 Click here for full size image
---
From contributor B:
Out here in SoCal we use lots of TWP. On a $5 million house we just installed a large Ipe (40 different varieties make up this species, from Venezuela to Brazil a fast growing and ecological wood species) deck (go with plugs,, filler won't stain right) and we used tinted TWP 300 with a catalyzed final coat. Awesome stuff, the catalyzed finish is great if you're going to pay someone to maintain it but if it was mine or I was recommending it to someone I would go non-catalyzed.
---
From contributor E:
Paul's right about drying times. There's a UK company selling garden furniture in Ipe. We had a few reject chairs to try products on and the first coat of any oil-based product took weeks to dry, even after wiping with Cellulose thinners.