Finishing Over Pine Knot Bleed-Through
How to seal and cover knots before refinishing. November 15, 2011
Question
I had somebody ask to bid on a refinish job today that I need a little input on. It is a five year old kitchen with a pigmented lacquer on pine. It looks like they didn't prime the pine and about a week after it was installed, all the sap from the knots bled through. She wants the refinish to be the same colour. I was hoping I could just prime it and spray post-cat pigmented lacquer over it. Has anyone run into this before?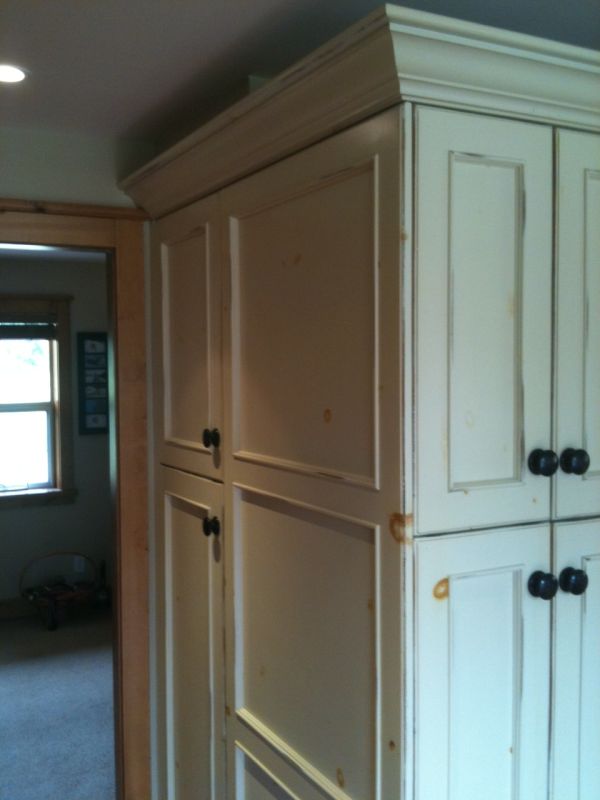 Click here for higher quality, full size image
Forum Responses
(Finishing Forum)
From contributor L:
White vinyl primer for the first coat, and then a pigment coat.

---
From contributor A:
You will do this work on-site?
---
From the original questioner:
Thankfully I will be able to get about 95% of it into my shop. The only stuff on site would be the crown and one gable.
---
From contributor M:
Don't forget where the knots are if you are doing a rub through finish again. Don't sand where the knots are!
---
From contributor A:
BIN shellac primer should stop the bleeding.
If the BIN doesn't work you will have to carve the tops off the offensive knots, then fill them with Bondo. Then prime the whole project with BIN or Clawlock (cat primer) to even out the defects.

---
From contributor J:
Are those knots still tacky after these years of being finished? Denatured alcohol will help reduce that. Also the BIN product should cover that. I used it under lacquer and light coats of pre-cat. But I am not sure that it will hold up to a post cat - conversion varnish or post cat lacquer. (The original finish or the BIN product.) Catalyst in the post catalyzed CVs and post cat lac are a lot stronger than the pre cat. You may end up with lifting, wrinkles, or a crackle finish. Do you know if a post cat finish was used on it? If it wasn't, XIM makes a product called UMA. It sticks to anything (with appropriate sanding prep), covers well, sands well, and after 48 hours you will be able to use a post cat primer or post cat topcoat if so desired.
---
From the original questioner:
Thanks everyone for your posts. Just found out today that it looks like she is going to go with a new build. At least I learned something from you guys.