Finishing Poplar
Poplar heartwood and sapwood take stain differently, an obstacle to finishing. Here, pros explain solutions involving washcoats and tinted topcoats. January 13, 2006
Question
I'm going to be building a platform bed out of Poplar. I'm using the poplar to keep the cost down for the client without sacrificing strength. I stained some samples and they looked great. I'm a little bit concerned about the color variations on larger pieces and was wondering if anyone has any tips on getting an even color. It will be stained a very dark brown. Keep in mind that I'm a very small fish and do all of my finishing by hand.
Forum Responses
(Finishing Forum)
From contributor A:
If it's going to be very dark brown, the color will even itself out anyway. Stain and topcoat a large piece, say, an inside rail, to confirm this and then go ahead.

---
From contributor B:
I think staining poplar is a nightmare. The absorption differences between the white and the green wood are drastic. I had to do a floor to ceiling pantry and I ended up toning the whole thing. Came out great, but if I were to stain it, it would have looked horrible. At a bare minimum you will need to use a wash coat before you stain. A toned poplar pantry is shown here. Drawer fronts missing, showing green/white poplar.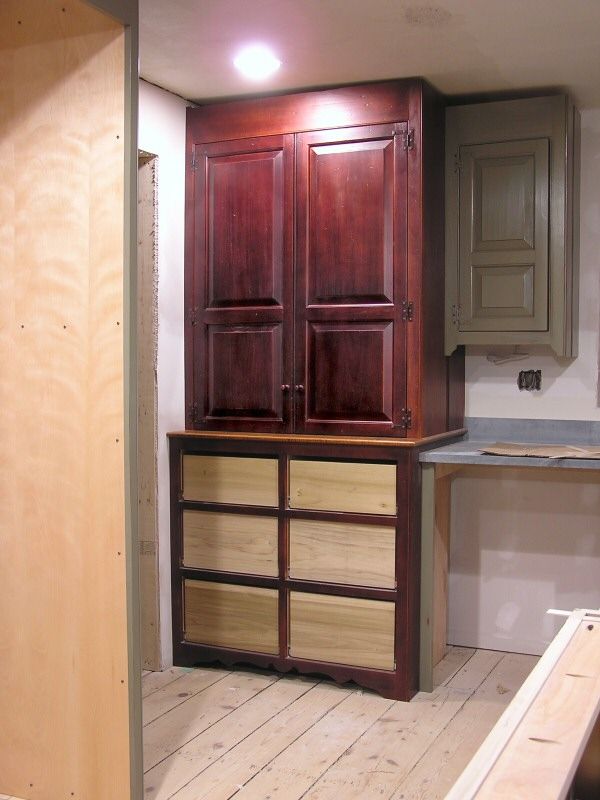 Click here for full size image
---
From the original questioner:
The pantry looks great. What would you recommend for a washcoat? Shellac followed by a gel stain perhaps? Has anyone tried the commercially available pre-stain wood conditioners like Minwax or General Finishes? Do they actually work?
---
From contributor B:
Dewaxed shellac at anywhere from 3:1 to 7:1 will do you for a washcoat. You will need to test it on some of your stock to see what will work for you. The darker stain will probably need a lighter mixture (5-6:1). The only problem with a toned finish like I have on the pantry is that if you chip the finish the wood shows through with no stain to hide the chip behind.
---
From contributor C:
I do the same as contributor B except I don't use the shellac. I take a pre-cat lacquer and mix it with stain and lacquer thinner. Depending on the darkness of the stain, this is the formula I use:
12 oz of gloss lacquer, 12 oz of lacquer thinner and 1 oz of stain.(darker stains get 1/2oz) I don't use Minwax or any of the Depot stains. These are Sherwin Williams Sherwood spray/wiping stains. Mix the stain in the thinner first until dissolved and then pour into your lacquer and mix real well. I don't do a washcoat because with it thinned at 50% it actually gets sucked into poplar so a nick or light scratch won't reveal wood. After the first coat dries (approx 10 mins.) very lightly sand with 220 just to take the fuzz away. Spray your next coat, wait till it flashes and spray a third coat. Then I top it off with what ever sheen the customer is requiring, i.e, dull, satin etc.
You have to be careful on applying too many coats as this will mask the grain after a while and it will look like you painted it instead of staining it. I use the gloss lacquer for mixing only because the flatting agent in the others tends to muddy the stain and hides the grain detail. This process all but hides the green sapwood in poplar and the blotching is not a problem anymore. This technique takes some getting used to, as not to spray stripes as you color the wood. If striping is a problem I reduce it with more thinner and widen out my spray fan to help eliminate this.
Correction - I meant the green heartwood in Poplar. The sapwood is the whitish section of the log closest to the bark edge. Here is a picture showing the green in the raw form and in a project that was clearcoated.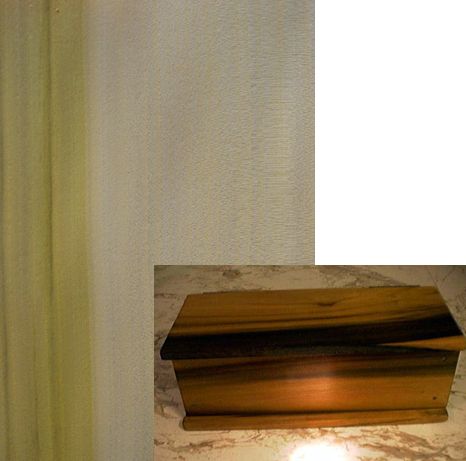 Click here for full size image
---
The comments below were added after this Forum discussion was archived as a Knowledge Base article (add your comment).
Comment from contributor J:
I am making an occasional table from poplar and am using a formula for a mission brown finish I got out of a woodworking magazine. I started by dying the poplar with analine dye – a combination of mission brown and medium brown. After that I used a sealing coat of 2 lb. cut shellac. After that I glazed the piece with a walnut gel stain, applied another coat of shellac and top coated it with wiping varnish. It came out well - and dark.

---
Comment from contributor L:
I am currently in the process of staining and finishing 18 doors and 1000 lineal feet of poplar for new construction. My process involves using Lenmar lacquer wiping stain, spray stain, and top coating with ML Campbell Krystal clear coat. First, I wiped on the dark walnut stain, let it dry for 15 min, sprayed a 50/50 mix of the wiping stain with acetone, and let it dry for 30 min (if you don't you'll get bubbles in the first topcoat) and then put two coats of tinted (1 oz per 1000ml) of finish and you'll have a really nice representation of walnut/maple/stained poplar.
---
Comment from contributor R:
I found that using water based aniline stain gives the best result. You have to pre-wet the wood and sand to minimize the raised grain, but the stain blends the various colors very well especially in the darker colors like cherry and walnut.