Finishing Rack for Wood Doors
Pros show and tell solutions, manufactured or shop built, for holding and moving doors in a finishing shop. August 30, 2005
Question
Does anyone have a rack design for doors? I want something that would allow me to spin doors like on a spit, lock flat (on each face) for performing finishing steps, then pivot vertically, then roll out to drying area.
I have 53 solid core doors of varying widths and heights and I would like to get about 26 at a time portable. Jobs of this size come up once in awhile. Normally, we screw on "feet" and do the doors standing, but they can't be easily moved while wet. I'd like one guy to be able to perform all steps and moving alone.
Forum Responses
(Finishing Forum)
From Paul Snyder, forum technical advisor:
Pivot Pro has a door system that lets you finish both sides at the same time and hang the doors to dry. The frame attaches to the hinge holes.

---
From the original questioner:
That is almost exactly what I had in mind, but I don't want to spend $300+ for one stand. I see you can move from the spray stand to the dry rack that they include - it's a very nice system, but probably still hard for one guy to handle a 100# door alone.
My idea is to make sets of stands on casters and roll the whole setup. I'm thinking of an A frame mounted on flat dollies with a pivot bolt through to the door. There would be two dollies and two A frames per door - one at each end - and the dollies would be joined with a strip of ply. The trick is to pivot and have a holding device to temporarily lock the door in horizontal position, and have the whole thing not be too flimsy while rolling in and out of the spray room.

---
From contributor G:
I've done something like that. You can lock your door horizontal by putting a stick from the end of the door to the dolly. Screw one at the top of the door and another on the opposite side at the bottom of the door and it'll be sturdy enough to sand on. I think your weak link will be the pivot holding 100 lb doors. Also, it still seems a bit much for one guy to load and unload them.
---
From the original questioner:
You're right about one guy not easily loading the rack. We are a four man shop, so I've got help in the setup hours. The problem is that I'm the owner of this small business, therefore I usually pull the second shifts alone. Hence the reason I'm ever looking for portability and such.
Anyhow, I think we are onto the right system. The pivot I'm testing tomorrow is a 3/8 bolt through the stand and through a 1" square tube about a foot long. The tube is then screwed on the top and bottom of door (running with the rail).
The thing is we off-loaded the doors from the truck today and I actually underestimated the weight. Some of these doors are pushing close to 200 pounds. Going to sacrifice a day of the three day weekend and get this stand design functioning.

---
From contributor R:
Here are some pictures of the door carts we made at our shop. We have a welding department and made our own. If you don't have access, I am sure a welder could do it for you easy enough. We have 25 of these and they are so popular in the mill shop. We made some more specialized carts for them to transport lumber on.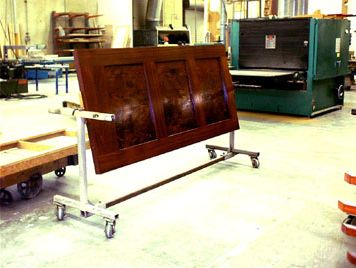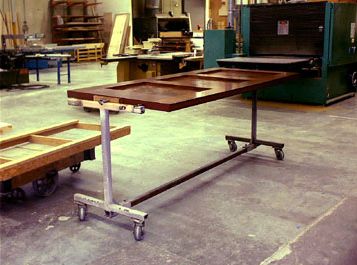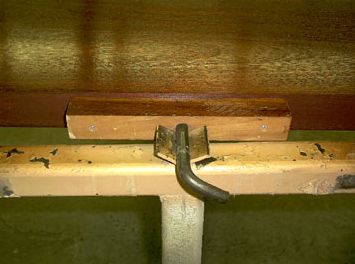 ---
From the original questioner:
Thank you, that is a very nice, yet simple, setup. I have something put together - for now, it's of 2x4 construction, but in the future I plan to weld some tube. I think your frame and the angled rest on top is excellent. I will have to marry that to my pivot mount.
---
From contributor R:
As shown in the picture, the steel pin extends into the door itself, so you don't rely on the strength of the screws alone to hold the door. I have seen doors dropped without the added safety. When we are finished and take the door from the cart, it is simple to just plug the holes and paint the bottom and top.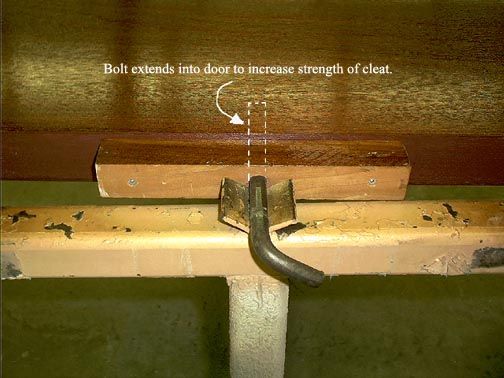 Click here for full size image
---
From contributor D:
Here is a whole different idea. The rack is big, but it works. The rack is 4' by 16' on casters built like a lowboy trailer. It has an 8' wall in the middle. You lean the doors against the wall just like you would against the walls in your booth. Set up 10 doors at a time. Roll in and out of booth for drying, sanding etc. Is it big? Yes. Do you handle the doors much? No. Does it easily dry, store, and provide a place to sand the doors? Yes. It works for us.
---
From contributor S:
What about something that will accommodate doors of different lengths? I need a solution. Some of these doors will weigh 200 lbs with the glass installed.
---
From the original questioner:
Contributor R's pictures above are of an adjustable design by means of the bar across the bottom. I have a similar design of 2x4 and plywood that sits on top of furniture dollies. Our design works perfectly well, but still I would copy contributor R's design if I had the time and money to get the steel work done.
---
From contributor R:
That is correct. There is a single bar that slides through both end pieces attached by bolts (friction fit). By simply changing the size of the bottom bar, we can accommodate doors of any size. Also, by making wood caps that go over the tops of the end caps, we can finish exterior windows or other large, unwieldy objects and have them mobile. We don't have a large finish area, so I need to keep as many things on wheels as possible.