Finishing Wood Stairs on Site
Formulas and methods for finishing a new staircase in a home. February 21, 2011
Question
I have to stain and finish a maple staircase for a customer, not something I would normally do. It was supposed to come to my shop to be finished but the stair maker took it upon himself to install it unfinished. It will be a dark stain and topcoated with a satin finish. I am looking for advice on on-site finishing and methods/products to use.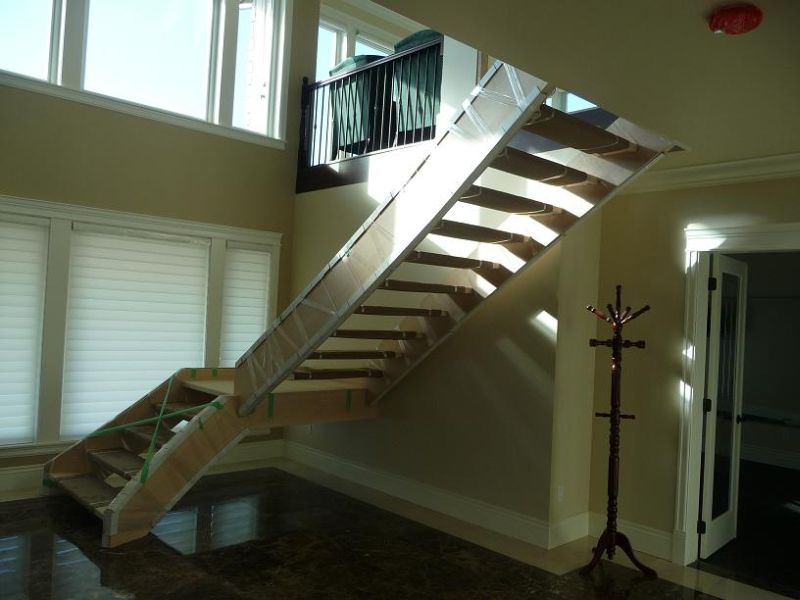 Click here for higher quality, full size image
Forum Responses
(Finishing Forum)
From contributor J:
Since I don't think you will be able to spray on a finish (too many angles and the concern for protecting all the walls and windows), I would proceed (make samples) with Duraseal Stains and top coat with 100% Tung oil (not Waterlox) or Synteko Oil finish. All can be rubbed on then buffed to a satin finish. Or, you could use a Waterborne floor finish. The tung oil (Treehouse Labs, Sutherland Welles) is all natural and produces a great look but will be labor intensive to achieve the desired results.

---
From contributor T:
The reason it is installed naked is because that is the standard practice. Many of the pieces cannot be finished prior to installation due to them having to sand joints in place. I have already finished two staircases in the last two weeks, and we finish them all the time. Take the time and cover well. Judging by the photo you are looking at one half day of covering. Finish as you normally would. I like using a two component urethane on stairs for durability. Sayerlack has some good products, and it can be bought through SW chemical coatings.
---
From the original questioner:
What stains do you use under the Sayerlack? I am looking for a satin finish. What sort of dry time are we looking at? Can it be sprayed through my Kremlin? The customer is now living in the house so everything is now a concern.
---
From contributor G:
Check out the Knowledge Base discussion below.
---
From contributor O:
I use an acetate based stain, but have used many stains underneath it. Just be sure if you are using a urethane to make sure the oil stains are completely dry. SW's BAC stain works well. Oils and urethane do not mix at all.
---
From contributor M:
I build and install stairs for a living. They are never pre-finished. This would just void warranty. After looking at the picture I was wondering if there is going to be any rails or newel posts. If so, they should be installed as well.