Folding Chair from Barrel Staves
A woodworker puzzles over how to achieve a straight edge rip on a curved barrel stave. October 17, 2012
Question
We are considering making a small run of folding chairs made from reclaimed oak barrel staves. Production and assembly seem fairly straightforward, with the exception of how to straighten the first edge of the staves. (Staves are arced in length, and have a little bit of arc, width-wise, on the outside and inside of the staves). The length curve will be incorporated in the design of the chair, and the sides (edges) of the staves will need to be made straight, and then parallel.
Our first inclination is to do the straightening on a SL rip saw, but we haven't tried it yet. There are no barrels in hand. Has anyone tired this? Or does anyone have suggestions? The staves are about 36" long. We would use narrower staves, say 1.5-2" wide. The finished piece will be 1.125-1.25" wide
Question
(Solid Wood Machining Forum)
From contributor D:
It seems like the compound curve you can already make easily might be more attractive and comfortable to boot. A large bearing guided flush cutter in a shaper can remove the curve in width (inner radius with bearing riding on center, outer with bearing on upper or lower edge).

---
From contributor H:
I don't see how you can do this on a straight line rip saw. Perhaps a shaper or tablesaw with a curved cradle and a feeder would work? I have a question and a suggestion about your design.
1. How much weight will that seat hold? Have you tested that?
2. A suggestion: Replace the rectangular bracing on the legs and back with bracing that approximates the curve of a barrel stave. It will look a lot better.

---
From contributor J:
I think, and a couple of experienced industrial woodworking friends think that a straight line rip saw will work. The trick will be to get the stave lined up, and for it not to be knocked out of alignment as the chain and rollers grab it, and propel it through the blade. Hopefully, the resulting line will be good enough to run through the planer and give nice parallel opposite side. I don't know about the bracing as itís a folding chair.
---
From contributor B:
If the straight line rip saw does not work you can try a sled on the tablesaw. You would have to mount some guide blocks for easy repeatability and a couple toggles to hold the stave in place. The stave clamps down on the sled which is pushed through the blade using the fence as a guide. It can even be partially automated with multiple sleds and a power feed. It won't be quite as fast the straight line rip but will give good accuracy.
---
From contributor H:
In the image below I have drawn a red border around the piece I mentioned. It's a matter of aesthetics. The chair will look much better if this piece is barrel shaped instead of a simple rectangle.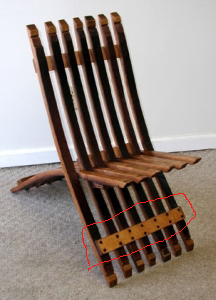 ---
From contributor D:
I said I thought also it would be a nicer chair barrel shaped. The thing is that design wouldn't fold if it were curved in two planes. I was thinking staves ran horizontally in the seat and the back inset into a frame, with four legs, based somewhat on the ubiquitous metal folding chair. Compound curves definitely lend themselves well to stacking design.
---
From the original questioner:
When I finally get the staves and begin a little experimentation, I want to straighten the outside slats only on the inside. It would be worth it to see how that looks.
---
From the original questioner:
The straight line rip saw doesn't like barrel staves! We finally got our hands on a handful of staves and managed to get only one through the saw so it looks like that idea is bad.