Fragile Points on Textured MDF
High-density fiberboard may be better than medium-density fiberboard for sculpting a contoured surface. September 28, 2009
Question
I have been routing textured MDF on my CNC using a fine v-shaped bit. The texture leaves some very fine MDF ridges which are very fragile and easily break during handling of the product. The texture consists of 70 degree v-grooves routed every 3/16th of an inch. The groove depth varies as it's cutting from about 1/16th to almost 1/4. This gives the appearance that some of the grooves are not straight. It leaves the very fine ridges, which I want, but they are very fragile and easy to break during additional machining or handling processes. Can anyone recommend a better material for this application??
Forum Responses
(CNC Forum)
From contributor A:
I'm not sure if there is a material better suited for this job but I bet if you ran the sheet through a brush (DMC Master Brush) machine after the router, it would soften those sharp edges and prevent them from breaking. If you don't want to buy one maybe you could find one in your local area or maybe someone has a wide belt sander that has a brush on the back side. You could run the sheets through and turn off the wide belt heads.

---
From contributor B:
What's the application?
---
From the original questioner:
I am using it to make 5'x 8' x 3/4 thick wall panels, and some 8'x 3' cabinet doors. It will get a paint finish. I've also tried using Sintra but it melted too much.
Here's some pictures: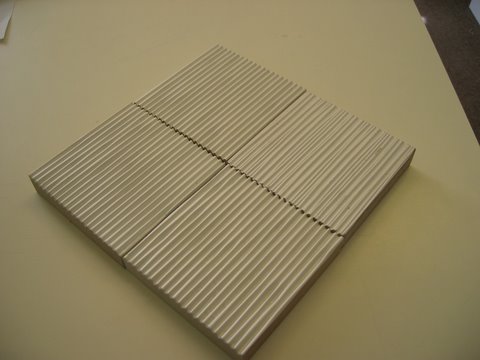 Click here for full size image
This shows what it looks like from the side.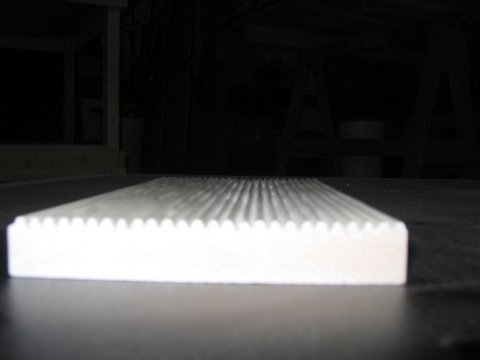 Click here for full size image
---
From contributor C:
Could you spray a coat of cellulose primer on the board first? I bet it would toughen up the top few microns to help it stay together.
---
From contributor B:
I would go back to trying Sintra or any brand of expanded pvc. Melting should never be an issue unless you are using cutters that were used with wood. A new carbide cutter on sintra should do the trick, 300-400 ipm at 18,000 rpm.
---
From the original questioner:
A couple of people have mentioned sealing the surface first, so I'll give that a shot. I don't know much about finishing. Would the guys in my paint shop have cellulose primer? As for the Sintra, I'll give that another try if this doesn't work. Unfortunately, all of my tools have been used on wood, so I'll have to buy a new one. Would you recommend any particular brand of tool?
Also, I know with all the Z axis movements, the feedrate rarely gets above 230 ipm. Should I reduce the spindle RPM some more?

---
From the original questioner
I tried sealing a piece of MDF first but it's still breaking off. It seems like the ridges are actually breaking off much deeper down than that layer of sealer is penetrating. My boss has advised me that Sintra would be to costly. At the moment I am awaiting the arrival of some higher density MDF to see if that works any better.
---
From contributor D:
I use HDF on sculptured panels. The higher density stuff will still be fragile at the peaks, but not as much as with MDF. The larger companies doing this have profile brushing machines. My finishers use a soft brush on a buffer to smooth over the edges. These types of panels are a lot of work and can be costly. If you look a the companies that provide them you will see that the cost reflects the pains of the manufacturing process. Check out Interlam panels and see the price on some of these things. If it was bid well, you should have a little money in it for the more expensive HDF and a little more extravagant processes. Good luck with the panels. They look cool.
---
From the original questioner:
Glad to have a response from someone who's making this stuff. I was thinking HDF maybe the way to go as I've experimented with sealing the MDF first but it seems the ridges are breaking below the depth that the sealer penetrates. Could you recommend any particular HDF product? Or are they all of similar quality?
Also, I am interested in your finishing process as I know that's the next area I am going to have difficulty in. If you could give any information on the type of buffer you use that would be great.

---
From contributor D:
I use Plum Creek HDF on all of my panels. I think most brands would be simular in quality. What kind of finish are you tring to obtain, stained - solid color?
We use Porter Cable variable speed buffers. You will need to experiment with the disk. I use the brushes that are made from plastic rather than a wire brush. They wear out fast and the panel may still require some hand sanding depending on what type of finish is going over them.

---
From the original questioner:
For now it's a solid colour paint finish, but who knows in the future.
---
From contributor D:
I would use a high build lacquer undercoater tinted close to the color you are going to use. Have a paint shop tint your undercoater and finish for you. Just take your local supplier a sample. The lacquer builds better than oils or latex. This will help cover some of the imperfections in the sanding. It also dries really fast and is easy to spray. Use a satin sheen or lower if you can. Gloss finishes will show every flaw in your panel. My finish schedule is as follows: 1 light coat of undercoater. Dry. 1 heavy coat of undercoater. Sand with 220 grit. 1 top coat of colored lacquer. Sand with scotchbrite pads. Final coat of colored lacquer. Dry and deliver.
---
From contributor B:
I'm thinking if expanded pvc (Sintra) is too expensive, then HDU will be even higher. Expanded pvc in 48" x 96" sheets should run about $100-$110 if you're buying it from the right supplier. I would guess the HDU is more but I'm not sure.
---
From the original questioner:
I'll still explore the Sintra option. What about finishing it though? Is it possible to paint it? Also what thickness was that $100- $110 for? I would really need a minimum of 5/8" thick.