Frameless Oven and Microwave Cabinets
Tips on building frameless cabinets for ovens and microwaves. March 26, 2010
Question
I have never built a frameless oven/microwave cab. What are the correct ways to fill in the gap between the 30" cab sides and the oven (28 1/4") and microwave (21 7/8")? Do you make a face frame around each, which would make them even with the outer surface of the drawer front and upper doors or do the fillers stay flush with the frameless cabs outer edge that is edge banded? Any pictures, construction sites, or information is appreciated.
Forum Responses
(Cabinetmaking Forum)
From contributor P:
I build face frames that attach to the frameless box, so the doors and the face of the FF are in the same plane.

---
From contributor K:
I make the cabinet ID the same as what is required for the oven. Then you don't need any fillers. If you have a separate microwave above the oven that is wider, make the cabinet ID to what is required for the microwave. Then fillers are needed for the oven. I lay matching material flat inside flush with the edge of the cabinet. If that joint is objectionable I add a double edged piece of scribe over it or if the area is wide, I make and install a plate-on.
---
From contributor J:
Always plan! The specifications of a typical oven will tell you what you need to know. A frameless oven cab is 30" wide 28 1/2" interior width for a 30" oven, and 27" width for a 27" oven etc.
---
From contributor S:
Here is a visual for you, finished at a client's house. This configuration is relatively simple just some planning, has applied side panels to finish gables. I am not sure if you use and design software. I am a believer that Autocad makes designs very easy once you learn the basics. The main thing is to try to make sure that you microwave is not larger, and a trim kit would help to get to the 30" overall width dependent on oven dimensions.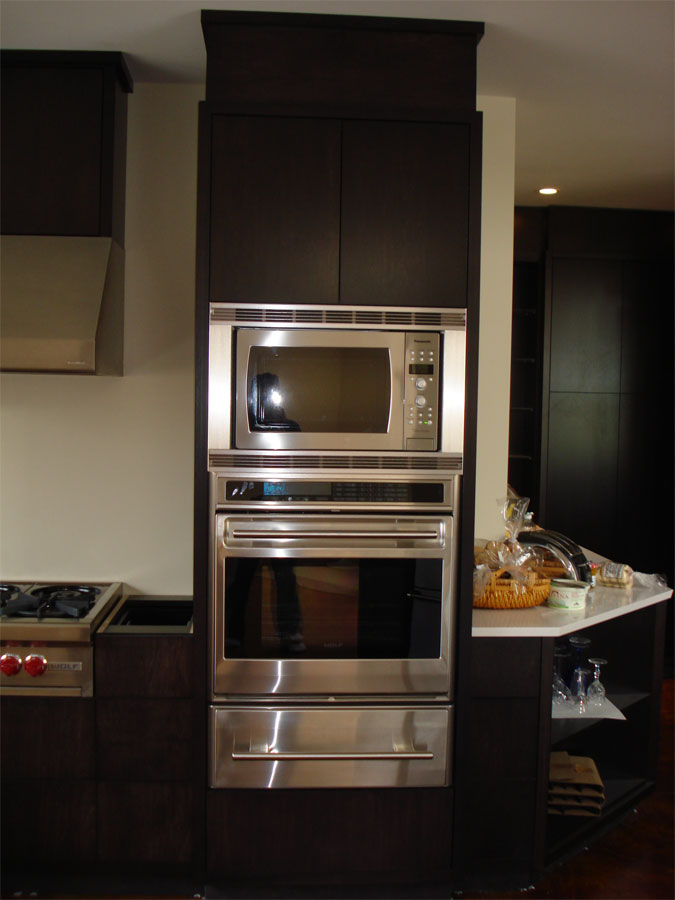 Click here for higher quality, full size image