Fridge Panel Head-Scratcher
When a cabinetmaker is asked to make refrigerator panels without ever seeing the appliance — for a job that's a long drive away — he feels the need for some advice. January 26, 2008
Question
In the past when doing refrigerator panels, I've been able to see the refrigerator first. This time around I'm not able to, as the job is 6 hours away and the panels will need to be delivered with the cabinets. In the past we have mounted a piece of 1/4" material on back with a spacer to hold it out from our 3/4" panels (outsourced doors). They would be screwed, or we have used 3/8" material and rabbeted it so that it acted just like the above. But this refrigerator's instructions... well, I just can't quite get my mind wrapped around what they are asking me to do. I would hate to actually rabbet the door (for one thing, the door is mitered with a bead (to mimic a beaded inset) and the rabbet would eliminate the bead). What am I missing?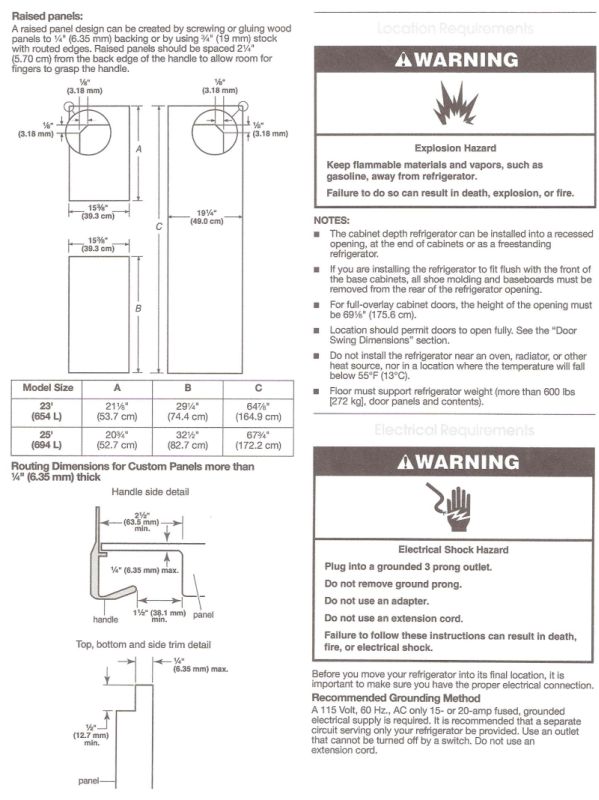 Click here for higher quality, full size image
Forum Responses
(Cabinetmaking Forum)
From contributor B:
I hate doing fridge panels based on the manufacturer's instructions. I always want to eyeball the actual fridge. Get the model number, and I'll bet you can find that fridge somewhere in town so you can actually see it. Take your tape measure and the manufacturer's instructions when you go look at it. With both of those, it will be hard to go wrong.

---
From the original questioner:
Thanks, I thought about that. The problem is I'm in about as remote of a location as you can find outside of Alaska in the US. For most shops I'm sure you're right - it just won't work for me.
---
From contributor P:
Contact the manufacturer and see if they offer an extended handle kit to eliminate the rabbetting for handle clearance. Failing that, make your door panel narrower, mount it on your spacer/build-up piece (made full-size) to provide a wing on the handle side that essentially moves the edge of your door away from the handle.
---
From the original questioner:
Thanks. That makes sense. Just make the door to the size of the rabbet dimensions -correct?
---
From contributor P:
Exactly.
---
From contributor S:
Do me a favor and call the company that makes the unit. When dealing with this all too often and having my shop guys screw it up, I decided to call companies and was lucky enough to hit a few that gave me the exacts of what I needed without the stress of trying to figure out what the heck they want on those drawings and having to redraw it so that the cabinetmakers could work on it.
I've even had reps bring me in 1/4" panels and tell me to hold off of them by such and such with the 3/4" panels, when finished... We just screw the 3/4" doors onto the 1/4" panels they give, slide it into the trim, tighten, and bam - finished!
There are so many ways to do this, and often the appliance company can help you further. The general support numbers suck for this - you need a dealer support number and a guru to help you out. Might take you 1.5 hours work to get to the right person and answer, but the relief of stress will be worth it, and will probably give you the confidence to finish your project with some semblance of sanity. The worst is when they don't work, or require 3/4" with no backer panels and you have to be dead on with 1/16" variances in tolerance - and 0 +.
I usually discourage people from using these and tell them that it's out of style and they listen. It honestly is around here, but more so now that all the cabinet shops are discouraging this.

---
Form contributor R:
I'm going through the exact same problem. The specs you posted look the same as one of the pages that I have. There is a model the company sells that accepts panels installed like you mentioned with screwed on sub panel and spacer (no rabbet) but also requires that separate handles be installed on the panels, not the ones shown in this page. The handles are ordered separately. I will drill holes for them in the panels, so they tell me. That may not be the model you are dealing with. I am hoping they told me the correct information. I also agree with trying to talk people out of appliance panels. They never really look like the rest of the kitchen anyway.