Full Length Flush Drawer and Door Pulls
Thoughts on hardware sources, and on the esthetics and practicality of a full-length flush drawer pull. February 14, 2010
Question
I need a flush pull that runs the entire width of the door or drawer front. I have to make an entire kitchen with these things. Any ideas?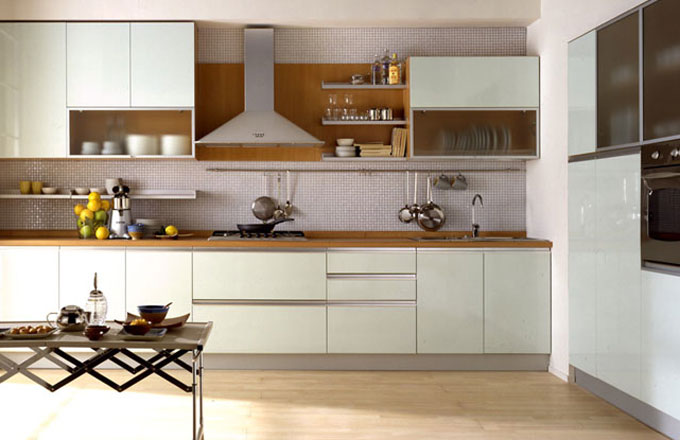 Click here for higher quality, full size image
Forum Responses
(Furniture Making Forum)
From contributor J:
Try Googling "extruded aluminum drawer pull."

---
From contributor R:
A German company Schuco makes them for some of the luxury European kitchen brands. You could also look at Schwinn. If you can afford a mold ($3000 plus) you could design and produce your own "T" profile and sell to others - there's a ready market for these.
---
From contributor P:
Try Outwater Hardware.
---
From contributor O:
I think the aluminum pulls stand out against the otherwise very sleek solid sweep of the lower cabinet fronts. They look choppy. If they are going to be that definite of a contrast it would look much tighter (integrated, perhaps) if the aluminum lines ran the full width of the row of cabinets (functional as needed and dummy where needed just to fill out the line.) Anyone agree?
---
From contributor J:
I see what you mean and might agree on a purely visual level, but as a cook I'd hate working in the kitchen you're suggesting. I think I'd have a hard time knowing which door or drawer I was reaching for.
---
From contributor O:
I wouldn't disagree with that point. I can see what you mean.
---
From contributor M:
I actually find that the asymmetry and incompleteness of the pulls in the picture makes sense in context of the overall design; there are many other partial horizontals in that wall. The pulls on the drawers seem to provide a nice balance, like a calder mobile.
---
From contributor K:
Häfele America Co. has several profiles and finishes of this handle. Check pages 299 & 300 of the current "The Complete Häfele" catalog. Page 299 is a neat solution that works without being attached to the drawers/doors. (Show in photo below - very clean looking.)
** NEEDS IMAGE WORK **
http://www.woodweb.com/images_forums_public/furniture/2_6_2009_11_16_49_AM.png
** NEEDS IMAGE WORK **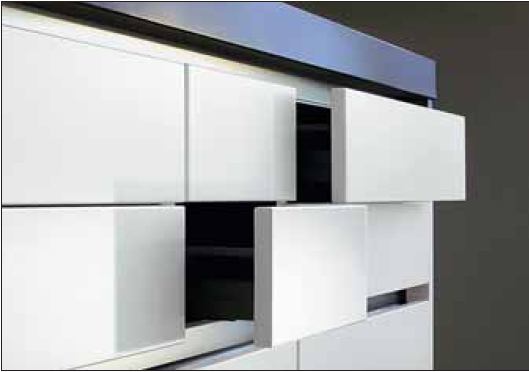 Click here for higher quality, full size image