Gang-Resawing Thin Strips with a Frame Saw
The "frame saw" allows rapid high-volume production re-sawing. October 12, 2007
Question
We're spending too much time resawing 6" and 8" poplar into 9/32" strips for jamb laminations. I'd like to find a source for outsourcing this material. I'd still do the resawing in-house for other species and sizes, but the 6" and 8" is the majority of what we use. Random lengths would be preferable. Any suggestions?
Forum Responses
(Solid Wood Machining Forum)
From contributor J:
We had the same problem until a local shop set up a frame saw. Better than band resawing, less waste, and ready to glue right off the saw. You might contact Ogden or Wintersteiger to see if anyone has a saw in your area.

---
From contributor C:
Foremost Wood Products advertises this service. You can even send them your own wood. I haven't used their service and thus cannot vouch for it.
---
From the original questioner:
Thanks for the replies. Contributor J, what is a "frame saw"? Contributor C, I've emailed Foremost Wood Products for a quote.
---
From the original questioner:
Ahhh... a Google search for "Ogden Frame Saw" gave me the answer.
---
From Professor Gene Wengert, Sawing and Drying Forum technical advisor:
We seldom use the term "frame saw" in the USA. Instead we prefer using the term "sash gang saw." Frame saw seems more descriptive.
A frame saw has a large frame (perhaps 24" wide and 30" high or larger). The frame is mounted vertically. The frame will move up and down perhaps 12". Fastened within the frame and running vertically are a series of flat saw blades (appearing like short sections of a band saw blade). The blades are under high tension so they saw straight. The blades are spaced 2" apart (nominally, left to right side of the frame) if one wants 8/4. So, as the frame moves up and down, the blades also move with the frame. A log is pushed into the frame saw blades and the multiple blades will saw multiple pieces of lumber with one pass. The thickness of the lumber depends on the blade spacing. Because of the huge amount of energy used on each stroke, it is not unusual to feel the ground shake for many feet around the saw.
This saw is especially useful when sawing logs with internal stresses, but we have few of those logs in the USA. It finds use today as a resaw, sawing cants into lumber with one pass. The output is similar to what we would get from a bull edger, but there is less sawdust (= more lumber) and better accuracy with the frame saw.
Frame saws were used in past 200 years in the USA. Here is a picture of one.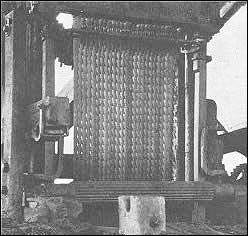 ---
From contributor J:
If you watch a video on the Wintersteiger site it pretty well explains the process. I think Gene must be talking about a similar design for sawmilling. I couldn't imagine running a log through one of these…
They are not as flexible at changing thickness as a band resaw and the wood feeds painfully slow, but when you consider the accuracy and yield, it is a more economical way to make thin lumber. If the S4S blanks are fairly clean it is possible to get (5) 1/8" pieces out of 4/4. An entry level machine is about 50K, so it is a good outsource for the small shop.

---
From contributor M:
To the original questioner: what is your process now? There is a huge difference between the old style sash gang and the modern frame saw such as Wintersteiger or Ogden.
---
From the original questioner:
I have a Laguna Resaw Master which is an 18" wheel tall bandsaw. We can resaw up to 18". I have a Comatic bandsaw feeder mounted. If I had it to do again, I would purchase a 24" wheel saw.
---
From Professor Gene Wengert, Sawing and Drying Forum technical advisor:
I did not mean to imply that sash gang or frame saws were restricted to log sawing. They find a lot of use in resawing as well, and as noted, are smaller. The picture above was the only one I could find that showed the general construction. Obviously, smaller units used for resawing would not be so easy to see and understand how they work.
Incidentally, gang resaws in the USA, because wood was plentiful, often were circular saws with a much larger kerf. Thin kerf is more reasonable today.
A gang saw of either type is used because of the high production rates which keeps costs down. This low cost processing would be especially attractive for lower grade logs or cants that would not produce much high value lumber. (This is in addition to the stress issue mentioned earlier.) The overall cost of a sash gang or frame saw (capital and maintenance cost) means that it will take a fairly high annual volume to pay for them, especially when compared to single saw resaws, such as a small, multiple saw, Baker Band Resaw, where each band is at a different height above the bed.

---
From contributor D:
I hated our Laguna until I started using 3tpi Bahco carbide inset teeth blades. I buy then from a division of Woodworker Supply. I resaw a few thousand feet of exotic and domestic lumber with one blade. Push hard at the blade and it will get better heat dissipation than running it slow and last a lot longer.
---
From contributor M:
We use a horizontal Baker for 99% of our resawing for radius work and door parts. I also have an old Fay Egan 36" bandsaw with power feed we used prior to the Baker. I will tell you, two minutes on either machine will make you want to chuck the Laguna in the garbage. I know because years ago I bought an 18" Laguna ironically called a Resaw Master which turned out to be an absolute joke for me. Obviously both these machines are larger, but the Fay Egan wouldn't have a much larger footprint, but is obviously much taller and higher HP.
---
From the original questioner:
Yes, space is the issue. We even have the Laguna on wheels and bring it out when needed. I've always wondered if the Baker horizontal saws would be good for this kind of work. I assume you are also cutting approximate 1/8" strips. What kind of kerf do you get with the Baker blades?
---
From the original questioner:
The Baker works very well for this and I can't even begin to tell you how much wood has gone through that machine. We run a Lennox Woodmaster B for the majority of our work and the kerf is just around 1/16" I believe. We also use a Lennox carbide for more difficult woods. On a good 15/16" board, four veneers is usually not a problem with light overhead sanding for glue ready. We had equally good luck with the old vertical and would still be using it as our primary saw, but I stumbled into the Baker. I know you are a mechanically inclined guy and I'm probably telling you something you already know, but some schooling from a Lennox tech got us to understand the importance of tensioning and we now set up our saw every time with a tensioning gauge, not the saw mounted one.
I didn't mean to be overly harsh on the Laguna, but it was a bad experience for me, although I still have the saw for general work.
---
From contributor J:
Even though we outsource our 3mm door skins to the frame saw, we still do quite a bit of in-house resawing and would also like to improve the process. I've only used steel blades from Suffolk. The blades they recommended (1 ¼ wide) have a thick kerf, cut good for a while, but seem like they dull fast. They told me carbide would be a disaster for resawing. Sounds like I better look at Lennox. Do you think the Lennox carbide would be good for general purpose resawing in a variety of soft and hard woods?
Interesting comments about the tension. I have found we have to tension higher than what the gauge shows on ours to get good results. We use an Aggazani 36" with a Univer resaw feeder.

---
From contributor M:
I am not familiar with Suffolk blades. We bought the carbides original for a teak job but continued to use them on other woods with a finish that was just beautiful. However I think because of tooth geometry, they can't evacuate the dust as easily at higher feed speeds, so we broke a few blades, and they aren't cheap. A compromise of speed for surface finish and longer life is probably the lesson here that I can't get worked out in my own shop. Otherwise that would be the only blade we would use.
The Lennox Woodmaster B is a bi-metal blade, meaning hardened tips. They also have a "C" which is a carbon steel blade that is a lot less expensive but has not worked for us. Here is the interesting thing. On the Lennox blades, we actually get a longer run after the first sharpening. We do this in-house and effectively flatten out the hook a little and for hardwoods they stay sharp a lot longer. I can only figure the more aggressive hook is for wetter woods such as the band mill users. On the Woodmaster B you can sharpen several times before you have removed the hardened tip. Perhaps on your blades that may also be the case. These blades are a 1-1/4" also and yes, you need to crank the tension up more than you would ever think. I would see if you have a good Lennox rep in your area or maybe catch up with them at the wood show.

---
From contributor J:
That was good advice about the Woodmaster B. We've been using one for a while now and it's a night and day difference from the Suffolk blades. Thanks!