Glass Shelf Span?
Advice on glass thickness for a wide shelf span. February 17, 2012
Question
I'm building a set of 12" deep open bookcase units which each have a 39" interior width. Is that too much of a span for 1/4" tempered shelves? I was considering line boring the back of the cabinets to help take some of the strain off of the shelves. I'm now thinking that that might look a little odd, as the cabinet will be painted (white) on site, and as the inside of the holes aren't painted, it seems they might be glaring. I haven't had an issue with this on the sides, as you're not looking directly at them, but the back is different.
Forum Responses
(Cabinetmaking Forum)
From contributor D:
I would go with 3/8 or 1/2'', but I always ask my glass guy for input to be on the safe side. I know we have done pretty large shelves 1/4'' and not had any problems.

---
From contributor F:
I do the same and ask my glass supplier. It's mainly going to depend on what kind of weight you're putting on them of course. Nick-knacks or glassware may be just fine. However if you're putting heavy items on that's a pretty long distance.
---
From contributor R:
I consider that too much span for even 3/4" plywood. That's way too much for 1/4" glass. I bet it would sag a little with no weight on it. I would consider a wood frame with glass insert if you can't put in more support. A slab of 1/2" glass that big is going to be heavy (just looked it up, around 20#).
---
From the original questioner:
Thanks for the input. I ended up calling two glass companies today, and they seemed to think it the span was ok. One even thought I'd be fine with 1/4" glass. I'd still sleep better at night, though, if I were able to have supports at the back of the shelf as well. I've attached a screenshot of one of the upper units (without the faceframe) with the holes in the back. As I mentioned the bookcase will be site painted a light color. Do you think the holes along the back will be a bad look?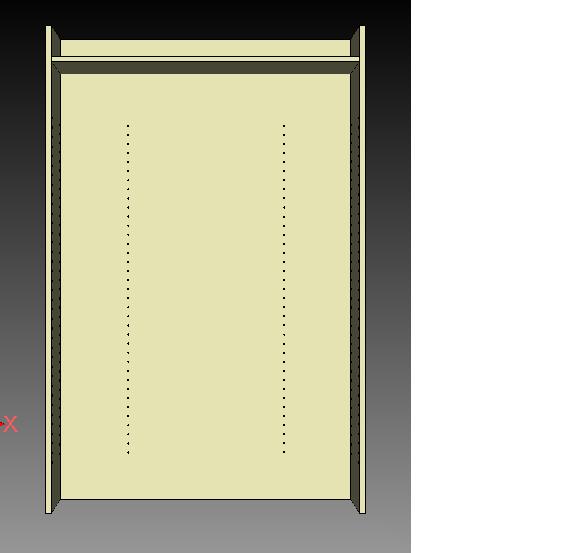 Click here for full size image
---
From contributor R:
Here's an article in the Knowledge Base that may give you some information.
Bearing Capacity of Glass Shelves

---
From contributor T:
Spanning and supporting product is two different dogs. The deflection of 1/4" glass over that distance with even a small amount of weight on it should be taken into consideration. 3/8" glass shelves in this case, in my opinion, would be a minimum.
---
From contributor P:
Keep in mind the difference between what happens when you exceed the capacity. Wood bends, sometimes comically. Glass fails, sometimes dangerously.
---
From contributor F:
I don't think the supports at the back are going to do much for you. Keep in mind that unlike wood shelves, glass is just about perfectly flat. Therefore if your extra holes are 1/32" high or low, they are not helping the situation. With glass generally I would think that fewer supports is better, to eliminate the chance for rocking or creating a stress point. I'd stick with the four supports and leave well enough alone.
I actually have some 3/8" glass shelves in my office that were taken out of bookcases. They span 40" and were used to hold three ring binders and catalogs. They seem to have held up fine. Again, it really comes down to what kind of weight/items you're going to put on the shelves.