Glazing to Show Wood Grain
Techniques for achieving clarity. April 2, 2004
Question
I just delivered a huge armoire and the client finds it too yellow. Poly-u on pine was used. Is glazing the solution? The wood grain must still be visible or a slightly darker wood/stain varnish.
Forum Responses
(Finishing Forum)
From contributor M:
Glazing does not block out the wood grain. Only the finisher/glazer can cause that problem.
In the photo below, I glazed the samples three times. You can still see excellent clarity in the wood. When glazing is done properly, you will end up with excellent clarity.
The text looks blurry... it should read as follows:
Seal woods.
Apply glaze - brush out - apply seal coat.
Apply second glaze - brush out - apply seal coat.
Apply third glaze - brush out - apply clear coats.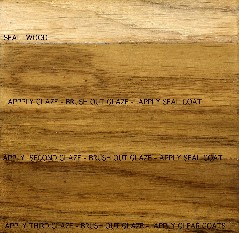 ---
From contributor I:
We just did our first set of raised panel doors and they look great. We dyed the doors, applied Valspar Vinyl sanding sealer (AUS 4000), Valspar glaze, and finally Valspar Conversion Varnish (AUF4020).
As for the glazing, I brushed into the crevices and then wiped out with a rag. We got best results when we wrapped a rag fairly tight around a finger and followed the lines.
What other techniques are there?

---
From contributor M:
There are many techniques and tools that are used to produce all kinds of patterns and effects in glaze.
I am sure that you are aware that it is glaze that produces the "faux" in faux finishes, and these are done with assorted brushes, cloths, sponges, feathers, etc.
Glazing is an art unto itself, and probably the most important and valuable technique in the art of finishing.

---
From the original questioner:
Do you have a preferred mix you would like to share? Will I get runs? I will be working vertical.
---
From contributor M:
Always make up complete samples before you start your work. It is easier to correct your samples than it is to correct the final work.
Adjust your glaze with more drying oil - this will bulk it up, so it won't run. Wipe the glaze on, and then wipe off most of the excess, because the key to adding clarity to the glaze is to continue brushing the glaze, so you see no brush marks in the final glaze.
Color adjustments may be made by darkening the glaze color, or by double or triple glazing.
It's not difficult, but it does take practice.

---
From the original questioner:
This is the armoire which replaces a standard closet. Pre-fitted in the shop and re-assembled in its place, 56x80x28. Final assembly not shown.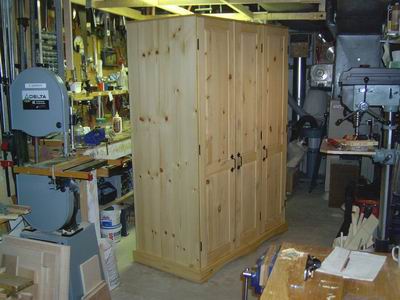 ---
From contributor D:
Too yellow? Here are two suggestions for you to investigate:
1. Asphaltum (without fiber). This is roofing tar. Thin it with paint thinner.
2. Raw umber glaze.
You need to allow both to cure so that your next coat of polyurethane will not smear your corrective coloring.
On the asphaltum, I need advice. I do not think that this stuff sets up on its own. Not sure if I'm right or not to suggest that a small amount of polyurethane be added to the tar mix as a binder so that it will set up and cure…